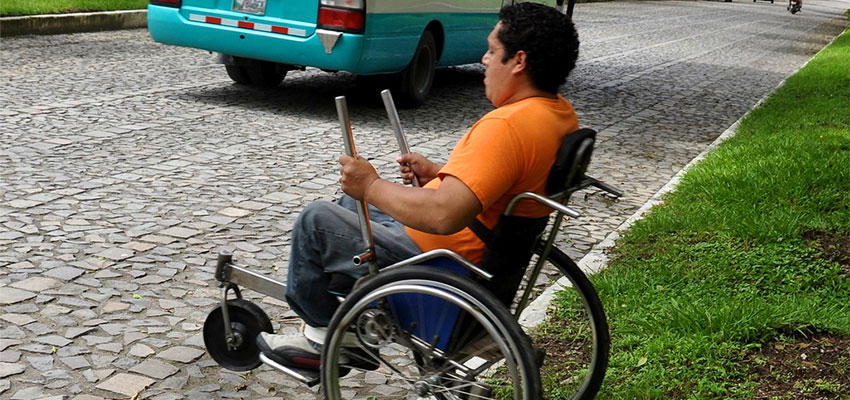 MIT D-Lab
On October 23rd, the world's largest accelerator program, MassChallenge, announced the winners of $1.1 million in prizes. Global Research Innovation and Technology (GRIT), led by Tish Scolnik ('10) a D-Lab "alumna" and current D-Lab Scale-Ups fellow, was among the top four top winners of $100K. GRIT is the social enterprise incorporated last year to bring the Leveraged Freedom Chair (LFC) to market in the developing world.
The LFC, developed at MIT and a first place winner of the 2008 MIT IDEAS competition, is a lever-powered wheelchair designed for the 20 million people in the developing world who need a wheelchair. Its unique lever drivetrain enables users to travel 80% faster than conventional wheelchairs on tarmac and off road like no other mobility aid available. Currently manufactured in India, it is constructed of locally available materials and bicycle parts, but could be made, repaired, and used almost anywhere in the world. 
Tish got hooked on using her engineering skills for public service as an undergraduate in Amos Winter's D-Lab class, Wheelchair Design for Developing Countries, followed by field work in East Africa and India developing and testing the LFC.  Tish is joined at GRIT, where she serves as executive director, by Mario Bollini (SB '09, MS '12), who serves as director of engineering.
The MassChallenge winners were culled from an initial field of 1,237 applicants from 35 countries and 36 states. One hundred twenty-five teams of entrepreneurs were chosen to spend the past four months in free office space in Boston's Innovation District, working with mentors to refine their startups. Those 125 were further narrowed down to 26 finalists prior to the announcement of the final cash prize-winners.
Since May, GRIT and the LFC have also been participating in the D-Lab Scale-Ups program. Launched by D-Lab in 2011, Scale-Ups  is an acceleration platform for MIT alumni innovators and entrepreneurs seeking to turn appropriate technologies into scalable and sustainable social ventures. Scale-Ups fellowships provide seed funding as well as mentoring, skills building resources and partnership cultivation opportunities to recent MIT graduates.