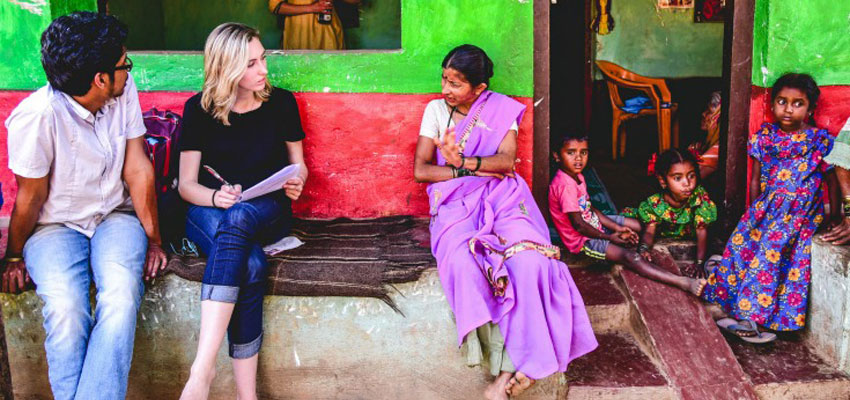 Carolne Morris and Pranav conducting an interview with a smallholder woman farmer.
During MIT's January Indepent Activities Period, I traveled with three students from the fall D-Lab: Development class, Viban Gonzales '20, Ellie Simonson '18, and Nikhil Kunapuli '18, and D-Lab Research Associate Megha Hegde to Sirsi, Karnataka, India to conduct an assessment in the surrounding rural villages. The goal of this assessment was to learn about the agricultural practices of smallholder farmers and the issues that they face. We interacted with over 100 smallholder tribal farmers through individual interviews and focus groups, and met with several different local cooperatives that provide services to these farmers.
What we learned
India is one of the largest producers of areca nuts in the world, known locally as betel nuts. According to India's Ministry of Agriculture, the state of Karnataka produced about 59% of the country's total crop in the 2015-16 season. During our assessment we found that most of the small farmers in the villages we visited grow rice on their land to feed their families, and work for wages on the betel nut plantations.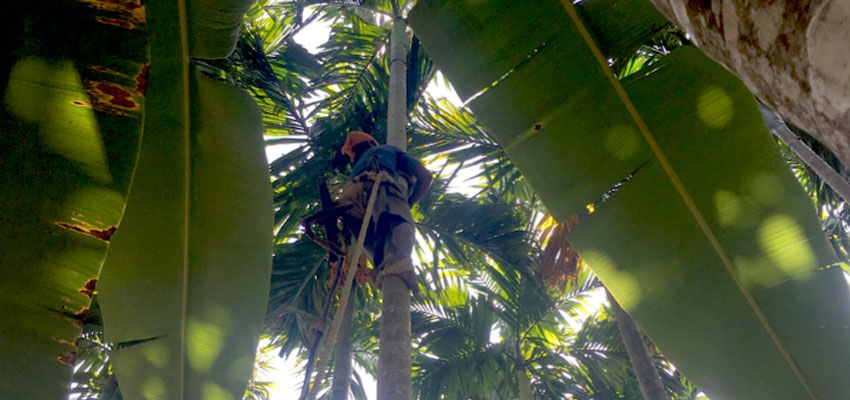 The dangers of harvesting betel nuts
In this region there are many areca nut tree plantations that hire skilled climbers to climb the trees and harvest the crop. The trees can grow up to 30 meters tall and are treacherous to climb, even for highly skilled climbers. The most frequent cause of injury and death each harvesting season is trees breaking while climbers are harvesting the nuts. 
One evening, we spoke with a skilled betel nut tree climber named Ravi. Ravi is 25 years old and has been climbing trees since he was about 14. He told us that he has a record in his village for the number of climbing injuries. It was during our conversation with Ravi and the other tree climbers in this village that we learned the main cause of injury and death is the trees breaking. We asked why the climbers fall with the tree and Ravi demonstrated the process of removing the harness while explaining that if a climber was able to remove it in two seconds rather than 30 seconds, he could jump on a nearby tree, avoiding the fall.
Working with Ravi and a group of farmers and betel tream climbers, we considered two approaches: create a technology that eliminates the need for skilled climbers or design a technology to make climbing safer. Our brainstorming revolved around designing a harness that can be quickly removed in an emergency and designing a system that supports the tree to prevent it from falling.
Our conversation with Ravi shows how crucial it is that brainstorming sessions and the design process include the voices and ideas of those who we are trying to help. Without Ravi's input and involvement, we could have gone down a completely different route when brainstorming solutions. For example, we may have assumed that climbers were slipping off the trees and needed more secure harnesses.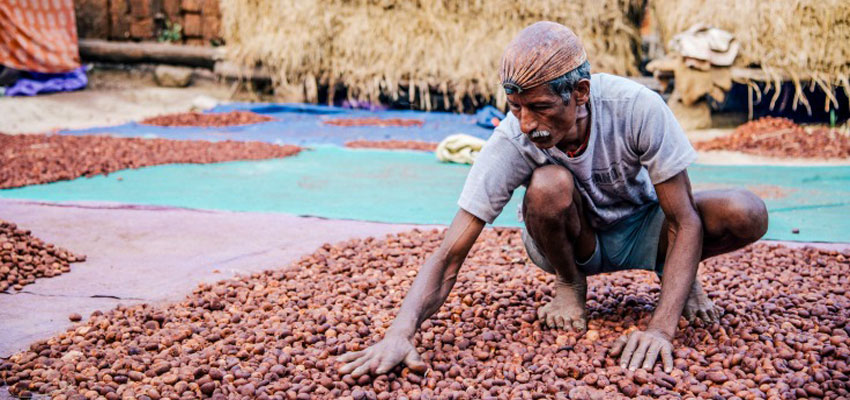 Water scarcity
In addition to the dangers of betel nut tree climbing, the most prominent issue that caught my attention was water scarcity. Smallholder farmers are currently struggling to grow enough rice crop to feed their families and do not have any crop left over to sell. These farmers own very small amounts of land (an average of two to four acres), so it is imperative that they are able to harvest as much crop as possible. Due to a decline in the amount of rainfall over the past 10 to 15 years and a depleted water table, they are not able to do so. When we asked questions about irrigation, we found that none of the farmers we interviewed had any constant source of irrigation. Their biggest concern was the lack of drinking water in the summer season when their wells dry up. Because of this, irrigation is not their priority. However, if they had some form of irrigation, they could grow more rice and other crops during the dry season.
How do we talk to people about irrigation when they are struggling to find enough water to drink? The truth is that there is no perfect answer. What I have learned at D-Lab is to have no personal agenda other than to gain as much information and insight as possible. Although our study focused on needs related to agriculture, it was productive to have a conversation about drinking water because from it we learned about the extent of the water scarcity issue that affects agricultural production. 
After working with Megha over the past year conducting several different assessments, I have gained a deeper understanding of D-Lab's mission and how to follow it when conducting interviews. The best piece of advice Megha has given me is also the most simple: have a conversation. When conducting an interview you want to gain trust and learn as much as possible from the interviewee. The way you ask questions has a huge affect on how the interview will go. If it's too structured you will get short and persuaded responses. If you don't have any control over the direction of the interview, you will get long responses filled with information you don't necessarily need. Megha taught me to have a conversation without getting too far off track and to ask follow up questions when the response is unclear or vague.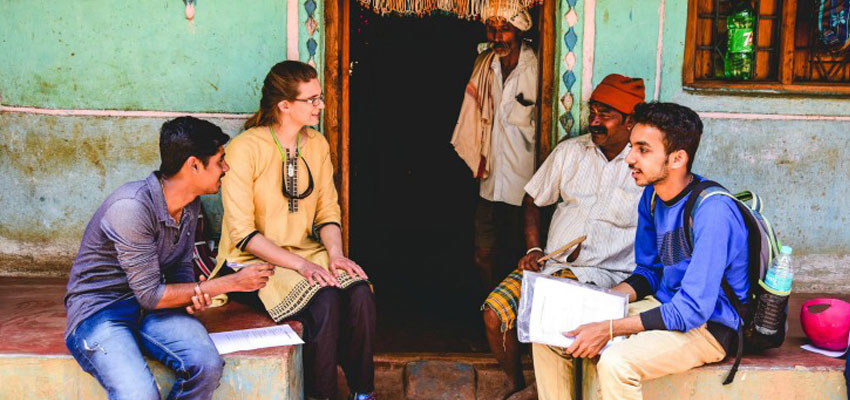 My experiences
Each trip I make to India with  D-Lab is just as much of a learning experience as the last. Many aspects have become familiar, such as the constant movement of animals and people on the streets, the Indian head-nod, and even the language. I was surprised at how much Hindi I could understand when we were in Uttarakhand, but Karnataka was a different story. Kannada is the language that is spoken in Karnataka, and it is completely different from Hindi. Compared to Hindi, it is spoken faster and is more difficult to decipher.
Karnataka is also a much different climate than Uttarakhand, covered mostly by a tropical jungle. We were able to visit some beautiful waterfalls and rivers, as well as go on a safari through the jungle. Sirsi is also Megha's hometown, so she took us to the best pani puri shop in town — I am proud to say that I ate street food and did not get sick! Megha also brought us home and introduced us to her family, and of course Honey, her pug.
On our last day in Sirsi, we attended a Puja at Megha's aunt's house, which is a Hindu prayer ceremony done in the home to honor the gods and bring good fortune to the family. It was really special to have such a personal experience while in Sirsi.