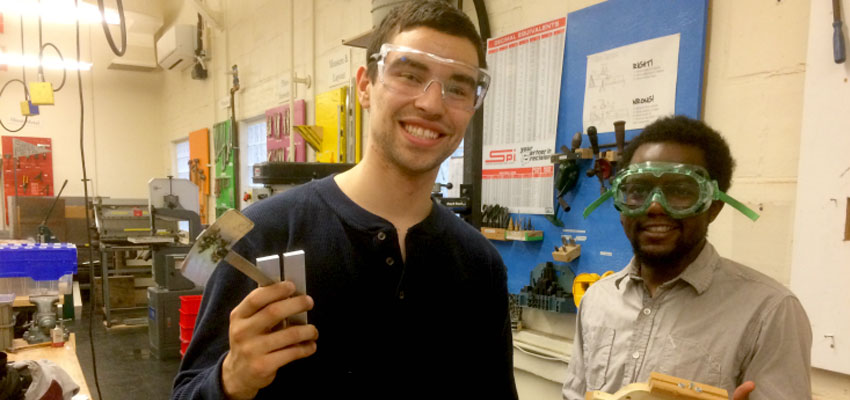 D-Lab: Design students in the D-Lab workshop working on a pediatric standing frame for STAND Haiti.
Friday, May 12, 5:00-7:00 pm - D-Lab, MIT N51 3rd floor
Addresses problems faced by underserved communities with a focus on design, experimentation, and prototyping processes. Instructor: Matt McCambridge
Bamboo bicycle frame, Bamboo Bicycles Beijing, China
Desert sand wheelchair, D'Kar Innovation Center, Botswana
Mango seed oil press, Mango Tango Naboye, Zambia
Off-grid forge, D'Kar Innovation Center, Botswana
Pediatric standing frame, STAND Haiti, Haiti
Offers a hands-on, project-based approach that engages students in understanding and addressing the applications of alternative energy technology in developing countries where compact, robust, low-cost systems for generating power are required. Instructors: Libby Hsu & Amit Gandhi
Design of a High Thermal Insulation Material for Cookstoves, Uganda
Design of an Improved Metal Liner for Makaa Cookstoves, Uganda
Desalination Solutions for the Salt Farmers of Gujarat, India
Improved Impeller Design for an Affordable Solar Pump, India
Designed for students preparing to conduct research abroad for theses, product design project, or development ventures, in which they practice a set of key research skills particularly applicable to conducting research involving people and communities in the context of development. Instructor: Elizabeth Hoffecker
STG/One Power Impact Strategy, STG International, Lesotho
Saathi Pads Impact Strategy, Saathi Pads, India
A hands-on, multi-disciplinary exploration of the dynamic nexus between global biodiversity and human well-being. Instructors: Susan Murcott & Ariel Phillips
Cuba's Sustainable Agriculture, Cuba
Iluminate, USA
Agroforestry Carbon Sequestration in Northern Ghana, Ghana
Citronella Oil Extraction through Low-Cost Steam Distillation, Ghana
Methylmercury Health Impacts on Indigenous Tribes in Canada from Hydroelectric, Canada
Explores learning in the international development context and how innovative approaches and researched best practices can overcome challenges such as limited resources, language barriers, large class sizes, and entrenched pedagogy. Instructors: Jessica Huang & Lisa Nam
Translating teacher training into classroom practice in Ghana, Practical Education Network, Ghana
Inquiry-based electrical engineering curriculum with Bangladeshi middle school students, JAAGO Foundation, Bangladesh
Curriculum applying data visualization and collection to weather and agricultural sensor data, C-Innova, Colombia
Waste-Free Myanmar curricular collaboration, Waste-Free Myanmar, Myanmar
After school vocational training and youth action research, Path to Knowledge, Nicaragua
Explores the ideas behind, and actions toward alternative economic systems aimed at reclaiming the power to control and build inclusive local and regional economies; secure rights to food, water, land, and healthy environments; build resilience; restore value systems; and ultimately to improve the quality of life. Instructors: Libby McDonald & Kate Mytty
Local economy in Ésteli, Nicaragua
Food Justice, Nuestras Raices, Holyoke, Massachusetts.
Addresses issues on the basics of human biomechanics, types of disabilities, and available technologies for physical rehabilitation. Topics include prosthetic devices for upper and lower extremities, as well as both developed and developing world techniques for overcoming these disabilities. Instructors: Matt McCambridge & Bryan Ranger
Transfemoral rotator design for manufacturing Mobility India, Jaipur Foot Organization, India
RIckets Orthotic Device, STAND, Haiti
Cane to standard fitting adapter, Rise Legs, India
Knee testing device, Transitions, Jaipur Foot Organization, Guatemala, India
Cosmesis, Rise Legs, India
Shock-absorbing pylon, Jaipur Foot Organization, India
By 2025, more than half of the countries in the world could be experiencing water stress or scarcity. Water stress and scarcity are exacerbated by climate change. This class is about real-world answers to climate change as it relates to water. Instructors: Susan Murcott & Julie Simpson
Greening of Kresge Lawn, USA
In an Oyster Shell, USA
Flocktracker - smart phone tool for surveying water & climate change impacts, Global
Communicating Climate Change to a Broad Public, Global
Expert Surveying of Water Infrastructure in Nine Cities, Bangladesh & Pakistan
Allston I-90 Green Stormwater Project, USA
Flood Mitigation Tool & Users Manual, Global
Aquateca, Pure Home Water, GhanaGhana (Anselmo Cassiano, fellow)
Explores the role innovation can and does play in how humanitarian aid is provided, and how it can change people, products, and processes. Instructors: Amy Smith & Martha Thompson
Increasing safety for South Sudanese women in refugee camps, Northern Uganda
Providing Economic Opportunities for Refugee Youth in Athens, Greece
Reducing Tensions between Syrian Refugees and Host Communities, Lebanon
Research on cleaner-burning fuels and cookstove technology. Lead Research Scientist: Dan Sweeney
The Makaa Project: Co-Design, Performance Testing, and Techno-Economics to Improve a Ugandan Charcoal Cookstove (Lauren Bustamante, master's thesis project)
Lead Research Scientist: Rich Fletcher