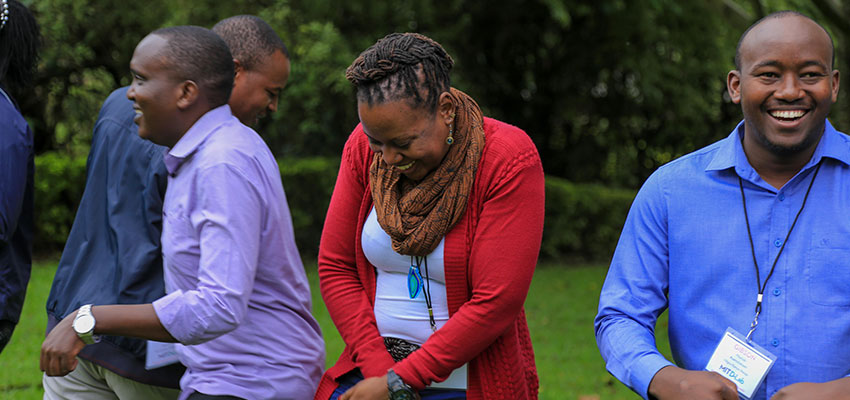 Summit participants, Peter Mumo, Noeline Kirabo and Gibson Muriuki share a laugh during morning circle
MIT D-Lab
A diverse and dynamic group of entrepreneurs and entrepreneur supporters from around the world came together in Mukono, Uganda from October 27th to November 2nd to discuss a central question: What does it take to overcome critical barriers to scale for entrepreneurs in East Africa?
As part of MIT D-Lab's Tackling Challenges to Scale: Enterprises & Ecosystems Summit, for one week, these individuals joined the design teams of seven high-potential ventures from Uganda, Kenya, and Tanzania. Each team explored one urgent, real-life scaling challenge faced by the entrepreneur whose venture was at the center of their team. Over six days (of little sleep, lots of coffee, and excited chatter), the teams engaged in a design sprint using the MIT D-Lab's participatory design approach as a guiding force, to dig into their team's enterprise challenge, generate creative ideas for how to overcome it, and prototype and test one idea with relevant stakeholders.
From seasoned participatory design facilitators to people who had never engaged in any kind of MIT D-Lab event before, each participant arrived in Mukono with different expectations and goals.
Peter Mumo, founder of Expressions Global, one of the week's seven ventures, explained "I was excited to take part in this particular summit because it was an avenue to present my design challenges to individuals and experts from different industries [who could help me] find tangible solutions to my design challenge. One of the biggest reasons I chose this particular challenge was to understand this process, like how to prototype" … "I also wanted to come here to meet like-minded people from different groups so I could expand my network to drive the growth trajectory of Expressions Global."
"I came to the Summit because this year's theme— solving challenges for scale— really resonated with me. I come from Uganda where most start-up businesses do not make it to their first birthday. I was looking forward to learning more about how we can address challenges that are stopping East African businesses from scaling," explained Derrick Hosea, CEO & Founder of OneLamp Uganda, and a venture team participant.
A Peek into the Venture Challenges & Prototypes
The seven enterprises in the room included the six 2019 Scale-Ups Fellows—clinicPesa, EcoAct Tanzania, Expressions Global, FixChap, Kwangu Kwako, and Solar Freeze — and one Siemens Stiftung empowering people Network fellow—Technology for Tomorrow.
The Co-Design Summit led participants through a series of interactive and hands-on activities to the rhythm of D-Lab's design cycle of Learn, Imagine, Create, and Test – adapted to a short format of one week.
In the first half of the summit, teams dove into their ventures' business to together learn more about their unique challenges and refine and narrow their core problem. Then, through a series of ideation activities and tools introduced throughout each day, participants put their minds together to innovate creative, yet pragmatic solutions to each team's challenge. Once each team created an initial prototype, they had the chance to seek feedback from participants outside their teams, gather information from prospective stakeholders through a day of field visits, and then refine the prototype - enabling a diverse range of experiences and skillsets to contribute to the final solution.
See an complete snapshot of the scaling challenges and solutions that each team identified and prototyped during the week here.
What have we learned thus far around tackling barriers to scale for East African ventures?
In planning this Co-Design Summit, MIT D-Lab set three main goals:
Solution Development - Help East African entrepreneurs solve scaling challenges for their social impact businesses
Participatory Design - Learn the MIT D-Lab participatory design methodology, skills, and mindsets
Ecosystem Strengthening - Contribute to the region's entrepreneurial ecosystem by building connections and identifying collaboration opportunities
In assessing our progress towards these goals, D-Lab captured data from participants both before and after the summit and will conduct another round of follow-up in the summer of 2020 to capture longer-term progress. D-Lab evaluated the data both from the perspective of the enterprises and the other summit participants, categorized as 'supporters,' Based on our immediate post-summit data analysis, here's what we've found.
Overall participants felt the summit was most successful in accomplishing the first goal as set out by D-Lab around Solution Development.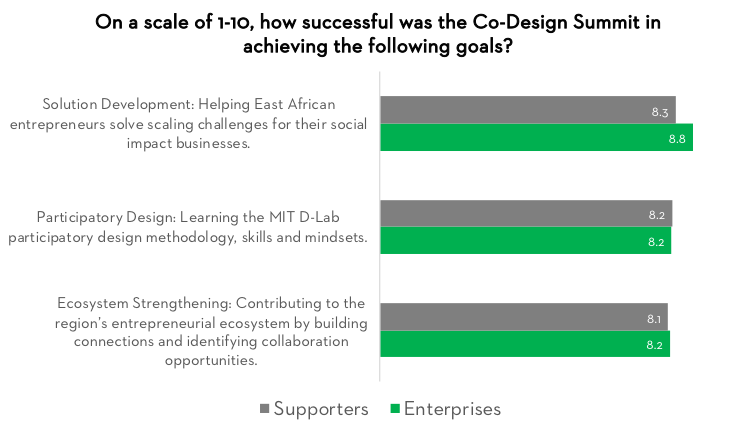 Across four solution evaluation criteria, effectiveness, feasibility innovativeness and replicability, teams ranked their solutions highest on feasibility.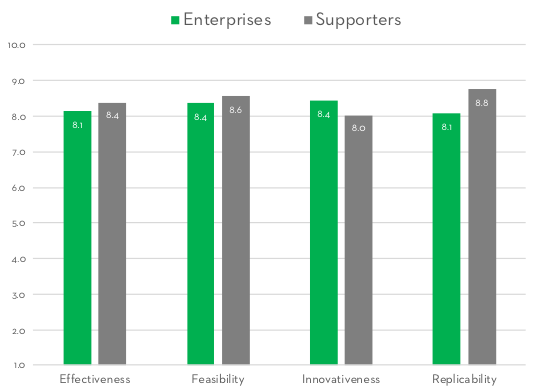 As a result of participating in the summit, participants saw an increase in their participatory design skills and knowledge particularly in the areas of prototyping and testing, ideation, and D-Lab's methodology overall.
85% of participants report an improvement in the area of testing an idea using a sketch model or prototype.

93% of participants report feeling very comfortable with using a step-by-step design process to address a challenge as after participating in the summit, as compared to before the summit where only 28% reported feeling very comfortable.

80% participants plan to apply elements of the summit's design process to other challenges in their work.
Openness to collaborative problem solving, an appreciation for the design process, and an openness to feedback are the top 3 mindsets that participants report having changed as a result of participating the summit.
For Laura Althaus, Co-Founder and Director of StartHub Africa, a design team facilitator, a key learning was that regardless of geography, enterprises face similar challenges and that ideation is hard for everyone. "Despite working with different stakeholders, in different countries, and different ecosystems... there are similar learnings [for everyone]… Thinking out of the box is really hard no matter if you're a student, an employee, or an entrepreneur – and I found that interesting but also comforting. We're all human beings and new methods can help us to [learn] to think out of the box."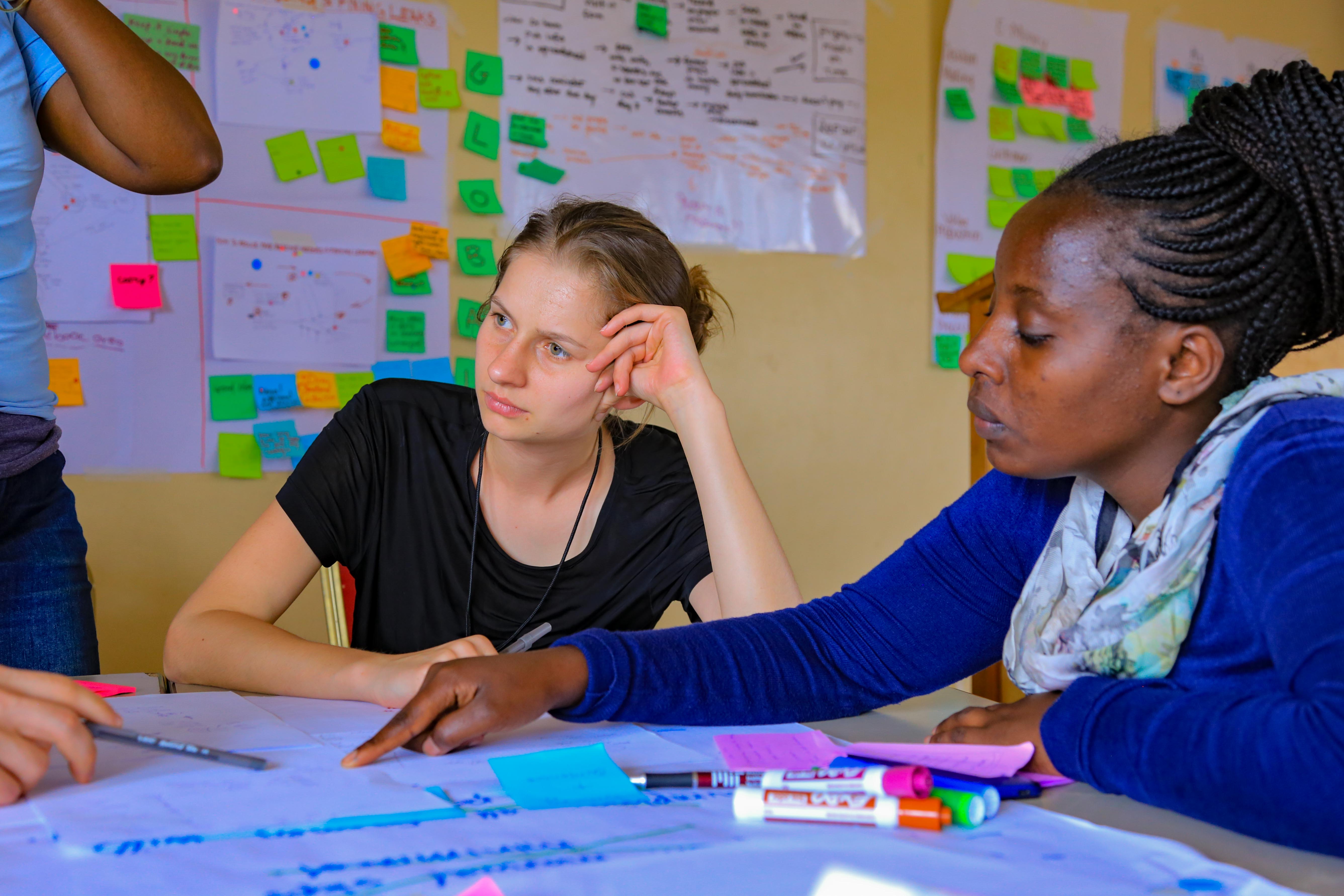 Participants valued the diversity of the participants, design team-based work, and the opportunity to form new connections.
89% plan to maintain relationships with other summit participants.
43% plan to collaborate with another participant on an initiative to support entrepreneurs.
In a recent blog, participant Ramya Srinivasan, Program Director at Capria Ventures, shared "What I learned [through these six days is] that even the smartest of startup founders need different stakeholders to come together in a cohesive support system to succeed. As an ecosystem builder, I am now even more convinced that we need to align governments, incubators, accelerators, angel investors, venture capitalists, mentors, and startups towards the common goal of innovation and economic growth. (A wicked problem – but one that must be solved)."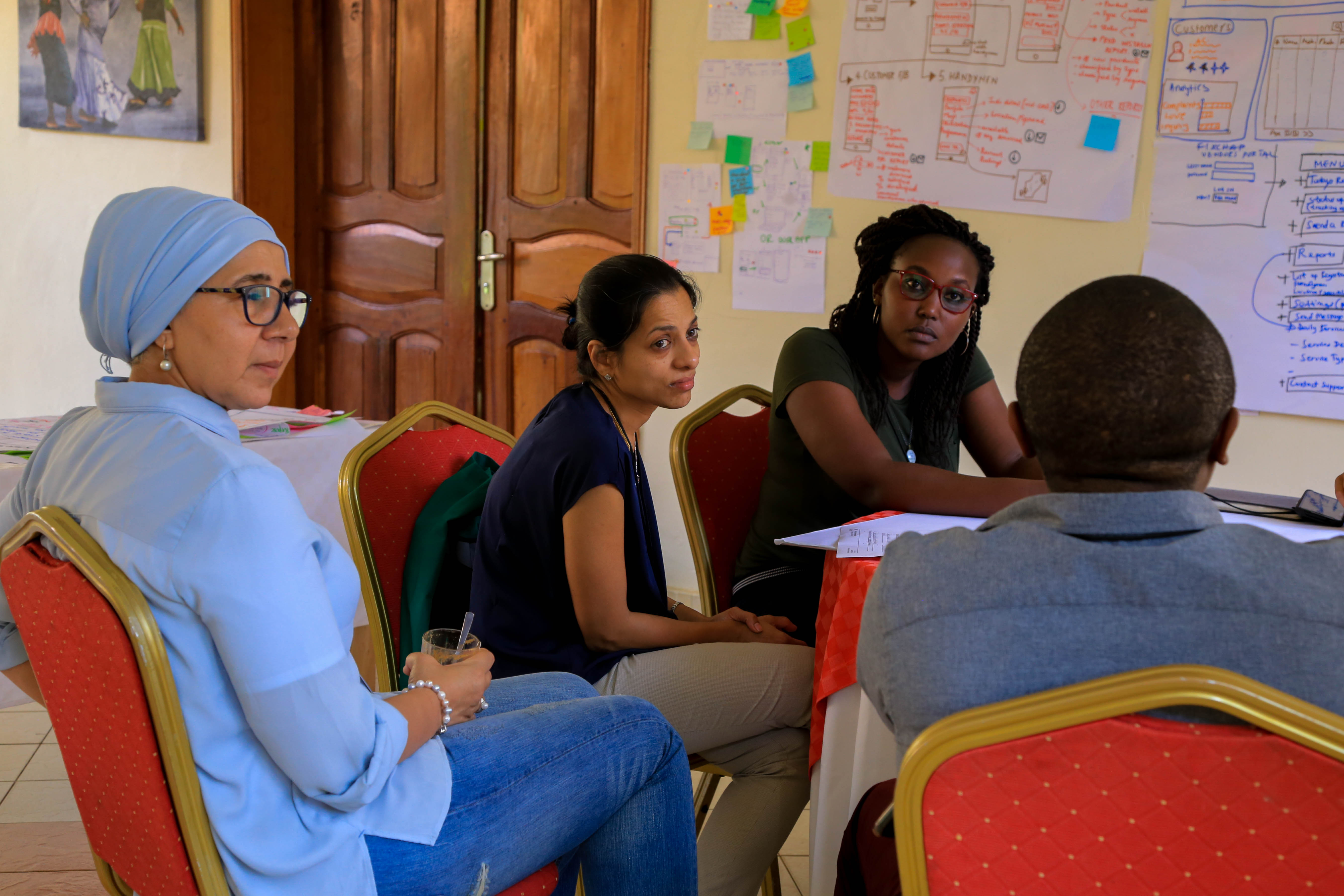 What's Next?
In the months following the summit, D-Lab is focused on capturing immediate reflections and analyzing near-term data, sharing out of preliminary takeaways to participants and other ecosystem actors interested in this summit model, adapting the venture sprint model for other D-Lab programs, and preparing for a six-month post CDS evaluation in the summer of 2020.
Stay tuned for additional takeaways and learning from the Summit.
---
Contact
Amanda Epting, Practical Impact Alliance Manager
Molly Rubenstein, Innovation Ecosystems Manager