Vinay Sanchela (CInI) and Anish Antony (MIT D-Lab) with retail vendors in Mahisagar, Gujarat
MIT D-Lab
 
In India, 30 percent of the fruits and vegetables cultivated annually are lost due to insufficient post-harvest storage options, and there was $1.8 billion worth of vegetable losses in Gujarat, India alone. The lack of affordable and effective post-harvest vegetable cooling and storage pose a significant challenge for smallholder farmers that can lead to vegetable spoilage, reduced income, and lost time. Most techniques for cooling and storing vegetables rely on electricity, which is either unaffordable or unreliable for many smallholder farmers, especially those living in remote areas on less than $3 a day. As a result, farmers are forced to sell their cultivated produce immediately after harvest at lower prices in wholesale markets compared to retail markets leading to lower-income levels.
Given this background, MIT D-Lab collaborated with the Collectives for Integrated Livelihood Initiative (CInI - An Initiative of the Tata Trust) to conduct a scoping study to determine the feasibility of evaporative cooling technologies to reduce postharvest losses in Gujarat, India.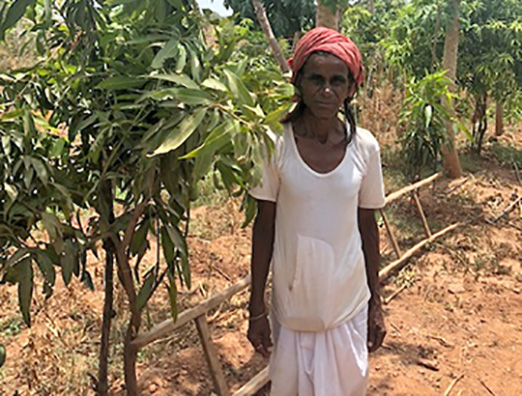 Background on evaporative cooling
Evaporative cooling technologies function according to a basic principle called "evaporative cooling," where the evaporation of water from a surface removes heat, creating a cooling effect, in the same way that the evaporation of perspiration cools the human body. When water evaporates, it takes heat with it, and in relatively low humidity climates like Gujarat, where it is hot and dry during the months of February to June, technologies that take advantage of this cooling process can effectively preserve vegetables longer and improve their shelf life.
In May 2018, working with Eric Verploegen who leads evaporative cooling research at MIT D-Lab, Postdoctoral Researcher Anish Antony traveled to the Dahod, Sabarkantha, and Mahisagar districts of Gujarat to work with CInI on determining the suitability of evaporative cooling devices to improve the shelf life of vegetables produced from local farms. The scoping study took place over seven days and consisted of interviews and focus group discussions with a range of stakeholders including local vegetable farmers, roadside market vendors, brick manufacturers, field staff from CInI and NGOs.
The assessment focused on gathering information on the following areas:
Types of vegetables grown and sold
Price received by the farmers when selling their vegetables
Logistics involved in getting vegetables to market
Approaches for vegetable storage currently used in the vegetable to market life cycle
Financial benefits of setting up of evaporative cooling vegetable storage devices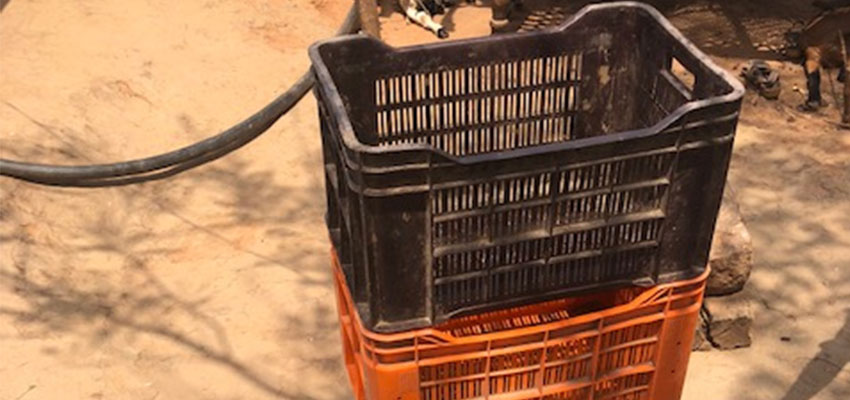 Findings from 2018 scoping study
Vegetables such as tomatoes, eggplant, okra, and cluster beans are typically stored for a limited amount of time in crates (see below) and transported to the market within a couple of hours of being plucked. Due to a lack of suitable long term affordable and effective storage solutions, the harvested vegetables are at risk of spoilage within a day or two of being plucked. Hence, farmers take their vegetables in crates to the market every day, which is around 15 km from their farms, either by hiring vans or on bikes with the help of their families. They initially try to sell the majority of their vegetables to retail vendors during the early part of the day to get a higher price and by mid-day sell the remaining unsold vegetables at a lower price (as a "distress" sale) in the wholesale markets, reducing the farmer's incomes.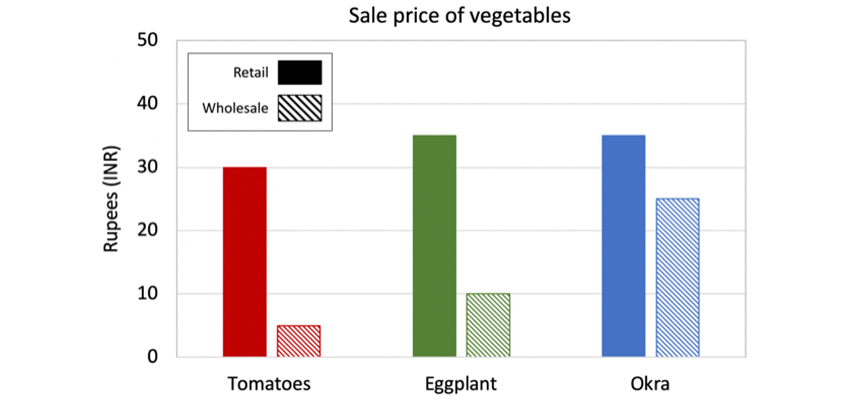 The above figure shows price differences between different vegetables when sold in retail markets compared to wholesale markets. Farmers who produce vegetables in small quantities (<30 kg tomatoes /day) typically prefer to sell their vegetables in retail markets.
Feasibility of evaporative coolers
Farmers expressed concern that due to high temperatures, vegetables such as tomatoes, and eggplant rot within a day. Hence, they currently take all their produce to the market within a couple of hours after they are plucked.  When operating in low humidity and high-temperature conditions, storing vegetables in evaporative coolers can significantly reduce the degradation rates of these vegetables. Thus constructing brick evaporative coolers on farms would allow farmers to store their vegetables on farms longer and maximize price benefits by selling a larger quantity of harvested vegetables in retail markets rather than wholesale markets thus improving their income-earning capacity. In addition to reducing spoilage and improving farmer incomes, the improved storage conditions will also allow farmers to make less frequent trips to bring their crops to the market.
Conclusion: evaporative coolers are an attractive option for the region
This scoping study demonstrated the need for improved vegetable storage in the districts of Dahod, Sabarkantha and Mahisagar in Gujarat. The low humidity and high temperatures, especially during the months from February to May make the use of evaporative coolers an attractive option to store and improve vegetable shelf life.
---
More information
Related blog post: Piloting Evaporative Cooling Technologies in Western India
MIT D-Lab Evaporative Cooling Research
Contact
Anish Paul Antony, MIT D-Lab Postdoctoral Researcher
Eric Verploegen, MIT D-Lab Research Engineer, Evaporative Cooling Lead