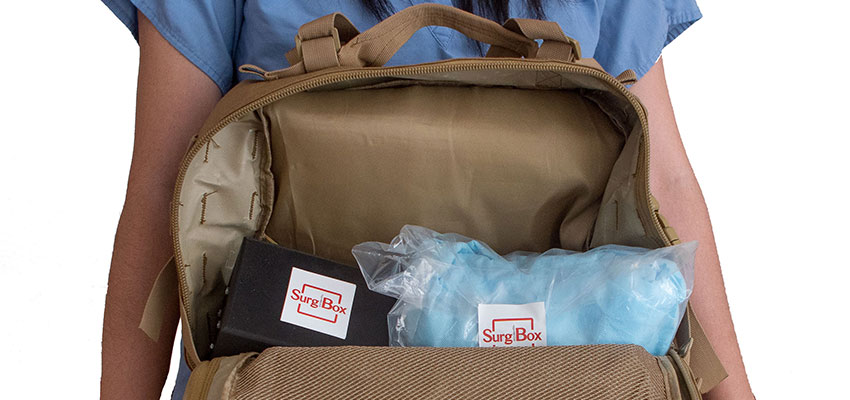 SurgiBox - the surgical theater that fits in a backpack.
Mass General Research Institute
Blog post as it originall appeared on the Mass General Research Institute Blog
When you think of having surgery, how do you picture the environment? Perhaps a fully-stocked, high-tech operating room with fluorescent lighting and a team of individuals in head-to-toe scrubs?
Unfortunately, not all patients and clinicians have access to an operating room like this when life-saving surgery is necessary. Approximately five billion people around the world do not have access to safe surgery, and about 18 million people die each year because of it.
To address this problem, a team of  physicians, engineers, designers, global surgery experts, logisticians, and entrepreneurs—including Mass General trauma surgeon David King, MD, decided to rethink surgery and what is necessary to keep the key parties involved safe.
Traditional operating rooms require sterilization of an entire room, equipment and every staff member present—something that is often impossible to achieve in a remote or hostile setting.
So the research team turned the situation on its head and realized that the only area crucial to protect was the immediate area around the patient where the operation was taking place.
Their goal then became to create an operating room in a backpack that was lightweight, man portable and easy to use.
After five years of discussions, securing funding, and drawing on whiteboards, the Surgibox team—which includes Dr. King, Debbie Lin Teodorescu, MD, MEng, AM, and engineers from MIT—have brought SurgiBox to life.
What is SurgiBox?
SurgiBox is an inflatable, sterile surgical environment that fits in a backpack and allows for safe surgery anywhere.
SurgiBox seals the immediate environment surrounding the patient using a clear tube with a regulated, sterile internal environment. Providers access the patient and operate using ports into the tube, protecting the patient from infection and the provider from bodily fluids.
Surgibox simulated surgery
This model takes up less space than a surgical tent, allows for easy setup, and fits into existing surgical work flows. It also reduces waste by incorporating reusable components and requiring less scrub gear.
A Global Perspective
Dr. King's experience as a military trauma surgeon in resource limited settings lends an important perspective as surgical director on the executive board of the SurgiBox team.
In his experience, patients in these settings are often underserved not because of a lack of surgeons, but rather a lack of hospitals and safe operating conditions.
 
---
"If you're going to go to a surgically underserved country, you're going to try to find a hospital somewhere and that hospital may or may not have the infrastructure to support clean surgery. But when you think about the SurgiBox, suddenly you don't need any of that. You can go to the patient instead of the patient coming to you." - David King, MD
---
While Surgibox could be used for almost any kind of surgery, it was not created to be able to execute complex procedures that need involved post-operative care, but rather the "everyday" operation, he explains.
Research has shown that common conditions such as maternal complications, fractures and appendicitis are among the top causes of death worldwide. Many of these kinds of conditions could be treated with basic surgical care in a sterile, safe environment.
"Most surgically underserved places on Earth don't need giant tumor resections, what they need is for their appendicitis to be treated, and their cholecystitis, and their hernias fixed. They need basic surgical care, and a lot of that basic surgical care does not require a hospital for recovery."
The Fine-tuning Stages
One of the challenges the team is still trying to overcome is to reduce the cost of SurgiBox. For it to be accessible to all, it needs to be as inexpensive as possible.
Their goal was to have SurgiBox cost less than $100. The challenge has become a balancing act between what is necessary to keep the Surgibox lightweight and compact, and what can be replaced with a more cost-effective alternative.
SurgiBox is also currently undergoing pilot testing to optimize usability. The team creates mock procedures for surgeons who are unfamiliar with the apparatus to perform, so they can can a better understanding of how it looks from an outsider's perspective.
The SurgiBox team has won multiple awards for their work, including the Platinum Award for the 2018 MassChallenge and the Beazley Design of the Year – People's Choice, among others.
They will be seeking FDA approval once testing is complete, so it can be shared across the world to save lives.
Blog post as it originall appeared on the Mass General Research Institute Blog
---
Contact
Debbie Lin Teodorescu, Founder SurgiBox