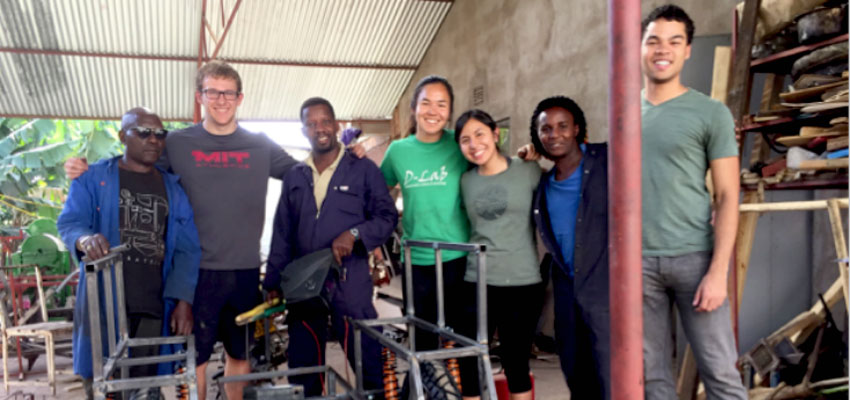 Building the prototype at Twende with the help of Bernard Kiwia and Athumani.
Rural villages in Tanzania and other developing countries are often miles from medical care facilities. Due to cost and road conditions, locals do not own vehicles equipped to transport a person with a medical emergency for long distances. We are trying to fill this gap. Our solution is to create a motorcycle ambulance with a dynamic attachment mechanism to fit onto any motorcycle in the area. This January, I went to Tanzania with three other undergraduates, Sade Nabahe '17, Jimmie Harris '17, and Mitch Turley '18, to implement our design and do more research on understanding the full scope of the project.
Our team formed in the course D-Lab: Design in spring of 2016 to work with a Tanzanian organization called The Olive Branch for Children to increase access to healthcare services in rural villages. We have been working with them remotely to design a phase one prototype at MIT, and were lucky enough to get a UGC D-Lab Fieldwork Grant to continue this project in the field. While we were in Tanzania, we had a goal to rebuild the motorcycle ambulance with the help of the organization we had been working with. Through introductions from D-Lab, we were able to work with many more Tanzanian people and organiztions.
Upon arriving, we headed to Arusha to meet up with MIT alumnus Elliot Avila '14, who founded a company Imara Tech currently developing a motorized multicrop thresher (a project that evolved in D-Lab classes and through two D-Lab Scale-Ups fellowships). We stayed with him and worked at the social innovation organization called Twende, which was an incredible experience. Twende is an entrepreneurial accelerator created by Jim Elsworth and Bernard Kiwia, that offers business help and fabrication inspiration to growing businesses. Being able to rebuild our prototype at Twende was more than we could have asked for — we had an incredible arsenal of creative minds and expert fabricators to bring our ambulance into existence.
Once the ambulance was built, we had to say our goodbyes and head down south to Mbeya to finally meet our partners at The Olive Branch. We were greeted with open arms by Deborah McCracken, her husband Putiyei, and their incredible children (of which there are many!). While in Mbeya, we were able to experience the rural villages' lack of access to healthcare first hand, as well as test our prototype on the roads that would be taken to the hospital. We could not have been luckier to have such supportive partners while we were there to take us places and teach us things we would never have been able to experience otherwise. While we were there we also named our device the Okoa Ambulance, Okoa meaning "to save" in Swahili. After coming home from a long day of work doing field testing and user interviews, nothing was better than seeing all of the kids at The Olive Branch who made our trip infinitely better. I think it is safe to say that the best part of our trip, both in Mbeya and Arusha, were the friends that we gained along the way. 
Now that we have arrived back in the United States, we are determined to continue this project and see it through. We were all very moved by interest in our device while we were in Tanzania, and intend to pursue this project over the course of the next year at least. This spring, we are applying to the MIT IDEAS Global Challenge, as well as more funding opportunities to improve the design in the areas that we saw were weak, and push for solidifying the parts that were successful. Being able to travel to Tanzania to make this project a reality was an incredible and life changing experience, and we hope to make an impact with the opportunities that we have been given.