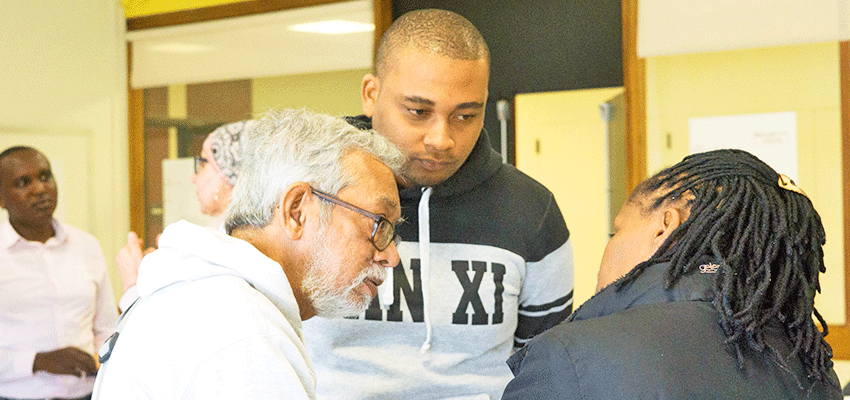 D-Lab Scale-Ups Fellows Suprio Das (left), Prince Prosper Tillya (center), and Winnie Gitau (right).
MIT D-Lab | Practical Impact Alliance
Introduction
On May 8th, MIT D-Lab hosted the kick off session for a new joint learning lab for members of its Scale-Ups Fellowship and the Practical Impact Alliance (PIA) communities of practice. Facilitated by Saida Benhayoune, Program Advisor at D-Lab, and Magdalena Kloibhofer, Enterprise Support Specialist at SEED, the session provided participants the opportunity to network and collaborate around a shared design challenge while generating practical ideas and action steps for their peers. This session focused its design challenges on the idea of creating inclusive partnerships models as small-scale social entrepreneurs focused on base-of-pyramid markets.
Often, for social enterprises, the allure of so called "hybrid partnerships" with corporations, NGOs, and government centers primarily on expediting and augmenting the process of scaling up. This potential can be so enticing that entrepreneurs may rush into partnerships before fully considering the inherent challenges of working with organizations that have fundamentally different goals, resources, cultures, and incentives than their own.
These vague and haphazardly constructed partnerships fail to return equitable return on invetment to those involved and may end up requiring more cost and effort than is worthwhile or even inducing tension and strain in formerly amicable partnerships. The challenge thus emerges in the form of the question, "how can participants co-design partnership models where all partners have shared understanding and buy-in for the value created, exchanged, and captured within the partnership?"
To help participants think through this challenge, the workshop used a tool created by Bart Doorneweert of the Source Institute in the Netherlands called the Partnership Canvas (Figure 1). By facilitating real business challenges from participants to use as case studies for the tool, the workshop translated the concepts from abstract discussion to practical and nuanced realities.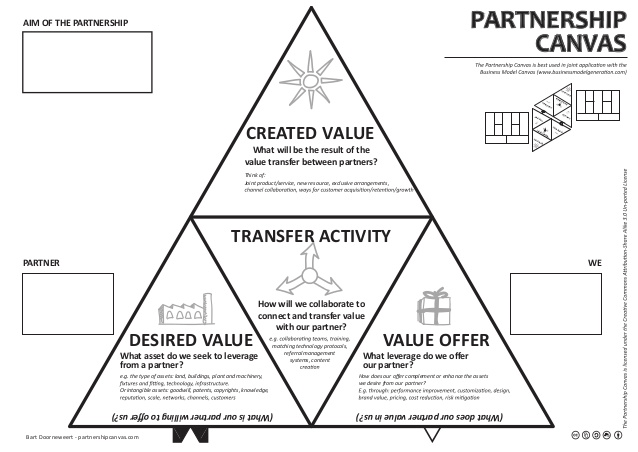 Workshop Details
After a brief welcome and framing introduction, participants divided into groups of three to share challenges in their experiences around current or previous hybrid partnerships. Following a number of brief rounds of discussion with different groups, volunteers presented their case challenges to the group as a whole. Participants then disbursed around cases that captured their particular interests.
Once groups solidified around their preferred cases, Magdalena introduced the Partnership Canvas tool using SEED as a demonstration case.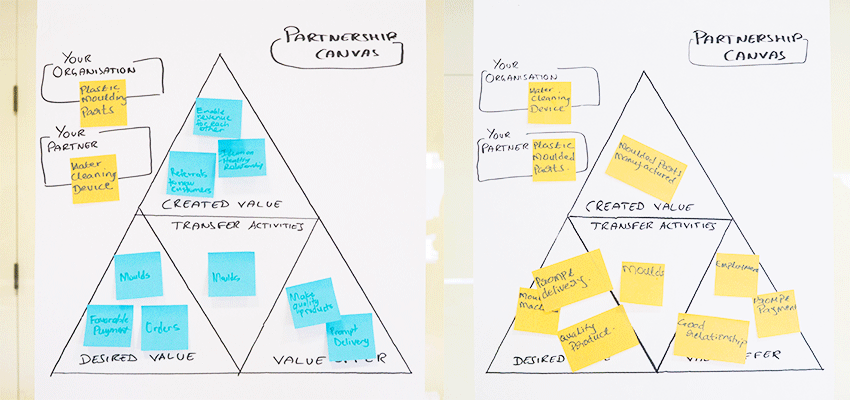 Canvas Building Blocks
Consisting of four basic building blocks, the canvas exists to provide structure to the process of creating an inclusive business model for hybrid partnerships.
Block 1: Desired Assets – What asset do we seek to leverage from a partner?
The basic questions guiding this block are, "What is the purpose of the partnership?" and "What would you like to access from your partner (specific quality or asset)?" Entrepreneurs must consider what they are missing from their current business model that a partner could provide. This "missing element" is their "desired assets."
Block 2: Value Offer – What leverage do we offer our partner?
The next block to consider in the canvas is what value the enterprise offers to the partner. What matching offer can the entrepreneur connect to its desired assets from its existing business model? Without this connection, there is little hope for an effective, sustainable relationship. This is the enterprise's "value offer."
Block 3: Transfer Activities – How will we collaborate to connect and transfer value with our partner?
The next building block of the canvas is the "transfer activities," which outlines the specific actions that will connect the desired assets and the value offer. What will each partner do and how will these actions create mutually accessible value for each partner?
Block 4: Created Value – What will be the output of the collaboration between the partners?
The final block of the canvas is "created value." What new values have the transfer activities created for each partner and how can partners leverage them for their respective business models?
Implementing the Canvas
By framing potential partnerships using the canvas, entrepreneurs and partners are not only able to think methodically through the value proposition of partnerships, they can also easily assess whether parties are on the same page and where disparities exist (Figure 2).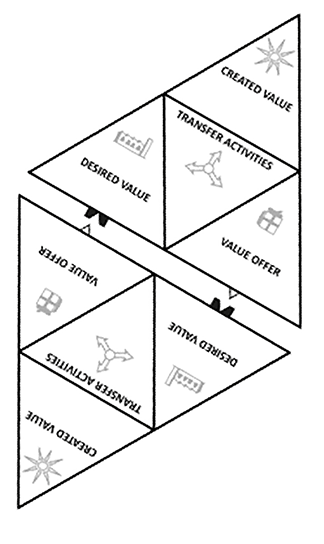 Once the case groups gained basic understanding of the canvas model, participants adopted either the perspective of the entrepreneur or the partner and addressed the relevant fields in the canvas from this point of view.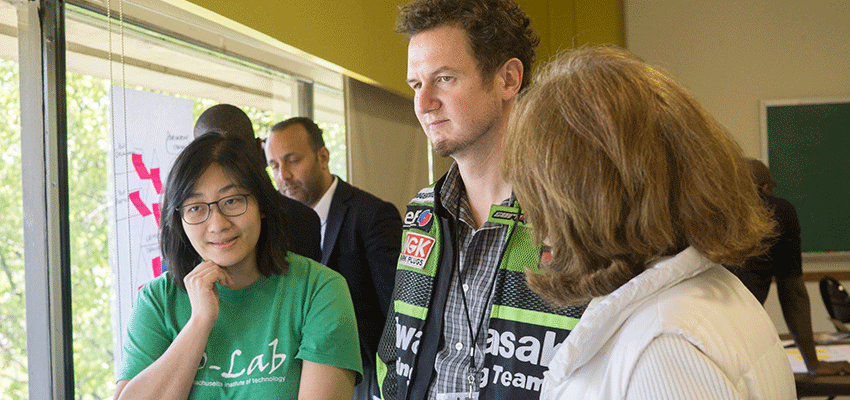 Results & Next Steps
Following completion of case study partnership canvases, groups reported out their results and the group debriefed its experience with the tool and offered feedback. While participants felt that the workshop generally achieved its overall goals, they raised a number of questions about the tool as well:
Is there a consensus on the definition of value?
When is it appropriate to use this tool as opposed to others such as the PIA Partnership Activation Tool (P-ACT)
What is the contingency plan in the case of mismatched value in an ongoing partnership?
This session was just the beginning of a year-long exploration through the joint PIA-Scale-Ups Learning Lab on the topic of Co-Designing Inclusive Partnership Models. This learning lab will explore the question, "How do we co-design partnership models where all partners - despite their diversity - have a shared understanding and buy-in for the value created, exchanged and captured within the partnership?"
This learning lab will build upon the learnings of P-ACT to create a framework that gives practitioners a disciplined approach to co-creating business models for hybrid partnerships. With a regional focus on East Africa, this lab will examine and distill lessons learned from a series of case studies where social businesses have partnered with corporations, NGOs, or government to establish new or enhanced value chains for social products or services in BoP markets.
Stay tuned for more updates on the Learning Lab's progress!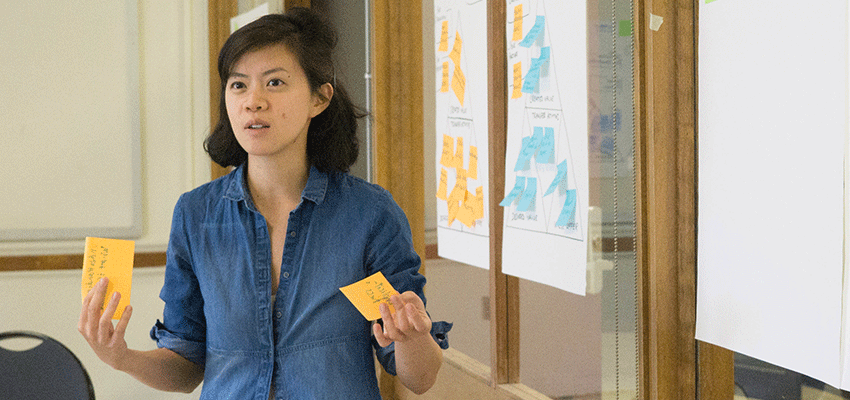 ---
Geoff Tam is an MIT D-Lab Monitoring and Evaluation Fellow working with Kwangu Kwako, LTD in Nairobi, Kenya during summer 2019. He is a rising second-year masters student at the Tufts Fletcher School of Law and Diplomacy studying development economics with a focus on impact evaluation.
---
More information
Contact
Amanda Epting, Practical Impact Alliance Manager