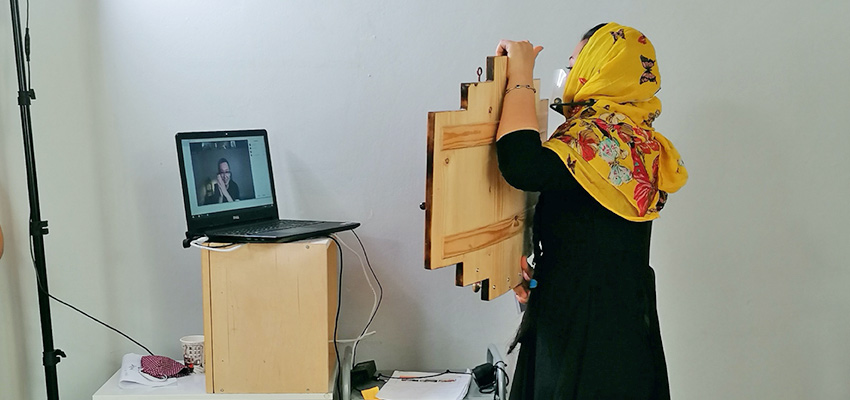 A refugee participant in a Horizon Center design class sharing her work with online design instructor Heewon Lee from MIT D-Lab. Photo: Faros
MIT D-Lab
Faros Horizon Center design program in collaboration with MIT D-Lab Humanitarian Innovation program during COVID-19
In 2017, the D-Lab Humanitarian Innovation program began collaborating with Faros, a non-profit organization in Greece that provides care and support to unaccompanied refuge youth, to explore the possibility of developing a design training as an income generation project. In January of 2019, D-Lab worked with Faros to open the Horizon Center, a teaching space and workshop dedicated to design and vocational instruction. Over time, the program open its workshops to refugee women as well.
Last spring, as Covid-19 shutdowns hit Athens, D-Lab staff worked with Faros to move its programming online. In the summer, two D-Lab student graduates, Hanna Kherzai and Susy Tort, joined to work with D-Lab staff in creating content. Below is an outline of this process and learnings acquired along the way.
Phase 1: Simple Creative Activities Over Facebook and WhatsApp, March 18th - March 29th
The first phase of online programming aimed to familiarize the refugee women and youth with communication and learning over online channels of WhatsApp. This period of adjustment allowed them time to register for the HC program in its new digital form. The staff used WhatsApp as the main mode of communication and instruction for the women's program. Despite not being the most user-friendly interface for online teaching it was the platform women participants tended to use WhatsApp and the youth used Facebook and Zoom .
Learnings from Phase 1
Initally, both women and youth could be overwhelmed easily given all the other pressures they were dealing with in lockdown so the staff decided to start with simple activities that could be done with tape, paper, and scissors and participants could then upload pictures of completed projects. This initial experience showed both groups valued the steady communication, support, and activities. However, the staff saw they needed to move from simple activities to providing more content to continue to engage and train the women and youth.
Phase 2: COVID related activities using WhatsApp & YouTube, March 30th-April 26th
Because of the rampant misinformation about Covid-19, the staff began informing refugees about it in March. In this period, they decided to develop a series of educational videos for the women and youth. They combined some activities such as making masks which could incorporate design principles with health education about transmission, handwashing, etc. Heewon and different design instructors created and introduced "vlog"-type YouTube videos for Covid-19 education. Over the course of the online program, the YouTube videos alone had 266 views. Alongside the videos, the staff took screenshots of each step and then described them with text and audio for students who could not download the videos. All materials were translated into Farsi. Care had to be taken to develop activities that still did not require any special tool or materials beyond simple recycled items that could be found in any household. Activities could be done alone or with family members (or those living in the same space) and no activities required going outside or having interactions with others that could put them at risk. The staff created a feedback video responding to all the students about the projects they had sent to staff. At this point, women who were on the original WhatsApp group of people interested in the design training back in September 2019, "re-joined" the program because they could learn from their homes rather than be physically present at the center.
Learnings from Phase 2
The planning, scripting, shooting, editing, and publishing of videos for the activities proved very time-consuming. The staff shared information about Covid-19 every day including prevention tips, updates, and myth-busters. All information had to be congruent with the Greek General Secretariat for Civil Protection, ΕΟΔΥ, WHO, UNHCR and CDC, translated into a fun activity without losing its solid scientific grounding or consistency with health standards. Staff felt by the end of April that they had completed this phase and should focus on design training going forward. They were still quite hampered by the fact women and the youth did not have materials or tools to do advanced design activities and there was no way of getting these to them.
 
Phase 3:  Design Related Activities Using WhatsApp and YouTube, April 27th-May 7th
Beginning with these two weeks, the team shifted back to create engaging design activities more closely related to the HC design program curriculum, although the lack of materials was a big restriction on activities. They did the same lessons for youth and women, trying to use the design cycle in each activity. The team continued to create engaging YouTube "vlogs" for each activity. Additionally, the staff created step-by-step Farsi instruction guides with screenshots from the YouTube videos for those who didn't have data or available Wi-Fi for streaming.
However, there were immediate challenges in this period that made it difficult to both produce sufficient content and engage students consistently. Making videos about design was easier than making them about Covid-19 but developing content for a class, and then scripting, planning, shooting, translating, and editing 2-3 videos a week, each with different content, and doing the instruction guides was just not possible for the staff given they were also running different classes and chat rooms as well.
Learnings from Phase 3
In this time period, access to data became a significant problem. One of the telecommunication companies had been providing free data to customers with their plan. This ended, however, further hampering women and youth's access to data. Many of the women had not been on that plan and were constantly struggling for data and free Wi-Fi in order to access, stream or watch videos and programs on any platform or to upload their work on a common platform. Most Horizon  Center students couldn't afford to buy data or find a hotspot to watch the videos and connect with the instructors due to the lockdown. Going out to find sites with free Wi-Fi was a big health risk. Since many of the activities had to be captured through video or photo, students had a hard time sending back their homework. At the same time, students were clearly asking for more psychosocial support during the lockdown. This period also concurred with Ramadan. All of these combined to reduce participation. The staff needed to find alternative ways to develop enough engaging content to present remotely, continue to provide psychosocial support, and address the data question.
Phase 4: RISD Student Activities Using Facebook, WhatsApp, YouTube, and GIF, May 8th– June 10th
The challenge of developing sufficient content was addressed through a partnership with the Rhode Island School of Design (RISD) where Heewon was teaching a class. During the semester, Heewon facilitated five student teams to work with the design instructors on co-creating three activities for each program. Each activity had a psychosocial lesson embedded so the design instructors and the Horizon Center psychosocial team could use them to prompt deeper conversations. The Horizon Center staff felt that the RISD collaboration was educational, inspiring, and fun.
Many of the activities were designed with limited data access in mind, using GIF files. A YouTube video occupies about. 500-700MB of data, while a GIF only takes up about 500kb-2MB. GIFs incorporate motion and are engaging, but are much less labor-intensive than creating YouTube videos. Distributing the GIF files unburdened the Horizon Center students from using too much data and creating GIF files was much less labor-intensive than creating YouTube videos. There were still problems with data but they were less severe and women were able to access more of the program.
The design instructors delivered three activities every week and a half to the women and youth over the WhatsApp group chat. The three activities each RISD team created had a specific theme (e.g. perspective, storytelling, etc.) and focused on a psychosocial lesson (teambuilding, reflection, etc.) which gave the Horizon students time to understand the underlying lesson through multiple activities. Each activity also required minimum tools and materials but retained a strong creative component relating to design. Lessons remained hands-on and students were given a translated step-by-step guide while slide decks and instruction guides were provided for Horizon Center design instructors by RISD students. This also gave the Horizon Center staff a month-long block of time to work on other logistics and prepare for Phase 5 of the online program.
On June 15th, The Greek government lifted the lockdown abruptly forcing the design instruction team to pivot quickly to organize in-person classes outside.
Learnings from Phase 4
Ramadan & Eid affected the participation of the Horizon Center students, especially the women's program because students were preparing food late at night and then sleeping throughout the day. Due to these Islamic holidays, it was hard for the students to focus on the regular class activities. The RISD students acknowledged this and created smaller and more simple activities that related to the holiday and to complete with their family members or housemates. In the case of data connectivity, GIFs are a great way to communicate projects to students. GIFs are both easy to create and require low data usage when sending, viewing, or saving information.
Phase 5 & 6: Design Related Activities at the Park and Re-entry to the Horizon Center: June 10th - July 2nd
Initially, the women and youth met in a park near the Horizon center where the Design instructors created socially distanced activities, providing some daycare. Everyone was masked and used hand sanitizers. Horizon Center bought, assembled, and distributed tool kits for both youth and women in this time so that they could do more complex activities in the home. Horizon Center tried to balance a 50-50 split between psychosocial activities and design activities for the students. The Design instructors decided that classes for women were better done in person in the Horizon Center where children could also be safer. On June 22, the women's program moved indoors to the Horizon Center with new Covid-19 protocols, masks, deep cleaning, copious use of hand sanitizer, limited numbers of people permitted in each room, and ventilation. Women arrived at the HC by appointment and completed an hour and a half in-depth interview with the staff to outline a holistic plan for going forward. Classes for the youth continued outside until the weather became too hot.
Learnings from Phase 5 & 6
Since the Covid lockdown, the women were not able to focus on creating products to sell, or business skills, they wanted to continue to do more hands-on design activities. It was important to respond to their priorities. Rapid re-opening in Greece was confusing for the refugees and brought new challenges. The women appreciated doing the RISD activities at this time. Faros learned that they could safely re-open the center slowly.
Phase 7: Readjusting Back to the Horizon Center, July 2nd-August 15th
This was the last stage of the Covid-19 response program before the center shut for summer vacation. Women's program classes were limited to 4-5people for in-person classes at one time, using tools and machines, with translation and daycare provided. Based on the holistic interview for each woman done in phase six members of the Horizon Center staff assisted with doctor appointments, asylum cards, and other logistics.  Women tailored face masks, made electric foam cutters for sketch modeling, worked on their presentations for their design journey, and reviewed the market survey which was completed in August 2020. The youth began phased classes, coming in shifts for shorter times.
Learnings from Phase 7
The new toolkits were complementary to the in-person training, allowing women and youth to do "homework" and progress on their projects at home. In turn, this meant they could progress faster in class. The staff found that sketch modeling, an important design tool, could be completed just as successfully outside of HC as during class once students had the materials.
Conclusion from the Covid 19 Phase
The five-month Covid-19 response phase changed the program dramatically but provided important new learnings.
The fact that the staff remained connected to the students and provided them with support was of paramount importance at a time of increased isolation. Some of the refugee women told the staff that Faros was the only organization reaching out to them so often and that helped them not feel alone during the lockdown.
Women could not concentrate much on building business skills or think about production during the lockdown, nor could they work on their projects, it was important to recognize that and focus on the connection, accepting that the instructors could not accomplish too much on design training in this period. Also, all non-essential businesses were shut at this time.
Lack of materials and connectivity hampered the range of activities provided but the Design instructors stretched their own abilities to come up with activities that were related to the design process and kept them moving within that process, with the serious limits that reality imposed.
Faros and MIT D-Lab were extremely agile in iterating different ways to work with the women and youth, pivoting away from methods when they didn't work and trying something new.
Faros and MIT D-Lab learned a lot through practice about the value of different platforms for different kinds of remote learning. The key element is to use as little data as possible while remaining engaging.
Faros and D-lab now have a strategy for future lockdowns. It will be key to develop an Android based educational app that includes the design activities and to tool kits delivered if Faros' policies and public health policies allow for that..
The Covid-19 response was successful in that women and youth kept connected to the program and continued doing some design activities while they received psychological support they could not access anywhere else
However, the lockdown meant that no new cohorts could begin the program and delayed the first cohort's completion of their program until September/October 2020.