Attaching a sensor to a pot-in-pot evaporative cooler in Bamako, Mali. Photo: Ousmane Sanogo
Engineering for Change
Original article as posted on Engineering for Change
Worldwide, researchers investigate solutions to solve our world's greatest concerns, such as access to clean water, food security, and sustainable energy. However, research often focuses on the flashiest or more high-tech solutions, which may not be practical or affordable for low-income communities. At Engineering for Change, we believe that low-tech and low-cost solutions should be researched with the same vigor as high-tech products. To accomplish this, we've developed the Solutions Library, an open-source online database of over 800 real solutions that work in the field, not just flashy products.
Each year, a cohort of research fellows investigate both mass-produced products, such as Solar Home Systems, and locally manufactured solutions, such as the Acrifiltro Ceramic Water Filter. This research process includes online investigation of reports and academic publications and contacting the manufacturer for additional specifications. Once a product report is complete, an Expert Research Fellow and Expert Advisor review the report before it is published.
INFORMATION DEVELOPMENT PROCESS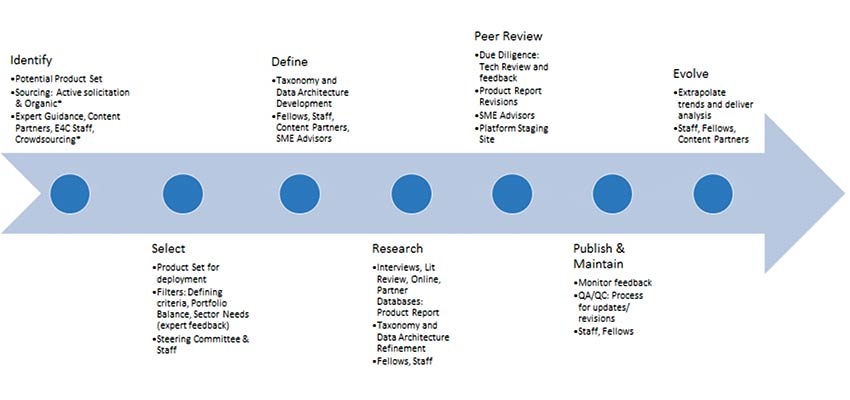 At E4C, we are always looking for ways to improve our research process and incorporate the latest data from the field. Each report consists of an Academic Research section, highlighting research completed by academic institutions, which is often peer-reviewed. Our Solutions Library has incorporated hundreds of publications from universities and research centers from around the world, such a field study of the Moyo Fetal Heart Rate Monitor through a research collaboration by Aga Khan University in Tanzania and the University of Oslo and the University of Stavanger in Norway.
One key research center is MIT D-Lab, a program at the Massachusetts Institute of Technology, founded in 2002, which shares the same vision as E4C. That is, we each bring much-needed research to affordable and local solutions for development. MIT D-Lab's work has been paramount to many product reports in the Solutions Library, such as the Imara Tech Multi-Crop Thresher and Corn Sheller.
Most recently, E4C worked with MIT D-Lab to incorporate their research of Evaporative Cooling Chambers (ECCs), which are double-walled storage containers that use evaporative cooling principles to reduce the internal temperature of the chamber by up to 10 degrees Celsius below the ambient temperature. These storage units are built with local materials, such as brick and sand, to keep farmers' produce fresher for longer, resulting in an increase in saleable product and income. A detailed report of this technology is available on the MIT D-Lab website.
As part of the fellowship, E4C included D-Lab's recent findings on ECCs into the Solutions Library, including technical parameters, environmental conditions, appropriate implementation locations, and social constraints, among others. The household-sized evaporative cooling pot, known as a "Zeer pot," was also updated with D-Lab's latest research.
Affordable and locally constructed solutions, such as ECCs and the Zeer pot, have vast potential to improve the daily lives of people all over the world. It is imperative that researchers and engineers invest their time studying such products, just as they do with high-tech and "flashy" designs that attract attention in this space.
If you are interested in collaborating with E4C, a widely accessible entry point is through the Solutions Library. Comment on products with which you have experience (or questions) and offer suggestions for improvement of each entry simply by signing up as a member and searching for the products that interest you in the online database. The screenshot below shows how to click on "Suggest Edits" and fill out the corresponding fields. Your input is greatly appreciated and could become a part of future edits to each product entry.
---
More Information
MIT D-Lab Evaporative Cooling for Vegetable Preservation
Contact
Eric Verploegen, Research Scientist