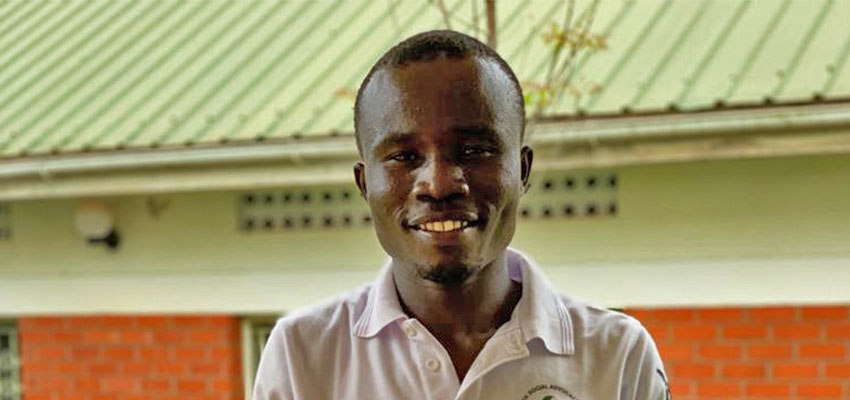 Richard, a refugee participant of IDDS Uganda 2019. Photo: Liz Hunt
MIT D-Lab | IDIN

The summit
The International Development Design Summit (IDDS) Uganda 2019: Transforming Household Livelihoods took place from August 21 to September 7, 2019, with 28 participants and 18 organizers from 11 countries. Among the organizers and participants were MIT D-Lab Founding Director Amy Smith and two D-Lab students, Sandy Walter and Megan Ochalek. During this two-week summit, participants learn about design and entrepreneurship by co-creating a technology and developing business models with community members from Rhino Camp Refugee Settlement.
The interview
I had the opportunity to sit down in Rhino Camp with Richard, a refugee participant in the summit, after the summit's closing ceremony, where he was nominated by his fellow participants to speak about his IDDS experience. What he shared was so touching that he brought me to verge of tears. I asked if he might be willing to share some thoughts with a broader audience through the IDIN blog, and he generously agreed. We are both grateful to Abhi, a summit organizer from India, for his work to help transcribe the interview to share with you now. Please enjoy!
Jessica: Richard, I'm not surprised you've been named "Most Likely to Start a Maker Revolution" among our community here at IDDS Uganda 2019. Thanks again for taking the time to talk to us for the IDIN blog, so our network members and supporters around the world can also get inspired by you! We have three initial questions for you on the past, present, and future.
(Our clarifying notes are in parentheses.)
1. Past: Would you be willing to share a bit about your story, and what brought you to IDDS?
Richard: When I came to Uganda, a war broke out in South Sudan in 2016 while I was there. I had no option. Some of my relatives are here (in Uganda). I decided to come to the settlement because most of my friends are here (in Rhino Camp).
Life is now hard. There is nothing to do in the camp. We are given food. It limits creativity, limits lots of things.
I asked JJ (nickname of our lead organizer from Rhino Camp) about YSAT (our host organization in Rhino Camp). I asked him, "How do I get involved making things?"
He said, "Okay, there is CCB." CCB stands for Creative Capacity Building. I like it. I just like the word creative. I joined the CCB training (in May 2019) with friends of mine, from where I learned about the design cycle. I really learned we can fix things ourselves. We are dealing with higher challenges. I can learn to solve minor problems with local technologies and with available materials that we have.
Though I learned about the design cycle, it was not enough to build confidence in me until IDDS, where I met new friends with different backgrounds. I felt like it would be good to have friends with different backgrounds, good to share what I do. I do mobile trainings and open technologies. Some want me to continue (doing these trainings and technology repairs). Some support me, not in cash, but in guiding me in how to ensure that the whole thing grows.
(Wow, right? At our IDDS participant presentations, Richard presented on his impressive work as part of a team that has been learning and teaching other refugees basic electronics as well as coding to build simple robots, sensors, and solar chargers for phones and computers.)
2. Present: What has been your experience at IDDS? Any highlights you'd like to share?
Richard: IDDS has been something to me that's helpful. I had taken a loan from the community (to join the summit?). I can give back by showing there is this problem. Globally, many believe that refugees are in need of materials, but we are people who can really build things. Yet they give saucepans, instead of ways to make saucepans. Hence, this makes people much more dependent on partner organizations.
Not all of my friends have had the chance to be educated, not all have made technologies - we are not all from the same background.
I was surprised! I have a friend at the summit who did not go to school as much, and he really had the chance to contribute to the projects. Everyone can design and make technologies. That is the whole thing. I really appreciate IDDS.
3. Future: What are you most looking forward to next, as this year's IDDS in Uganda comes to a close?
Richard: I am looking forward to seeing the next time, where I can volunteer to facilitate. I am ready to be a facilitator of value to them (community members, future IDDS and CCB participants). I know some of the problems and challenges the people living here go through. We can create ideas on the basis of problems and challenges!
(This interview has been edited for clarity. Feel free to leave a comment or reach out if you have additional questions for Richard!)
---
Jessica Huang is a doctoral candidate in public health at Harvard, and she has co-founded and co-taught university courses at MIT D-Lab as well as led its youth engagement initiatives in partnership with school teachers from around the world. Jessica has been involved in IDDS since 2008, helping with summits in USA, Ghana, Brazil, India, Colombia, and Guatemala. Most recently, she was an instructor at the 2019 summit in Uganda on refugee livelihoods and served as a representative at the UN Solutions Summit, where she helped to bring IDIN on as a new Acceleration Partner.
---
More Information
International Development Innovation Summits
Contact