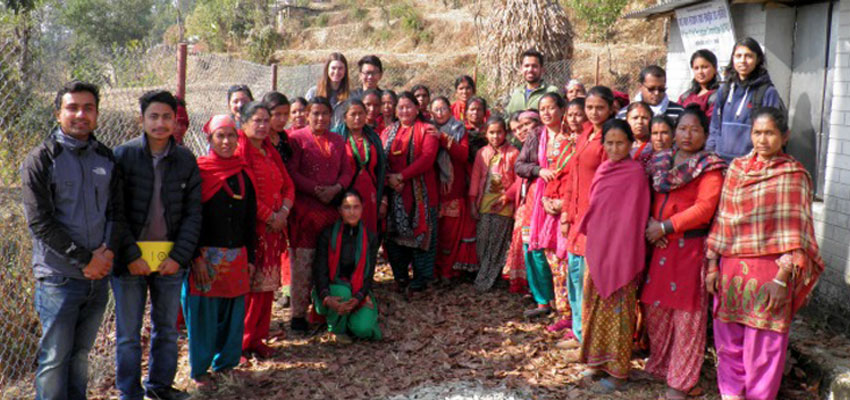 MIT D-Lab and Kathmandu University team with women from a Village Child Protection Committee (VCPC), Salambu, Nepal.
MIT D-Lab
Earlier this year, the Electrical and Electronics Engineering (EEE) department at Kathmandu University (KU) hosted a group from MIT D-Lab during MIT's January Independent Activities Period. The MIT group was led by D-Lab Postdoctoral Researcher, Anish Paul Antony, and included three MIT undergraduates (Adam Zhao, Lucy Milde, and Jennifer Lu) who took the D-Lab: Development course last fall. The Kathmandu University team was led by Shailendra Jha (Assistant Professor in Electrical and Electronics Engineering, KU) along with one master's student Bhuwan Paudel and three KU undergraduates from EEE Shanta Aryal, Sandhya Bohara and Prashant Tiwari.
The purpose of the trip was to collaborate with students and staff from Kathmandu University to build capacity in conducting an energy needs assessment in rural Nepal. This work is part of the D-Lab's Energy Research Group's mission to support the development of energy access programs driven by local institutes across rural areas in the developing world. This project was jointly supported by MIT D-Lab, MIT MISTI, and Kathmandu University.
The goal of these assessments is to provide a framework for institutes to identify opportunities where increased access to improved energy-related products and technologies can benefit communities. The assessment was conducted in Salambu and Majhi Feda, Nepal.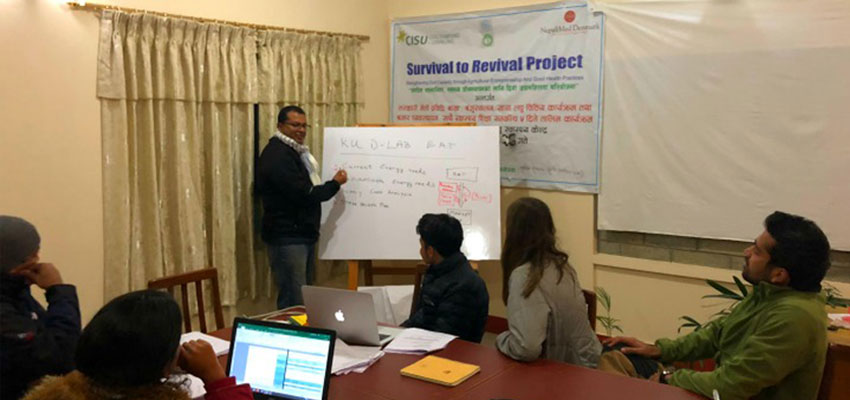 The first three days, the MIT team worked with the KU team in Dhulikhel. Anish trained the entire group on the D-Lab Energy Assessment Toolkit. We were split into pairs with one MIT student and one KU student. We learned so much from the KU students not only in terms of their culture but also their experiences as students studying engineering. While our worlds seem very different, there is so much in common between our student experiences back in Cambridge and their experiences as students in Dhulikhel.
Once we felt confident using the tools in the Energy Assessment Toolkit, we set out to Salambu, which although it is only 40 kilometers from Dhulikhel, took us a good four hours to reach, as the roads were still being constructed. KU has an outreach hospital center in Salambu, which is where we stayed for the rest of our time in Nepal. When we reached Salambu, Shailendra sir from KU wanted the whole team to visit a 29 kilo-watt micro-hydro plant constructed by the World bank 16 years back. This was truly a fascinating experience as we witnessed a turbine in action and learned about electric grid stability, load variations, and compensations involved in balancing the load with electric supply.
Each of the two villages where we conducted the assessment, Salambu and Majhi Feda, have a population in excess of 1,000 people who live in a mountainous terrain along the Himalayas at elevations of approximately 5,000 feet. We began our work by visiting the village head of Salambu to gain permission to conduct field research in the area. We found that the village head had a wealth of knowledge about the energy situation and government and NGO programs in the region. Additionally, we were helped by the KU outreach center's manager from the community who became our point-person for mapping the stakeholders in the area and identifying individuals at local businesses and civil society organizations for in-depth interviews. 
The KU outreach center's manager directed us to individuals to interview about household energy issues. The KU students and MIT students were both very interested to learn about D-Lab's process and how various pieces of information gathered in the assessment could contribute to shaping possible programs that KU could later implement. The entire team conducted the interviews in Nepali. Once we completed data collection in Salambu, we moved to Majhi Feda where the same process was repeated. Freezing temperatures early in the morning and towards sunset kept interfering with our daily plans, but lots of warm cups of Himalayan tea and wai wai noodles kept the entire team motivated. The major focus during the data collection was to identify current energy access and expenditures, aspirational energy needs, supply chain mapping, and stakeholder analysis in the region.
Throughout this entire process Anish led the study design and was also there to answer questions and address doubts we had during the assessment. While our target was households, Anish and Bhuwan focused their attention on shops and local business in the region. They quickly identified that most of the goods and products entering into the community were coming in either from India or China into Dolalghat and from there to Salambu. Identifying this supply chain would help in bringing modern energy services through similar supply chains into Salambu. After collecting data during the day, we spent each night entering the data into the data analysis tools both for Salambu and Majhi Feda.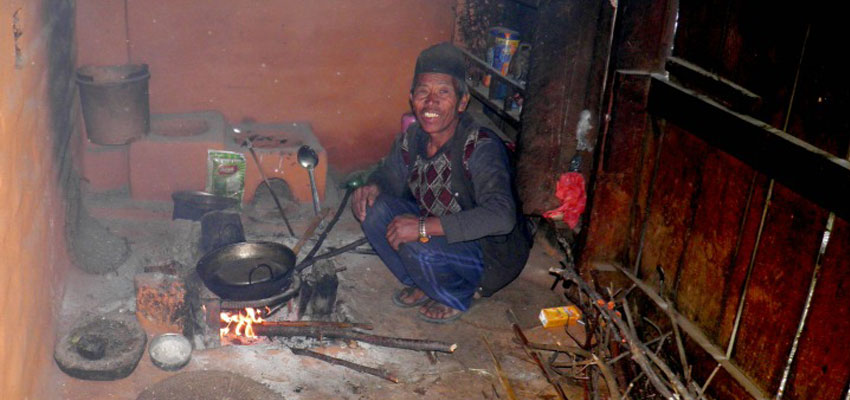 Results from the assessment in Salambu and Majhi Feda
After the data collection was completed, the assessment team returned to the outreach center to analyze the data and to start formulating ideas of potential programs that KU and D-Lab could pilot in the region.
The data from the energy assessment in both regions revealed alarming rates of forest-wood being used for household heating and cooking. A majority of the women in Salambu and Majhi Feda spend between two and five hours a day collecting forest wood, and this activity was one of their most time consuming tasks. Furthermore, most homes in this region lacked proper ventilation and used wood stoves or basic three stone fires for cooking which is not only inefficient but also contributed significantly to indoor air pollution. Access to water was a major source of concern especially as some families lived at a significant distance from the water streams, while those who had easier access to water were wasting it due to poor pipe fittings in the villages. 
We also learned that after the earthquake that devastated Nepal in 2015, NGOs  donated a number of small solar home systems to the people but that not everyone in the community was happy with the performance of these solar systems. Some of the systems have started to fail mainly due to maintenance issues. From KU's study of usage patterns of improved cook stoves in the region, we found that increased cooking times when using improved cookstoves (compared to traditional stoves) and the inability to generate enough heat during the winter months have resulted in cookstove stacking (use of multiple stoves).
Over the next couple of weeks, Anish from D-Lab and the KU team will complete the data analysis and engage in project idea generation to pick projects with the highest chance of success. Some probable solutions that make sense based on the data are (1) thermally autonomous passive heating in the Himalayas, (2) solar operated cell phone charger. 
Finally, the entire team would like to thank Professor Bim from Kathmandu University, Professor Jeff from MIT Nepal initiative and Mala Gosh from MISTI India-Nepal!