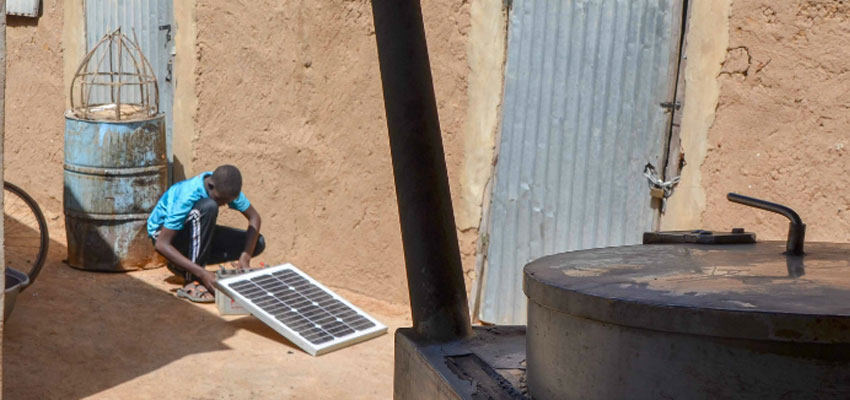 Young man with solar panel in Dioro, Mali.
"Increasing Energy Access in Off-Grid Communities: A Roadmap for Local Organizations"
e4Dev Speaker Series Talk
When: Tues., Feb. 16th, 6pm-7pm
Where: E19-319
RSVP: here (dinner included!)
DESCRIPTION
Local organizations in off-grid communities can be powerful agents of change for driving increased energy access, regardless of their existing expertise in the energy sector. However, most models for scaling energy access in the developing world focus on the producer or vendor as the agent of change.
Eric will discuss the tools and strategies that D-Lab is developing to support local organizations in identifying solutions to meet off-grid communities where they are based.Student projects that we are planning for this year include collaborating with community innovation centers in doing outreach to local schools, supporting the launch of mobile innovation centers, and working on a low-cost lighting and literacy education module with South Sudanese refugees in Northern Uganda.
ABOUT ERIC VERPLOEGEN
Eric joined D-Lab in 2014 to expand the Scale-Ups program's research efforts in the area of off-grid energy. He has a background in materials science and received his PhD in Polymer Science and Technology from MIT in 2008. Prior to D-Lab, Eric worked on developing materials for solar cells and waste remediation systems for the oil and gas industry. He is passionate about identifying technologies, products, and distribution strategies to increase energy access in the developing world. 
ABOUT e4DEV
e4Dev is the leading network for MIT students and researchers working on pressing issues related to delivering energy services in the developing world.