Happy Amos, founder of Roshan Renewables, working in MIT D-Lab's Burn Lab, a fuel and cookstove testing facility. Photo: MIT D-Lab
MIT D-Lab
Happy Amos is the founder and managing director of Roshan Renewables Energy LTD, in operation since 2014, and the first female-owned company that manufactures fuel-efficient cookstoves and eco-friendly fuel in Nigeria.
According to testing at the Energy Research Center at the University of Nigeria, Nsukka, the Roshan stoves, known as Happy Stoves and available in four sizes, are 60 percent fuel-efficient and achieve tier-four speed in a standard water boiling test. To date, Happy Stoves has manufactured and distributed around 30,000 stoves across Nigeria. Roshan also makes briquettes – about 400 kg per day – from agricultural waste (palm kernel shells and waste bamboo), replacing the need for charcoal made from trees. The briquettes have a high calorific value and are long-lasting, quick to heat, and cleaner burning than wood charcoal. Happy also manages empowerment programs for women, including savings and loan groups and a training program for Roshan sales agents.
At the invitation of D-Lab research scientist Dan Sweeney, lead of D-Lab's Biomass Fuel and Cookstoves group, and with funding from the US Department of State's TechWomen Emerging Leader program, Happy is visiting D-Lab for most of the month of November. She has given guest presentations to D-Lab classes including D-Lab: Development and Introduction to Energy in Global Development. Dan and a group of students from D-Lab: Development class have been working with Happy to make functional and aesthetic improvements to the Roshan cookstove.
"While it can be challenging for entrepreneurs like Happy to spend time away from their day-to-day activities at home, coming to D-Lab offers them an opportunity to take advantage of the workshop, lab facilities, and experts at MIT toward developing new and improved products to address urgent needs in their communities'" says Dan. "I hope that Happy's experience can serve as a model for more entrepreneurs to benefit from in-person engagement with D-Lab's world-class staff, students, and facilities in the future, and have a chance to share with the MIT community about their culture and business."
---
How did you get started in the cookstove and agricultural-waste briquette business?
Happy Amos: My grandmother lived in Mubi, the town in Adamawa state in northern Nigeria where I grew up. Later in her life when she was ill, I went to care for her. She used a three-stone cooking fire to prepare meals, and I had a difficult experience due to the smoke and the time it took to cook in that way. In searching for a solution, I stumbled on what I thought was an excellent business idea and it has proved to be a good one. I knew of people who used the three-stone stove and that they would definitely prefer something smokeless and affordable. My research led me to start a business in making improved cookstoves and briquettes.
What brings you to D-Lab? Tell us about what projects you are working on and who you are working with.
HA: Having a high-performance stove is very important to the growth of my company. I have a business background but no technical background, which is not very helpful in terms of stove design. So I am here at D-Lab working with Dan Sweeney and D-Lab students on improving the efficiency and also the look of the Happy Stove, taking advantage of all the resources available, like D-Lab's Burn Lab to improve the stove's efficiency, and also to expand my network.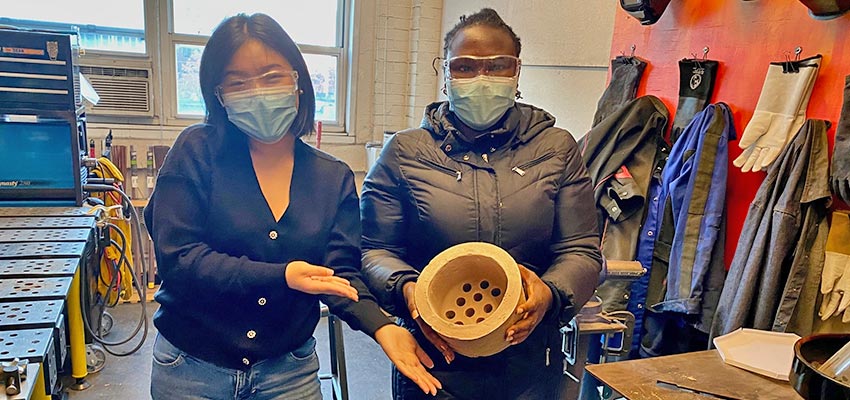 What do you hope to achieve while you're here, and how will you apply the work you have done here to your work at home?
HA: I hope that before I leave, I will have an improved prototype of the Happy Stove and be able to identify the machinery that can help me mass produce the stove back at home, standardize the cutting process, and learn the work ethics here too. We have been working to create a more appropriately-sized ceramic liner for the stove, one that would be optimal for a Nigerian family of six. Our current liner is a bit large and therefore fuel gets wasted. Optimizing the design for volume will improve efficiency. We are also working to make the stove more beautiful, experimenting with a unique exterior shape, adding decorative elements to the sheet metal, and seeking ways to standardize the cutting to give a professional and standardized look. They are currently manufactured by hand - we work with a group of skilled metalworkers to produce them. Now I am looking to introduce machinery that will help with some of the processes in the manufacturing.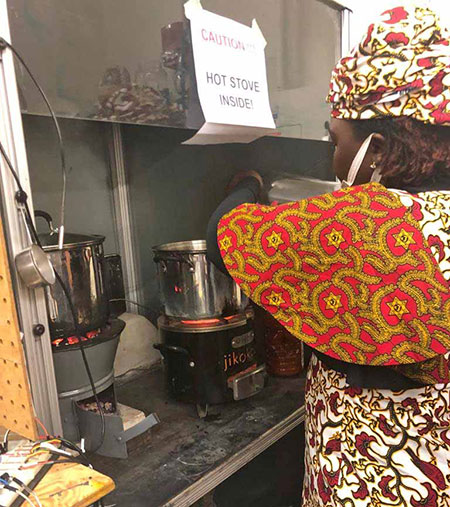 What are your long-term goals for Roshan Renewables?
HA: Our long-term goal is to be known as a hub for clean cooking products and services across Africa, with technology and innovations that are efficient, modern, and environmentally friendly, with the ultimate goal of improving the standard of living and also women's empowerment.
Any impressions of D-Lab, MIT students, or Boston weather you'd like to share?
HA: I was shocked to find how communal D-Lab is! Everyone has been so welcoming and helpful that I already feel a part of the family. The students are so smart, hands-on, and committed to the project, which makes me very hopeful of achieving my goals.
The weather! Oh wow, it is as cold as I have never experienced before, but kind D-Lab folks have ensured I am warm. I feel so happy and productive being here.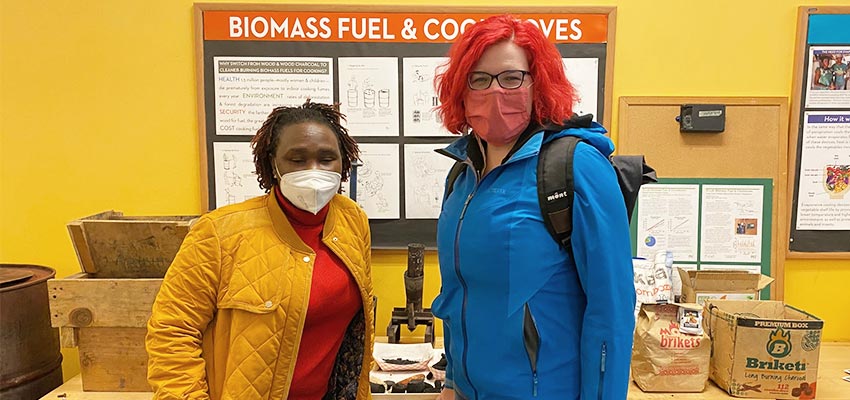 ---
Happy Amos holds a bachelor's degree in Management Technology from Modibbo Adama University of Technology and an MBA from Ahmadu Bello University. Her primary area of expertise is in business management and marketing, and she is a member of Women in Renewable Energies Nigeria, the Renewable Energies Association of Nigeria, and the Biomass Builders Association. She was an African Innovation Fellowship Fellow in 2019, a Vital Voices 2020 Fellow, an AWIEF Fellow in 2021, and a TechWomen Emerging Leader in 2020-2021.
---
More information
MIT D-Lab Biomass Fuel and Cookstoves Research
Contact
Dan Sweeney, MIT D-Lab Research Engineer, Biomass Fuel and Cookstoves lead