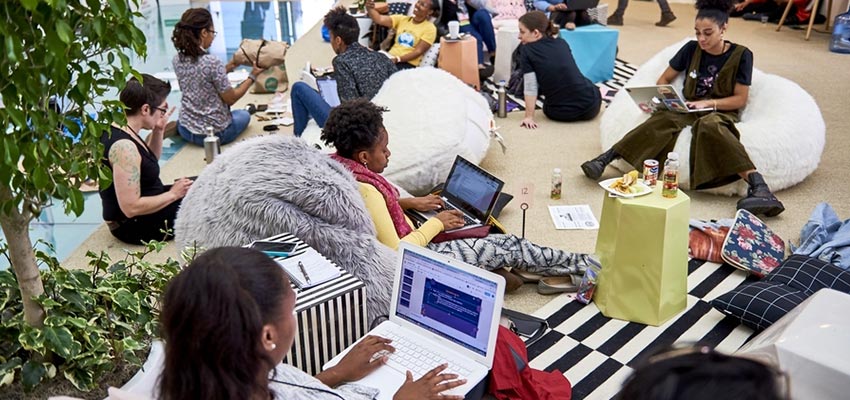 Women at an MIT hackathon in 2018 Credits: Photo: Catherine D'Ignazio
MIT News
Innovation and entrepreneurship organizations campus-wide celebrate MIT's female entrepreneurs in November.
The women's entrepreneurial experience at MIT started in 1870, when Ellen Henrietta Swallow first set foot on campus as an "experimental student." Some 30 years later, she became the second president of the MIT Women's Association, organized with her help "to promote greater fellowship among Institute women." In the years since, the immeasurable contribution of MIT's women to innovation and entrepreneurship has spanned the globe.
This month, MIT commemorates the 150th anniversary of the first female student at MIT with Women's Entrepreneurship Month at MIT, a celebration of female entrepreneurs at the Institute.
Organized by MIT Innovation Initiative and MIT Legatum Center for Development and Entrepreneurship, and in association with the nationwide Women's Entrepreneurship Day Organization, innovation and entrepreneurship groups across campus are participating in activities throughout the month.
"It's really the people that make innovation, more than an 'ecosystem'; MIT has built a thriving 'innovation and entrepreneurship community'," says Lauren Tyger, MIT Innovation Initiative program manager, community and resources. "When more women are involved in the innovation process, the impact extends further. Women's Entrepreneurship Month at MIT is about amplifying the stories of our entrepreneurial women."
Organizations currently participating in activities include MIT D-Lab, Graduate Womxn at MIT, Martin Trust Center for MIT Entrepreneurship, WISDM, and MIT PKG Public Service Center.
For more information on the celebration, including how you can participate via social media or related virtual events, visit the Women's Entrepreneurship Month at MIT website.