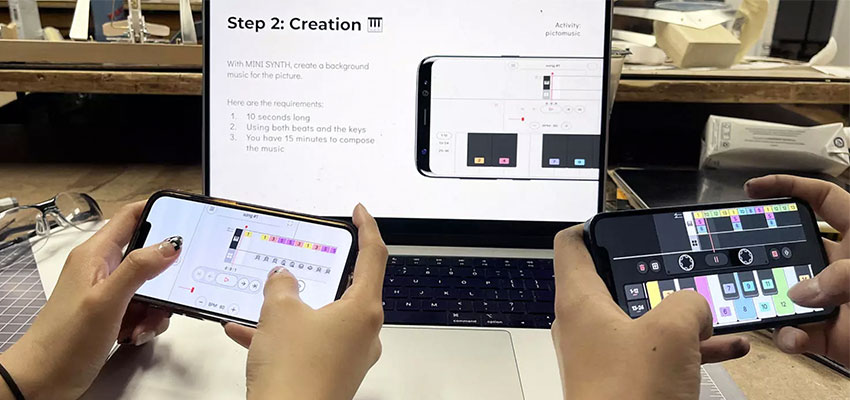 Photo: Jo Sittenfeld
RISD News
In a spring Industrial Design studio called Humanitarian Innovation Design, 12 students set out to create technology-based learning activities for refugee youth in Greece and Uganda. Led by faculty members Heewon Lee and Sally Beiruti and instructors from NGOs Faros and Youth Social Advocacy Team
(YSAT), students spent the semester designing digital activities to help children of varying ages, education levels and lived experience learn about design and technology using phones donated by the Samsung Electronics Galaxy Upcycling Program.
The studio grew out of Lee's work as a staff member on the Humanitarian Innovation team at MIT D-Lab, where Beiruti enrolled in a Humanitarian Innovation class while an undergraduate at MIT. "It's not just designing a simple product and hoping it sells well," explains Lee, "but more about how we can alleviate current issues [like language barriers] and create change in livelihood."
Before any designing took place, Lee and Beiruti made sure that students had a thorough understanding of humanitarian innovation and participatory design. "We emphasize to the students that you aren't supposed to go into these contexts thinking that you know better," says Beiruti. "You're bringing your own skill set, but you're not an expert in the situation. Designing with other people who are experts in their own situation is so important."
Richard Fu 24 ID, Ashley Fan 24 ID, and Sean Lee 24 ID, one of the teams working with YSAT in Uganda, centered their learning activities around music and developed a web-based synthesizer. The tool includes a beat track and a color-coded keyboard that uses numbers to represent musical notes. Fu—whose coding skills are entirely self-taught—programmed the application, which has run just under 6,000 lines of code.
"To overcome the language barrier, we decided against using the traditional alphabetical notation," Fu says. "Instead, we numbered the notes from 1–36 and then color-coded each octave so that a student could, for example, find the C note in any octave." After familiarizing themselves with the keyboard, children were tasked with composing their own melodies based on an emotion before asking their classmates to guess which emotion their songs represented.
---
    "You're bringing your own skill set, but you're not an expert in the situation. Designing with other people who are experts in their own situation is so important."
    Faculty member Sally Beiruti
---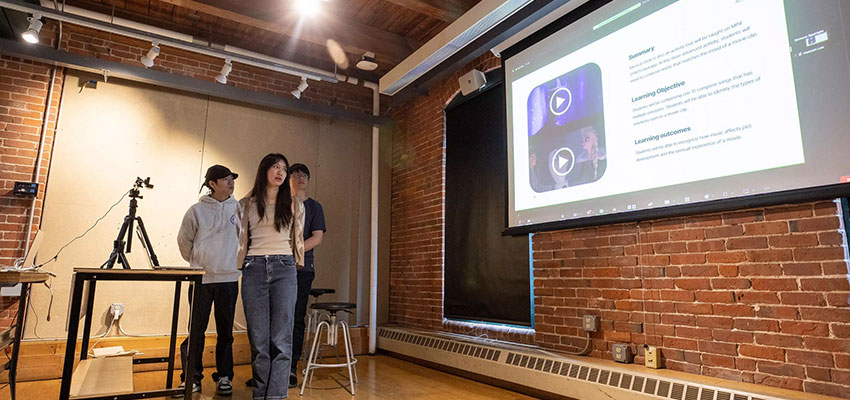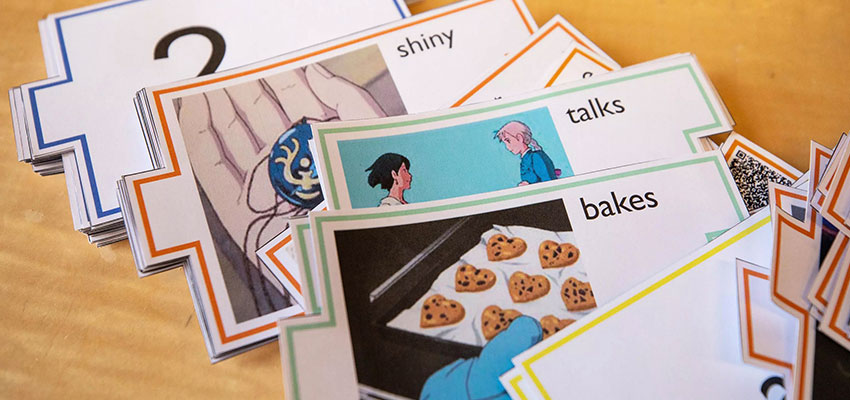 The second YSAT team—Bobby Chen 24 ID, Sishu Wu MID 23 and Claire Guo 24 ID— combined drawing and AI to encourage collaboration and teach children about the potential of AI tools. Utilizing Midjourney, an AI tool available on communications platform Discord, children used keywords provided to them to create design sketches, which they then uploaded to Midjourney to create more refined AI-generated images.
In another exercise, children used Near Field Communication (NFC)—a wireless technology for transferring data and sharing media between two devices—to create digital "tags" of their interests such as music videos or photos. Users then designed physical pins for other students to scan and view their tags.
Also centering their designs around drawing were Cindy Li 25 ID, Gary Li 24 ID and Jessie Zhang 24 ID, who worked with Faros to design for children in Greece. Using the AI-powered drawing tool dreamlike.art, users sketched models of custom headphones and jewelry and then used the platform to create AI-generated images of the designs. In a second exercise, children designed pairs of shoes based on their own sketches before using AI Canvas to "try on" the shoes that they designed in real life.
"Overall, [teaching the kids] went pretty smoothly," says Gary Li. "The experience was very rewarding and it was great to see this activity finally come to life after we worked through all the iterations and finished finalizing each part of the design."
Muskan Jain 24 ID, Mito Smith 24 ID and Amelia Strickland 24 ID, the second team designing with Faros, focused their designs on English language-learning skills. "We wanted to devise an activity that circumnavigated barriers and helped them tap into the learning process," Strickland explains. "We decided that in order to do that, it made sense to design a language-teaching activity."
One of the team's activities, AI Can Show You the World, involves color-coded cards featuring images, words and QR codes. When users scan the codes on their phones, a GIF image and soundbite appear. Users can then create simple phrases with the words they've learned and enter them into Deep AI to generate their own images.
"Design itself is a very therapeutic experience," Lee explains. "A lot of students focused their designs around empathy generation. Apart from the language and cultural barriers, they were also tasked with providing learning outcomes identified by 'client organizations' like APEX and World Economic Forum. We want to provide these youth with skills that are going to help them become employed in the future."
Hero image design by Richard Fu, Ashley Fan and Sean Lee