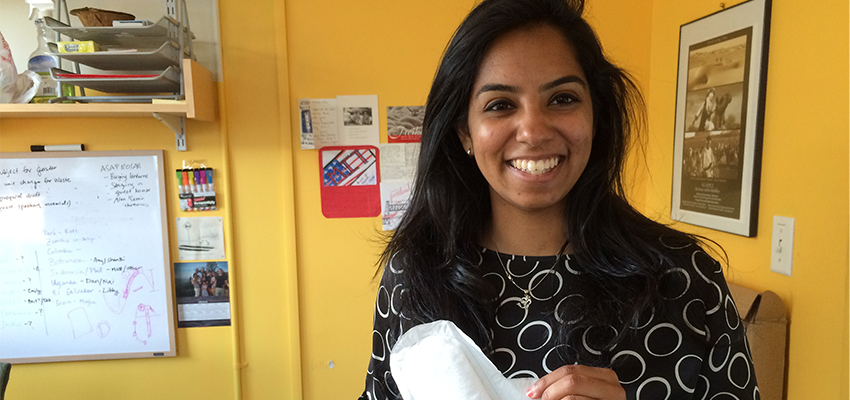 Amrita Saigal of Saathi Pads.
The Economic Times (India)
AHMEDABAD: Saathi - - an Ahmedabad-based startup founded by three Massachusetts Institute of Technology graduates -- Amrita Saigal, Grace Kane and Kristin Kagetsu, has developed a biodegradable sanitary pad made from banana fibre for the Indian market. "Last year, we filed for a patent. The product has been developed in India and we started manufacturing in our own unit at Ahmedabad from October.
The facility employs eight women partners," said Kristin Kagetsu, cofounder, Saathi and a former hardware engineer at Oracle. She added that the primary target audience of Saathi are urban consumers who can subsidise the price for women in the rural areas. 
Saigal who worked earlier with Google as manufacturing operations manager, completed her MBA from Harvard Business School. She was aware of the potential in the Indian market due to lack of access to sanitary pads for rural women 
According to Saathi, the current market size for sanitary pads in India is 56 million. Saigal and Kagetsu found their common passion in women empowerment and development of sustainable products as engineers from MIT. The product prototype also won an award in 2014 from Harvard in a competition for its alumni. 
Saathi's sanitary products are different from commercially available pads which are made out of bleached wood pulp. A super absorbent polymer is also used in the commercial sanitary pads, which causes skin irritation. Saathi uses fibre from discarded banana trees. Nearly 12 lakh acres of banana trees are planted in India, said Kagetsu, and after each harvest, farmers cut down and discard the old trees to plant new ones. Saathi uses these discarded fibres and gives banana farmers extra income for their agro byproduct. It is also environment friendly as Saathi pads can degrade within six months and can also be used for compost and biogas. 
"We are currently working on reducing costs by scaling production," says Saigal. The organisation is also working with Arogya Foundation of India to distribute 10,000 units among women in rural Jharkhand as a part of its OneMillionPads programme. The startup is also looking to raise donations through a US based crowdfunding platform-YouCaring. 
"The best part is that (the pads) are biodegradable and can be composted, thus removing the trace of the product," said Dr Mukul Bhatia, national coordinator, Arogya Foundation of India. "The rural areas do not have proper waste disposable facility and thus it is important for women to dispose off the sanitary pads carefully." Saathi made it to the top 20 in the Tata Social Enterprise Challenge, a joint initiative of IIM-Calcutta and Tata Group for early stage social enterprises.