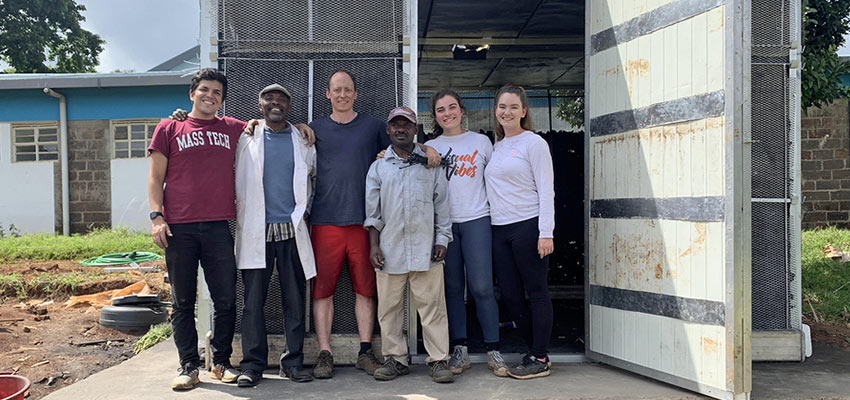 Left to right: Alex Encinas, MIT junior in mechanical engineering; Mwachoni El-Yahkim of the University of Nairobi; Eric Verploegen, research engineer at MIT D-Lab; Boniface Manambo of the University of Nairobi; Christine Padalino, MIT junior in chemical engineering; and Madeline Bundy, MIT senior in chemical engineering, stand in front of an evaporative cooling chamber they built at the University of Nairobi in Kenya. Credits: Photo courtesy of MIT D-Lab
MIT News
Excerpt:
A team of MIT researchers is using the thermodynamic properties of water evaporation to bring off-grid cold storage of produce to remote, arid regions.
For smallholder farmers living in hot and arid regions, getting fresh crops to market and selling them at the best price is a balancing act. If crops aren't sold early enough, they wilt or ripen too quickly in the heat, and farmers have to sell them at reduced prices. Selling produce in the morning is a strategy many farmers use to beat the heat and ensure freshness, but that results in oversupply and competition at markets and further reduces the value of the produce sold. If farmers could chill their harvests — maintaining cool temperatures to keep them fresh for longer — then they could bring high-quality, fresh produce to afternoon markets and sell at better prices. Access to cold storage could also allow growers to harvest more produce before heading to markets, making these trips more efficient and profitable while also expanding consumers' access to fresh produce.
Unfortunately, many smallholder farming communities lack access to the energy resources needed to support food preservation technologies like refrigeration. To address this challenge, an MIT research team funded by a 2019 seed grant from the Abdul Latif Jameel Water and Food Systems Lab (J-WAFS) is combining expertise in mechanical engineering, architecture, and energy systems to design affordable off-grid cold storage units for perishable crops. Three MIT principal investigators are leading this effort: Leon Glicksman, professor of building technology and mechanical engineering in the Department of Architecture; Daniel Frey, a professor in the Department of Mechanical Engineering and the faculty director for research at MIT D-Lab; and Eric Verploegen, a research engineer at MIT D-Lab. They are also collaborating with researchers at the University of Nairobi to study the impact of several different chamber designs on performance and usability in Kenya. Together, they are looking to develop a cost-effective large-scale cooperative storage facility that uses the evaporative cooling properties of water to keep harvests fresher, longer.
---
More information
MIT D-Lab Evaporative Cooling Research
Contact
Eric Verploegen, MIT D-Lab Research Engineer; Evaporative Cooling lead