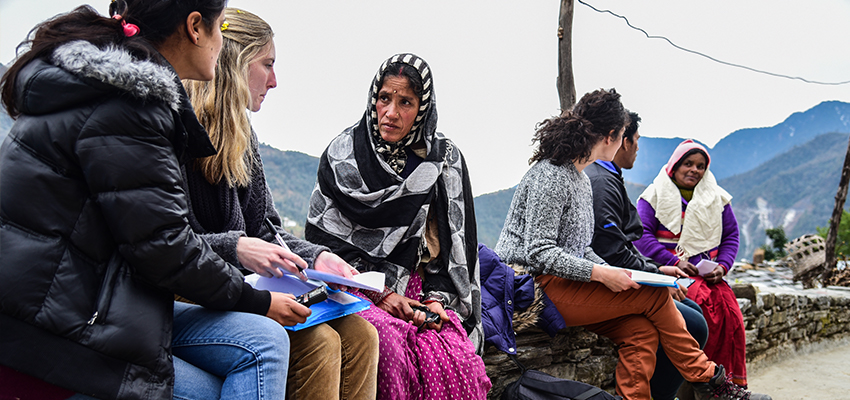 Lean Research Field Guide
A new and evolving framework for research
Lean Research Field Guide: Examples from the Sustainable Food Lab & the Lean Research Community  (Version 1.1, 2019, 31 pg)
Excerpt
As outlined in the Lean Research declaration, how we approach and implement research, monitoring, and evaluation matters. Data collection is an intervention that can negatively or positively affect research participants and their communities. The power dynamics between researchers and those researched affect not only the participant's experience, but also the outcomes of the research.
Disrespectful and inefficient data collection practices can produce research results that are neither relevant nor actionable, so it is important to establish alternatives that are rigorous, respectful, right-sized, and produce results that are meaningful to researchers, research participants, and other stakeholders as well.
The Lean Research Initiative, led by MIT D-Lab, the Fletcher School at Tufts University, and Root Capital, offers an alternative. Lean Research is a new and evolving framework for research in the contexts of international development and humanitarian work.
It is also a growing community of practice, which is made up of practitioners, scholars, and donors from academic institutions, non-governmental organizations, multi-lateral and bi-lateral entities, and social enterprises, all of whom contribute ideas, cases, and more.
Lean Research draws from lean production, participatory design methods, and participatory action research. It prioritizes the experience of research participants and other stakeholders and it emphasizes continuous improvement and reduction of waste in the implementation of research, and highlights the importance of creating actionable results.
As described in the Lean Research Declaration and the Lean Research Framework, Lean Research seeks to:
Increase the quality of information gathered through research.
Minimize the burden on the research participants and other stakeholders.
Improve the usefulness of research findings for research participants and stakeholders.
Enable both the research process and outputs to benefit study participants and their communities, as well as donors and decision-makers.
Neither these observations about the problem, nor the proposed solutions, are new. Researchers have been talking about this for decades, yet the current state of practice falls short of aspiration. Both the Lean Research Working Paper and the Root Capital Working Paper A Client-Centric Approach: Impact Evaluation that Creates Value for Participants provide evidence and examples for why researchers of vulnerable populations need to do better.
The Lean Research Framework, developed in 2015, describes Lean Research principles and provides a set of guiding questions for implementing the principles in your work (included for reference in this document as Appendix A). The response from researchers has been positive, but always accompanied by a question: "I support these principles – who wouldn't? – but what are the specific things I should do differently in my next research project?"
Following discussion of the Lean Research Framework at the Sustainable Food Lab (SFL) Performance Measurement Workshop in 2015, members of the SFL Community of Practice on Smallholder Performance Management expressed interest in assembling a field guide of methods for working with smallholder farmers in a leaner way as a companion piece to their co-developed Towards a Shared Approach for Smallholder Performance Measurement. In response, we co-created this field guide with, and for, the SFL community, with the hope that many of the practices will be relevant to other researchers as well.
Through this field guide, we have highlighted examples from the Sustainable Food Lab community and the Lean Research Community. The practices are not a comprehensive list of lean practices, but rather, a set of lean practices that researchers and monitoring and evaluation specialists have used in their recent data collection activities.
This guide is the first iteration of the Lean Research field guide. In the future, the team plans to develop an expanded version that will include practices from a variety of partners and sectors from the Lean Research Community of Practice.

 Lean Research Field Guide: Examples from the Sustainable Food Lab & the Lean Research Community  (Version 1.1, 2019, 31 pg)
---
More information
Contact
Kendra Leith, MIT D-Lab Associate Director for Research