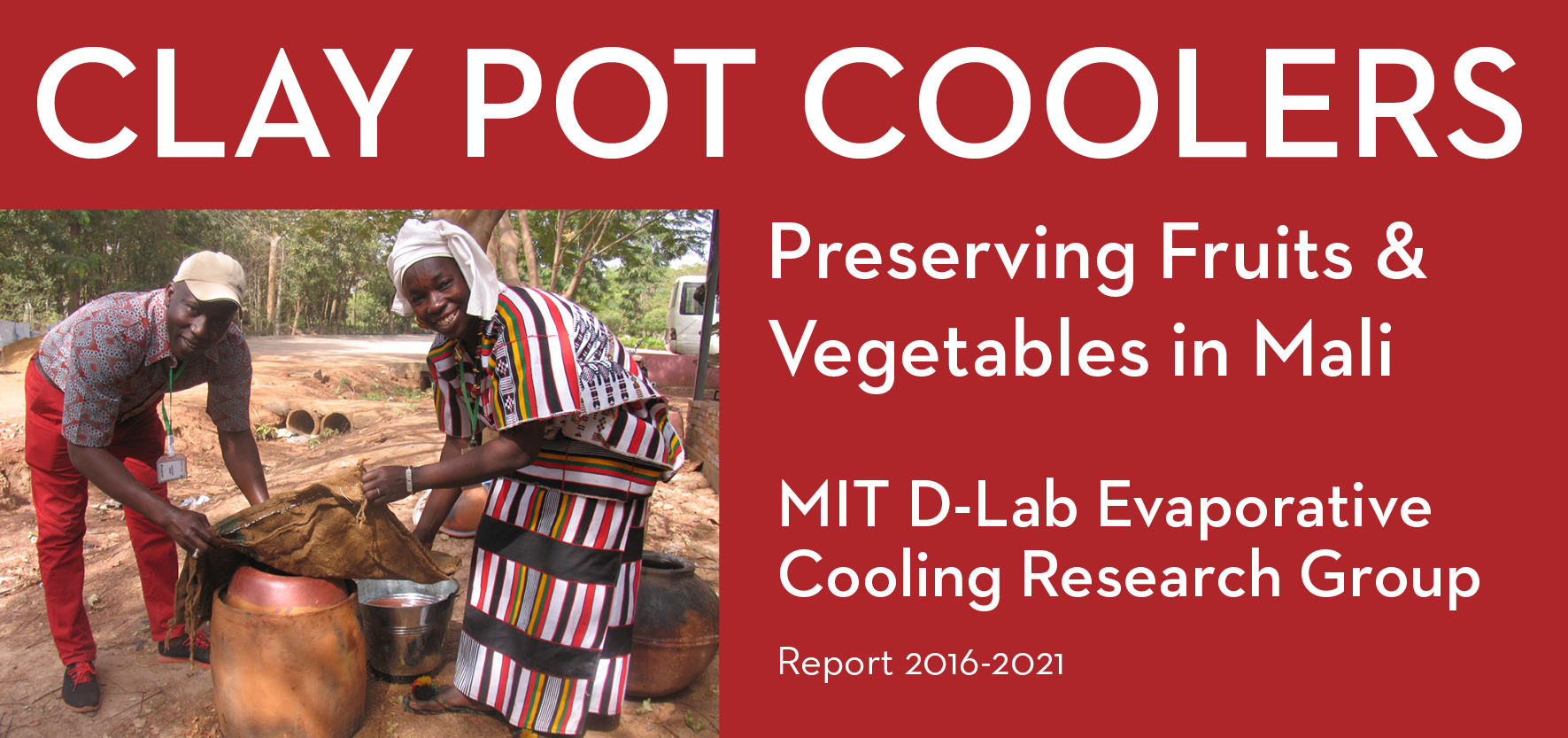 Clay Pot Coolers - Preserving Fruits and Vegetables in Mali: Report 2016-2021
This report by the MIT D-Lab Evaporative Cooling for Vegetable Preservation group and collaborators covers their work in Mali from 2016 to 2021 and includes:
Evaluating suitability and user needs
Lab testing and shelf life measurements
Dissemination
Conclusions and next steps
Overview
Food, water, and electricity are what many people consider basic needs, but these are still luxuries to many people around the world. Imagine spending up to an hour walking to purchase vegetables every day because you don't have a way to store vegetables that keeps them fresh and pest-free. This is exactly what happens to many people in communities where access to electricity or affordable vegetable preservation methods are limited. In Sub-Saharan Africa alone, 30% to 50% of fruits and vegetables harvested are lost before reaching the consumer.
One way this problem can be addressed is through the promotion and use of clay pot coolers for storing and preserving fruits and vegetables. They are an affordable and accessible solution that use evaporation for cooling and do not require electricity to run. The most common clay pot coolers, or "Zeer pots," are made of a double-wall earthenware container with the space between the two clay walls filled with wet sand. When the water from the outer surface evaporates, the inside of the container where the vegetables are stored - is cooled.
While clay pot coolers and other evaporative cooling technologies have been shown to effectively increase the shelf life of many fruits and vegetables, these technologies have not gained widespread adoption. This is because of the lack of product evaluations based on real-world scenarios and user behavior to inform the design of dissemination programs. MIT D-Lab's Evaporative Cooling research group aims to bridge this gap and increase the dissemination of clay pot coolers in appropriate contexts. The D-Lab clay pot cooler project started in 2016 and has consisted of multiple phases, each focusing on a different technical and social aspect of this technology.
Recent results on the outcomes and impacts of recent training efforts can be found in the infographic and report: 
Clay Pot Cooler Training in Mali - Impact Study
In May of 2021, 11 half-day training workshops were conducted in the Mopti region of Mali, reaching 289 participants. Interviews were conducted with 264 of the participants 10 months after the workshops. Key results include:
73% of training participants constructed or purchased clay pot coolers for personal use.
Among these clay pot cooler users

98% reported less food waste
95% reported spending less time traveling to buy fruits and vegetables,
88% reported eating more fruits and vegetables since using clay pot coolers.

The training of 54 clay pot sellers resulted in the sale of nearly 2,000 clay pot coolers 
The training participants reported sharing information about clay pot coolers with 4,300 people 
---
More information
Clay pot coolers for vegetable preservation in Mali 
MIT D-Lab Evaporative Cooling for Vegetable Preservation
Contact
Eric Verploegen, MIT D-Lab Research Engineer, Evaporative Cooling Lead