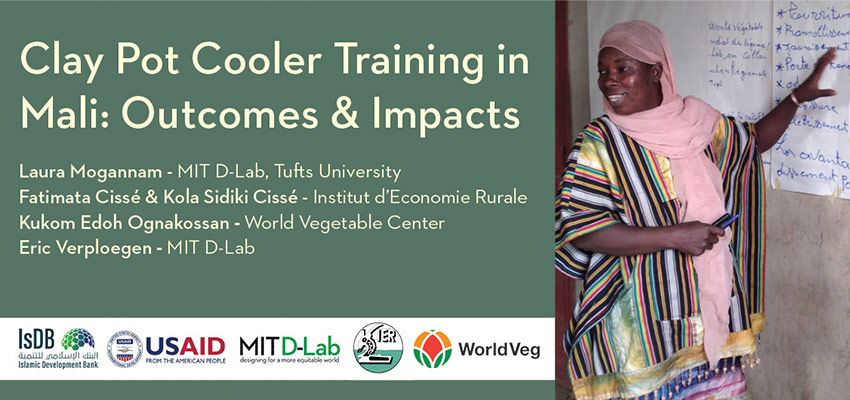 Clay Pot Cooler Training in Mali: Outcomes and Impacts
Infographic: Impact of Clay Pot Cooler Trainings in Mali
This report by the MIT D-Lab Evaporative Cooling for Vegetable Preservation group and the World Vegetable Center and Institut d'Economie Rurale (IER) provides an analysis of data from 264 interviews conducted with clay pot cooler training participants in Mali. The report discusses the storage challenges facing the training participants, the adoption of clay pot coolers after attending a training, the benefits realized by clay pot cooler users, pathways for sharing information beyond the training, and feedback the participants provided on the training program.
Key results include:
73% of training participants constructed or purchased clay pot coolers for personal use.
Among these clay pot cooler users

98% reported less food waste
95% reported spending less time traveling to buy fruits and vegetables,
88% reported eating more fruits and vegetables since using clay pot coolers.

The training of 54 clay pot sellers resulted in the sale of nearly 2,000 clay pot coolers 
The training participants reported sharing information about clay pot coolers with 4,300 people 
The report Clay Pot Coolers: Preserving Fruits and Vegetables in Mali: Report 2016-2021 summarizes the activities of the clay pot cooler project in Mali between 2016 and 2021. 
---
Contact
Eric Verploegen, MIT D-Lab Research Engineer