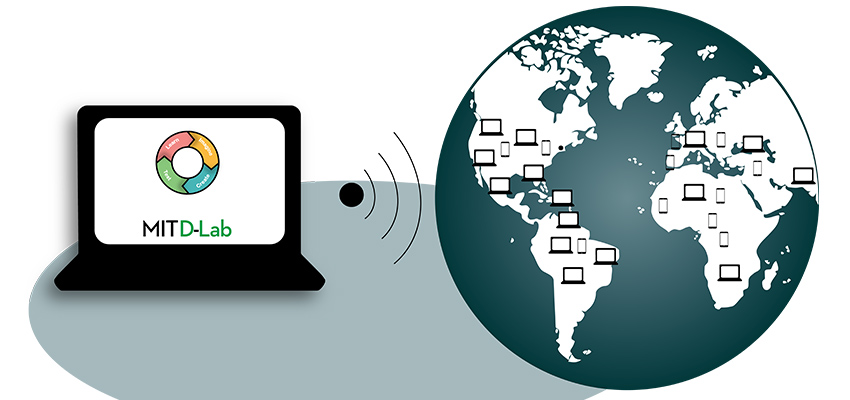 Graphic: Melissa Mangino
MIT D-Lab's Transition to Virtual Learning
Introduction
When the Covid-19 pandemic necessitated a nationwide "stay in place" order in March of 2020, MIT transitioned all of its in-person classes to virtual learning. This transition was abrupt, and spring break was extended an additional week so that students had time to pack up and leave campus for the semester. During the Spring 2020 semester, MIT D-Lab offered six classes with a combined enrollment of 102 students.
With D-Lab's focus on hands-on shop work and semester-long projects with partner organizations around the globe that allows them to gain skills in design, apply principles of engineering, and obtain meaningful experiences in the field, the primary challenge was how to continue the D-Lab student experience in a remote environment.
This D-Lab Monitoring, Evaluation & Learning D-Brief summarizes key lessons about the transition to remote learning during the spring 2020 semester, drawing on survey responses from D-Lab students and focus groups with D-Lab's spring 2020 course instructors.
Key Findings at a Glance
Overall, 74% of students rated their satisfaction with the transition to virtual learning as a 7 or above on a 10-point scale.
The key challenges expressed by students included difficulties focusing and engaging during online class meeting sessions, feeling less connected to classmates and teams, difficulty navigating learning across time zones, and unstable internet connections. For instructors, key challenges included increased course preparation time, establishing connections with students, providing adequate resources to students, and contextual factors such as lack of childcare.
Zoom was an essential component of virtual learning this spring. Activities that promoted student interaction and group work were more effective than traditional lectures over Zoom.
Instructors used a variety of teaching strategies and online tools to adapt to the new remote learning environment, but additional trainings and access to online resources would further support their work.
Students reported that instructors' accessibility and ongoing support were key resources during this semester of virtual learning.
---
Related blog post: Transitioning to Virtual Learning: Best Practices from D-Lab's Semester of Remote Learning - Artie Maharaj
---
More Information
Contact
Libby Hsu, MIT D-Lab Lecturer and Associate Director of Academics
Artie Maharaj, Monitoring, Evaluation, and Learning Associate