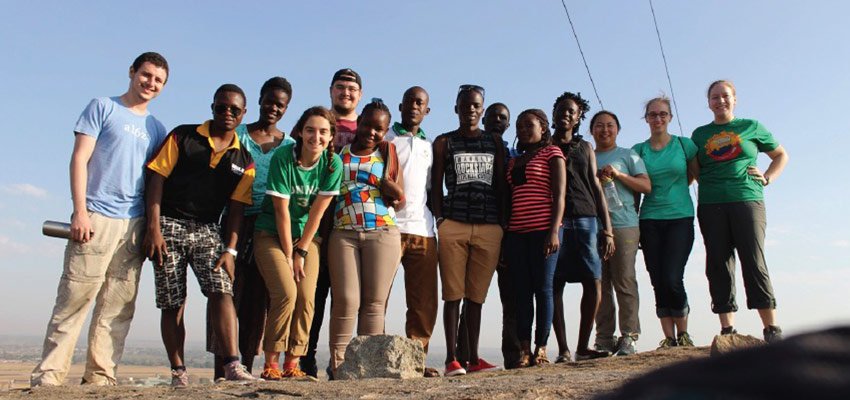 A team of MIT D-Lab and akerere University students, and TEWDI staff members, pose for a picture at the top of Soroti Rock. Photo: Lauren Bustamante
What factors contribute to a successful experiential learning project?
Introduction
Each year, MIT D-Lab offers dozens of courses that help students acquire competency in participatory design, understand and apply principles of engineering and design, engage in hands-on work, learn to think critically about global development, and participate in meaningful field experiences. Students gain hands-on, real-world experience through class projects with local
community partners.
For over a decade, MIT D-Lab students have partnered with TEWDI Uganda, a non-governmental organization located in Soroti, Uganda. TEWDI's mission is to mobilize communities to participate in promoting longer, healthier lives and socioeconomic freedom for women and children in Eastern Uganda. In partnership with TEWDI, D-Lab class projects have ranged from advancing clean cooking technologies to teaching innovation workshops to youth. The four D-Lab classes that have worked most closely with TEWDI are D-Lab: Development, Introduction to Energy in Global Development, Applications of Energy in Global Development, and Design for Scale.
In the summer of 2020, an evaluation was conducted to investigate the outcomes of MIT D-Lab class projects that partnered with TEWDI Uganda between fall 2013 and fall 2019. This evaluation examined the outcomes that projects achieved for both TEWDI and D-Lab students, as well as the factors that contributed to these outcomes. Drawing on survey responses from D-Lab students and interviews with those students, D-Lab staff, and TEWDI staff, this Evaluation D-Brief summarizes key lessons about the outcomes of D-Lab projects and the factors that contribute the most to their success.
Related blog post: What factors are the most important for D-Lab student project success? - Samantha Jorgensen
---
More Information
Contact
Libby Hsu, MIT D-Lab Lecturer and Associate Director of Academics
Laura Budzyna, MIT D-Lab Monitoring, Learning, and Evaluation Manager