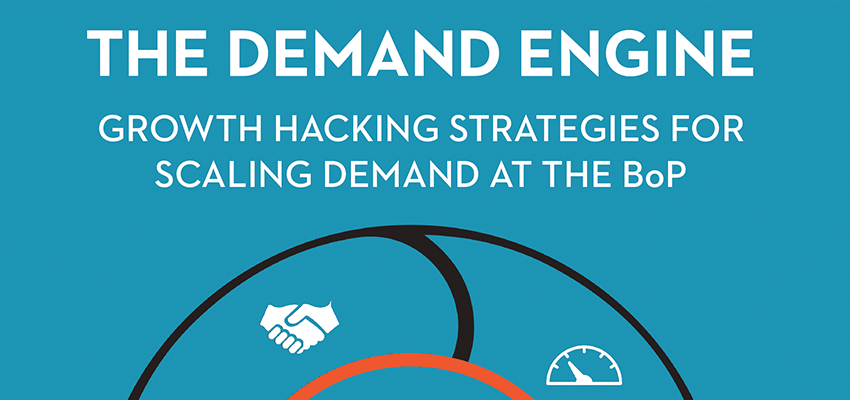 The Demand Engine: Growth Hacking Strategies for Scaling Demand at the BoP

 The Demand Engine: Growth Hacking Strategies for Scaling Demand at the BoP (publication spreads view)

 The Demand Engine: Growth Hacking Strategies for Scaling Demand at the BoP (printer-friendly)
Foreward
Establishing demand for social impact goods or services is often a complex and resource-intensive process, as it frequently requires changing or establishing new behaviors. Scaling demand in base of the pyramid (BoP) markets is particularly difficult due to low margins, lack of formal marketing channels, and the costs of high-touch models that can involve additional personnel, such as last-mile sales agents and peer educators.
Social enterprises, large companies, and NGOs often struggle to make the leap and scale demand—and continue satisfying that demand in a sustainable and cost-effective manner—after successfully piloting new, impactful goods for low-income consumers.
As Erik Simanis points out in the Harvard Business Review (June 2012), Prahalad's "BoP promise," which posits that selling low-margin products in high volumes in BoP markets is profitable in the long run, has two conditions which are often not met. "One, the company can leverage an existing infrastructure that serves wealthier customers to offer a product or service to poor consumers; and two, the consumers already know how to buy and use the offering." Experience shows that these assumptions are often wrong: suppliers need to invest in 1) new distribution channels to serve the last mile 2) awareness-raising and behavior change campaigns to make propositions understood, easy, desirable, rewarding, and, ultimately, to make them a habit (as explained in Unilever's Five Levers of Change).
Based on these experiences, the 2018 MIT PIA Scaling Demand at the BoP Working Group sought to discover and learn from practices that scale up demand for products and services in BoP communities, with the goal of achieving optimal balance between cost effectiveness and adoption. The result of our efforts and learning is The Demand Engine: Growth Hacking Strategies for Scaling Demand at the BoP, a practitioner-focused framework for product and service providers seeking to "hack demand" at the BoP.
---
For more information
Amanda Epting, Inclusive Business Manager