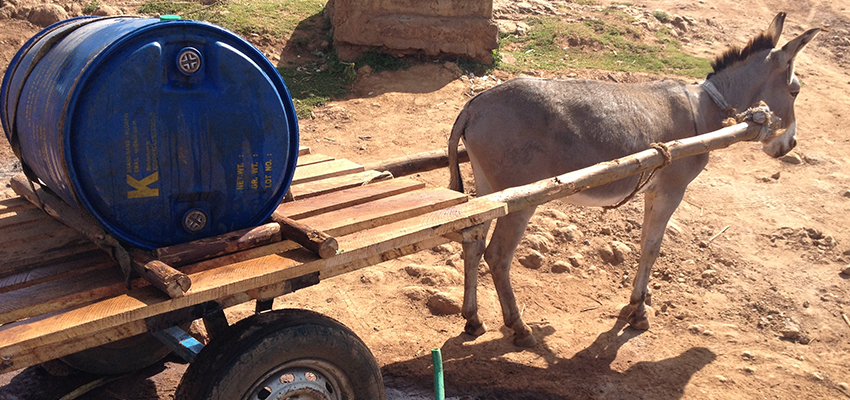 A donkey cart, carrying a large drum, is used for water transport at a peri-urban water kiosk.

 Understanding Water Transport & Storage Needs in Kenya: Needs Assessment and User Feedback (2014, 4 pg)
In January and February of 2014, an MIT D-Lab team conducted a qualitative needs assessment study in order to gain an understanding of the current practices and needs for water collection, transport, storage, and treatment in Kenya. The team utilized semi-structured interviews, focus groups and co-design sessions to identify challenges to procuring clean and safe water and to gather feedback on an existing water transportation, storage and dispensing solution, the PackH2O water backpack.
The needs identified in the rural, peri-urban and urban communities outside of Nairobi, Kenya (Machakos, Limuru and Marurui) warrant further investivation in communities around the world facing water challenges. In particular, lack of household water storage capacity was highlighted in the results of this study as an unmet and underemphasized need. Solutions to this problem have the ability to reduce time, energy and financial stresses felt by individuals and households as a result of current water collection and transport challenges.
Key findings and recommendations
There are opportunities to explore transport and storage solutions that meet needs related to drinking water, and water for other uses.
Increase in water storage capacity:
Increase total household storage capacity.
Increase access to larger storage containers.
Reduction of time, energy, and cost for collecting water:
Make water-intensive activities, such as washing laundry, more water-efficient (to decrease the quantity of water needed).
Increase users' ability to collect more water at a time.
Decrease the effort required for water collection.
A convenient and hygienic water dispensing solution:
Increase access to storage containers with taps or faucets.
Advancing these solutions may include development of new transport, storage or dispensing solutions, or exploration of an appropriate market