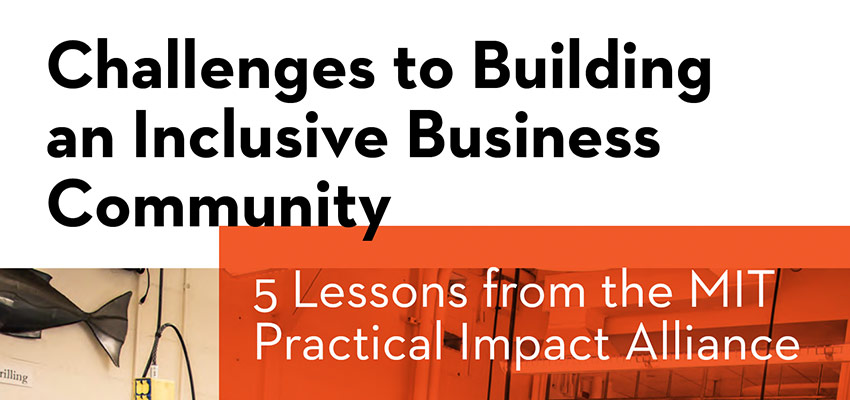 Challenges to Building an Inclusive Business Community: 5 Lessons from the MIT Practical Impact Alliance
Challenges to Building an Inclusive Business Community 5 Lessons from the MIT Practical Impact Alliance
Summary
Building inclusive business (IB) initiatives is complicated. No single individual or organization has all the answers, nor is the first attempt always successful. What if world-leading organizations teamed up to develop, experiment with, and scale technology and business solutions to global poverty?
This was the question that MIT D-Lab sought to advance through the Practical Impact Alliance (PIA), a program which ran from 2014 to 2019. A network of intrapreneurs from the nonprofit, government, and corporate sectors, PIA advanced base of the pyramid (BoP) innovation and knowledge around inclusive business themes ranging from local innovation and participatory design to scaling social ventures and marketing and distribution at the BoP through collaborative action and learning.
This report is a reflection of PIA's journey and what MIT D-Lab learned from building and supporting the PIA network — insights we believe are relevant for other intrapreneurs, practitioners, and network operators seeking to drive innovation, build capacity or foster collective action in the inclusive business or international development sectors.
---
Further information
MIT D-Lab Practical Impact Alliance
Contact
Amanda Epting, MIT D-Lab Inclusive Business Manager