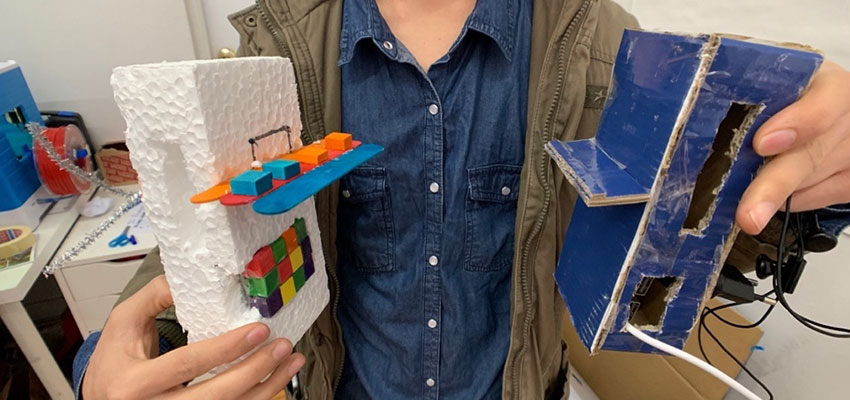 One participant holds up his power bank prototypes to showcase his iteration process for designing during the January 2019 workshop. On the left: a rudimentary sketch model of a phone power bank. On the right: a refined sketch model with accurate dimensions and space to embed electronics.
Design and evolution of creative capacity building program for refugee youth empowerment
Submitted to the Department of Mechanical Engineering
on May 7, 2020 in Partial Fulfillment of the
Requirements for the Degree of
Bachelor of Science in Mechanical Engineering
ABSTRACT
There are over 5,000 unaccompanied refugee minors in Greece who have fled violence from Syria, Pakistan, Afghanistan, and Iraq. In addition to pre-existing trauma and psychological challenges, living in shelters and streets has further put youth at risk of trafficking, exploitation, and substance abuse. In 2017, MIT D-Lab partnered with Faros, a Greek NGO, to develop a design workshop for the unaccompanied minors. At the end of training, they demonstrated an improved capacity to identify and solve challenges, work in teams, and recognize self-potential. Since then, this weeklong design workshop has evolved into a multi-stage, modular training program taught over several months. The purpose of this study was to identify the successes and failures of each developmental stage of this program to determine overarching trends for building a design curriculum for vulnerable youth populations. Analysis revealed that cultural significance, flexible structure, and addressing social and behavioral concerns are among the key elements for effectively reaching refugee youth. By documenting the evolution and implications of these factors, we hope to provide a baseline for future education work with this unique and vulnerable population.
Thesis Supervisor: Maria Yang, Professor of Mechanical Engineering; Undergraduate Officer