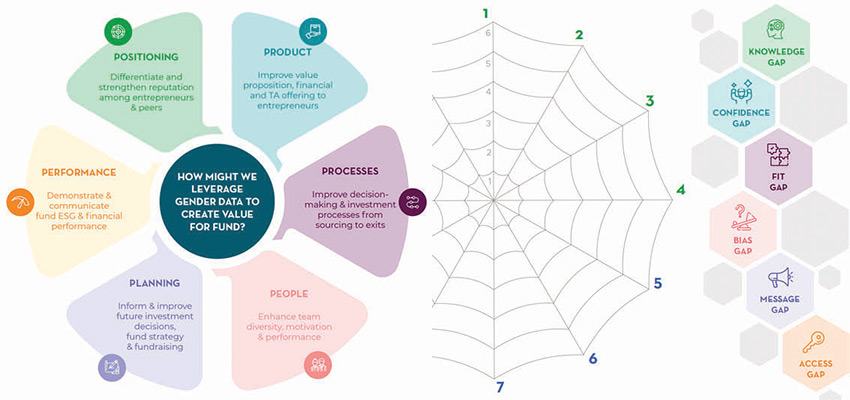 In October 2021, MIT D-Lab teamed up with Intellecap, a catalytic ecosystem player in India, to organize the Co-design Sprint: Towards gender-inclusive investment practices. The sprint addressed co-design challenges from six impact investors: Aavishkaar, UC Impact, Acumen, Villgro, Omidyar India, and Accion Venture Lab, who were in the process of exploring how to develop more inclusive gender investing practices.
Over the course of five virtual sessions, the co-design sprint convened more than 100 gender lens practitioners, entrepreneurs, investors, and thought leaders from around the world to support the six investors in designing solutions to make their investment practices more gender-inclusive.
The sprint introduced a set of strategy tools designed to help the participants explore the problem framings proposed by the investors and identify actionable solutions. After testing these tools through the co-design sprint, D-Lab staff members Jona Repishti and Saida Benhayoune refined them into a practical toolkit for investors to accelerate their gender lens investing journey from intention to action:
Sourcing tools
Gender Lens Investing Series: Sourcing
The Entrepreneur Sourcing Journey: See the sourcing experience from the female entrepreneur's (FE) point of view. Use the tool together with female entrepreneurs to identify their pain points, unmet needs, and to uncover opportunities to solve these challenges in your sourcing process.
The Female Entrepreneur Persona: Deepen your understanding of your target women entrepreneurs as a new customer segment. Identify and characterize their key priorities and preferences to redesign more inclusive and effective sourcing strategies.
The Sourcing Maze: Explore a checklist of considerations to design more gender-equitable sourcing and pipeline development strategies. Assess your current processes along six key dimensions, identify gaps, and set achievable goals.
Due diligence tools
Gender Lens Investing: Due Diligence
The Due Diligence Checklist: Engage your investment team and fund managers in open conversations to identify the risk factors in your current due diligence processes, and uncover the drivers behind these risks.
The Due Diligence Funnel: Identify opportunities and prioritize actions to make your due diligence processes more gender-inclusive.
Gender data tools
Gender Lens Investing Series: Gender Data
The 6P Data Bloom (for funds): Identify and prioritize goals and strategies to generate value for your fund from gender data.
The 6P Data Bloom (for Investees): Define how gender data collected can be leveraged to generate value for your portfolio companies. Use the tool together with entrepreneurs to brainstorm which data adds the most value, what metrics to collect, and how to collect them.
In the following blog posts, you can find more details about how these tools were used during the design sprint and the insights captured from this experience:
Towards Gender-Inclusive Investing: A Co-Design Approach (AVPN)
Leveraging gender data to improve gender lens investment