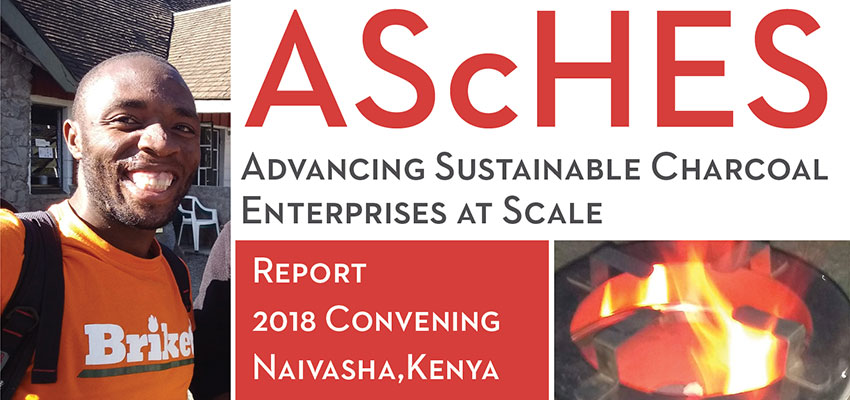 AScHES 2018 Convening Report | MIT D-Lab & The Charcoal Project

 AScHES 2018 Naivasha, Kenya Convening Report
 
Advancing Sustainable Charcoal Enterprises at Scale (AScHES 2018) was a five-day workshop held in Naivasha, Kenya in October 2018, during which entrepreneurs from 20 enterprises gathered to share their experiences in producing charcoal briquettes from sustainable and waste biomass feedstocks, learn about state-of-the-art production methods and business models, align around common goals and approaches, and establish a community, which following the convening, remains connected through exchange and dialog.
AScHES was born from a long-standing collaboration between MIT D-Lab (Massachusetts Institute of Technology) and The Charcoal Project, which has carried out technology research and development, market research, advocacy, enterprise incubation, and broad sharing and exchange among producers in the global charcoal briquette sector.
Members of the AScHES community serve their communities with affordable and sustainable alternatives to traditional woodfuels for household and institutional cooking. In communities where charcoal has long been the only affordable option for cooks, briquettes are now gaining popularity and market share; however, supply must continue to grow, quality must improve, awareness must be spread, and new policies must enable these socially-driven enterprises to thrive.
Though the program focus at AScHES was on technology and business, the environment was fun, creative, relaxed, and adventurous, which helped create lasting memories and connections for all involved.
AScHES participants were selected through an objective selection process where applicants were evaluated based on criteria related to their level of experience in the sector, the scale of their business, and willingness to participate and share.
The three primary goals of AScHES 2018 were:
Cultivate the community of at-scale charcoal briquette producers for an exchange of knowledge and best practices and the formation of new partnerships.  
Equip charcoal briquette producers to be more informed micro-ambassadors for a formalized and connected industry.
(Re)Inspire charcoal briquette producers with new ideas and tools for alternative business models, entrepreneurship skills, leadership skills, and production methods.
The five-day program consisted of presentations by invited speakers and attendees, hands-on skills building and demonstrations, and events and excursions to share culture and build community.
The report is a brief summary of the workshop activities and a discussion of the operation of the AScHES community moving forward.
---
Further Information
Advancing Sustainable Charcoal Enterprises at Scale
Contact
Dan Sweeney, MIT D-Lab Biomass Fuels & Cookstoves Research Scientist