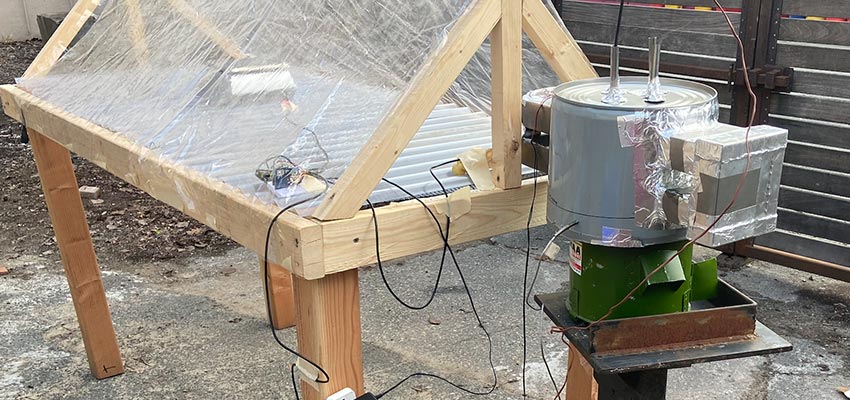 Partial view of heat exchanger testing set up. Photo: Courtesy MIT D-Lab
Improvements and analysis of a charcoal Makaa cook stove heat exchanger used to dry fruit for our community partner based in Uganda.
Problem framing
Our team has refined a design for an affordable heat exchanger system that incorporates a charcoal briquette cookstove. The extra heat provided by the cookstive reduces the drying time of fruit in a solar dryer. Then, our partner, Teso Women's Development Initiative Uganda (TEWDI), can produce more attractive, clean-tasting fruit.
Cultural and/or market context
Uganda is located at the equator which makes it an optimal climate for growing a variety of fruits and vegetables. As the second largest producer of fresh fruits and vegetables in sub-Saharan Africa, Uganda produces approximately 5.3 million tons per year (FAO). However, there is also a great amount of food loss in the country. According to the United Nations, 40% of fruits and vegetables may be lost per year in Uganda. A major way to mitigate food loss is by drying fruit. Uganda has a large market for dry fruit, both locally and abroad. Drying fruits helps to make the most of fruit supply while creating jobs for local community members who want to take part in the drying process.
Solution including technical details
This project centers on the development of a biomass powered heat exchanger to heat the environment used to dry fruit. The solution's affordability and ease of use aims to allow TEWDI to dry fruit faster than their current method and at a competitive price. The primary work of our group this semester was the large-scale testing of the heat exchanger in combination with the solar dryer to understand the behavior of the system. We first modeled fruit drying by wetting a sponge with a known mass and placing it in our drying system. We tested three different fan settings in order to determine which fan speed would best lead to effective fruit drying. The drying of jackfruit and mango was then analyzed with our increased knowledge of the dryer's behavior.
We also worked to analyze the effects of adding a solar collector to the drying system. Solar collectors harness radiative energy from the sun to heat air; the heated air would then be passed through the system. We modeled the temperature change of the air due to the heat transfer and conducted a literature review of industrial use of solar collectors, which illustrated their widespread and successful use, and confirmed our interest in including them in our drying system.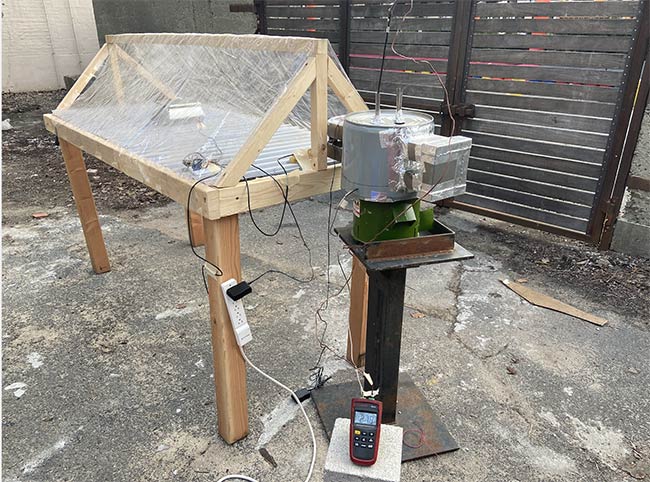 Next steps
Future work can involve building and evaluating the added benefit of a solar collector adapted for TEWDI's use case. Additionally, running tests of the drying system with a solar collector that D-Lab members built previously would provide essential data on how the collector would realistically add to the drying process. We also plan to run a test of drying fruit where we complete the fruit drying, as opposed to the time restricted tests we have run throughout the semester. TEWDI will make plans to fabricate the current model of the heat exchanger. They will source a computer fan with an ideal speed for their system, which will most likely be provided by MIT D-Lab on their next trip to Uganda.
---
MIT D-Lab class
Introduction to Energy in Global Development
Student team
MIT students unless otherwise noted.
Maya Kota, G, Mechanical Engineering
Janice Moya, '22, Mechanical Engineering
Rebecca Lizarde, '24, Materials Science and Engineering; Urban Studies and Planning
Meghana Vemulapalli, '22, Mechanical Engineering
Community partner
TEWDI Uganda (Teso Women's Development Initiative)
Betty Ikalany, Executive Director
Acuku Helen Ekolu, Programmes Coordinator
TEWDI is based in Soroti, Uganda, and has several small businesses for charcoal briquette, charcoal Makaa cookstove, and fruit drying production.
Contact
Eric Verploegen, MIT D-Lab Research Engineer; Instructor, Introduction to Energy in Global Development
Meghana Vemulapalli, Student Team Member