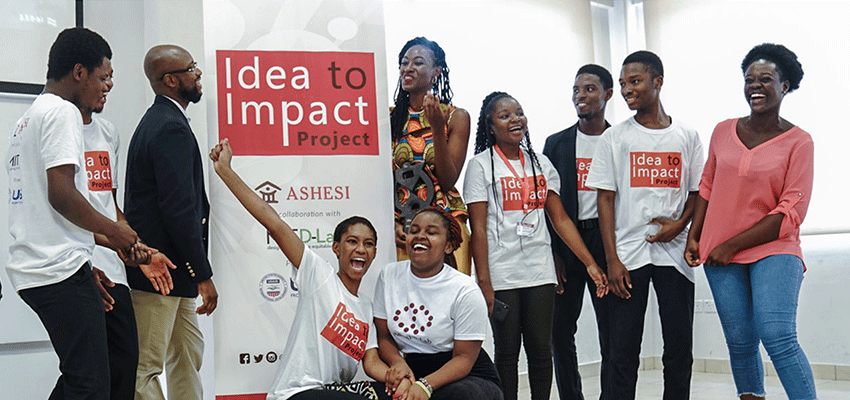 Inaugural event on November 30, 2018, celebrating a collaboration between Ashesi University and the MIT D-Lab on their Idea to Impact Project, powered by USAID.
New Entrepreneurs Xchange for Transformation - a program validating and accelerating early-stage African social ventures addressing global development challenges.
Ashesi University and MIT D-Lab: addressing barriers to inclusive economic growth
Over the past decade, Ghana has made strides toward its Millennium Development Goal targets. Still, the country faces barriers to broad, inclusive economic growth including low agricultural productivity, limited access to finance, and a high burden of disease.
Emerging leaders like Ashesi University graduates offer fresh ideas and ingenuity to transform the economy and improve the lives of people living in poverty through science, technology, innovation, and partnership (STIP). However, many student- and alumni-led ventures fail to bridge the so-called "Valley of Death," preventing promising companies from becoming sustainable, impactful engines for change.
Supporting social entrepreneurs
Inspired by the MIT D-Lab Scale-Ups Fellowship, Ashesi University in Accra, Ghana has launched a three-year initiative to create a pioneering incubator for validating and accelerating early-stage social ventures addressing global development challenges.
The incubator fellowship program will offer the curriculum, seed funding, co-working space, peer community, and mentorship entrepreneurs need to retire risk and preparefor acceleration. These emerging ventures will create new jobs, products, and services, improving the lives of Ghana's most vulnerable.
Funded by USAID, the program officially kicked off in September 2018. Fellowship applications will open spring 2019.
Building institutional capacity
Working with MIT D-Lab, Ashesi seeks to build long-lasting institutional capacity in:
Supporting recent alumni to successfully navigate creation and growth of social ventures
Teaching ethical research approaches to effectively engage communities
Convening the wider Ghanaian entrepreneurial ecosystem toward collective action
Ecosystem impact
Ashesi and MIT's efforts will also catalyze connectivity across Accra's entrepreneurial ecosystem, convening diverse stakeholders to spur new investment and encourage learning about how social entrepreneurs succeed. Through this transformative program, Ashesi will become a thought leader on entrepreneurship, offering replicable models, tools, and insights for the field, and expanding social entrepreneurship for global development across West Africa. The first ecosystem convening will take place the first week of June 2019.