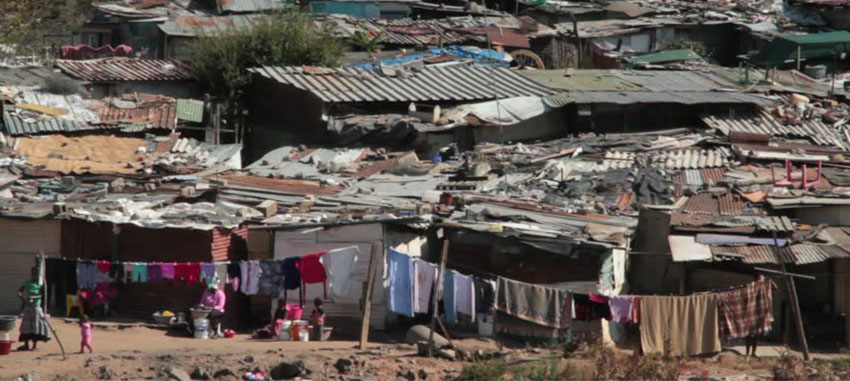 Alexandra Township, Johannesburg, South Africa: an example of the crowded areas in South Africa where it is hard to reach patients who might need medical attention.. Photo: bit.ly/3LQ96MN
Our mobile stretcher seeks to help patients reach healthcare workers and facilities by navigating through inaccessible terrain.
MIT D-Lab Class
Student team
MIT students unless otherwise noted.
Shruthi Ravichandran '25
Helen Sun '24
Mitali Chowdhury '24
Avani Narula '25
Community partner
Location
South Africa
Problem
In South Africa, one major challenge for patients who need timely emergency care is the difficulty for emergency vehicles to reach the patient. In addition to a general lack of infrastructure and medical personnel, many people live in either heavily densely populated urban areas or remote rural areas that are impossible to access with ambulances or other emergency vehicles. Navigating this challenge often requires patients to be carried to the nearest road in makeshift stretchers or wheelbarrows, and even still, ambulances often do not show up until a few days after the first call to emergency services.
Quoting our community partner: "Emergency medical services in low-income densely populated urban areas and in the hilly terrains of rural South Africa, remain underdeveloped and underserviced. Trauma patients, sick elderly citizens and pregnant women are the most vulnerable people who suffer complications and often die needlessly. One of the biggest reasons is that medical emergency vehicles cannot reach patients due to narrow impassable urban streets in slum (shanty) areas or in highly rugged rural mountainous topographies. Because of this, communities resort to pushing patients in wheelbarrows which pose a serious additional health risk."
Cultural context
Current stretchers are expensive, require excessive training, and are not maneuverable enough for the narrow alleys in the townships.
Proposed solution
Our solution entails developing a new iteration of the classic stretcher that operates on one large wheel to be easily maneuvered but can still be operated by one person to be able to safely and efficiently transport someone from one location to another. Our stretcher will be adaptable to the scenario at hand (ie. one person assisting the injured vs. multiple, needing more stability through wheels, loading and unloading of the patient, etc.) while also being easy-to-use to ensure that whomever can use our stretcher whenever.
Next steps
Next steps include integrating our stretcher design into communities in Alexandria and other crowded areas of South Africa as well as developing methods of prolonged manufacturing and maintenance of our stretchers. Moving forward, we would also love to receive feedback and iterate our designs until we can reach the best product for those in need.
---
Contact
Eliza Squibb, D-Lab: Design Instructor
Sorin Grama, D-Lab: Design Instructor