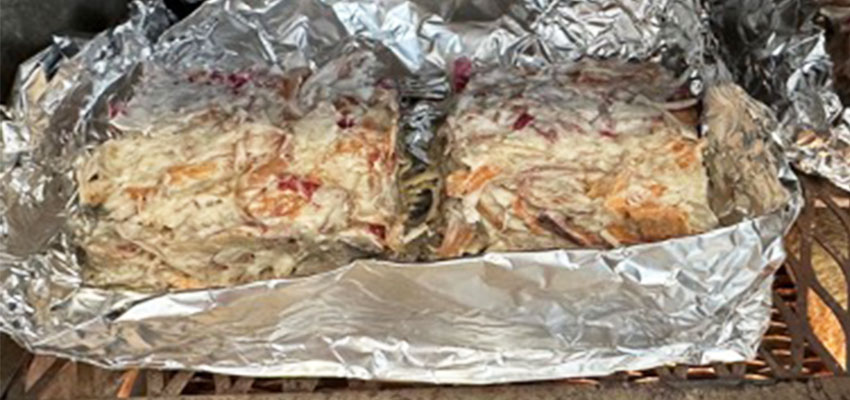 Homemade briquette of onion skin, garlic skin, and cornstarch for our biomass prototype and testing. Photo: Courtesy MIT D-Lab
Exploring and recommending methods to continue the drying process when solar energy is not available, such as at night or during the rainy season.
MIT D-Lab Class
Student team
MIT students unless otherwise noted.
Cameron Kokesh '23
Spencer Yandrofski '24
Grace Armstrong '24
Liz Yugov '24)
Vicky Li '24
Community partners
Location
India, Mexico
Project summary
Thermal energy harvested from the sun is valuable to farmers in India and Mexico, who use the energy to dry produce. However, the availability of this energy is not guaranteed during the rainy season or cloud cover. Without incident sunlight on the dryer, the drying slows, which reduces the efficiency and yield of the process. To mitigate this challenge, the Solar Dryer team is researching a solution to extend drying time during adverse conditions. Our solution should make the drying process more robust to weather conditions.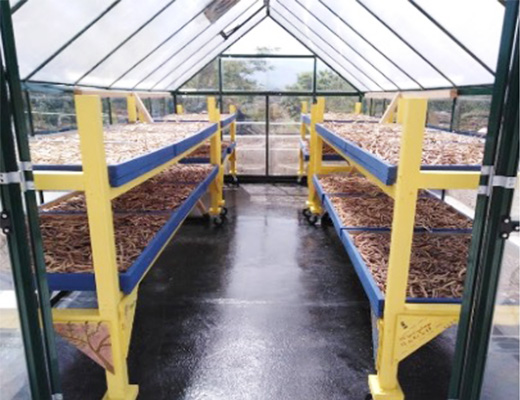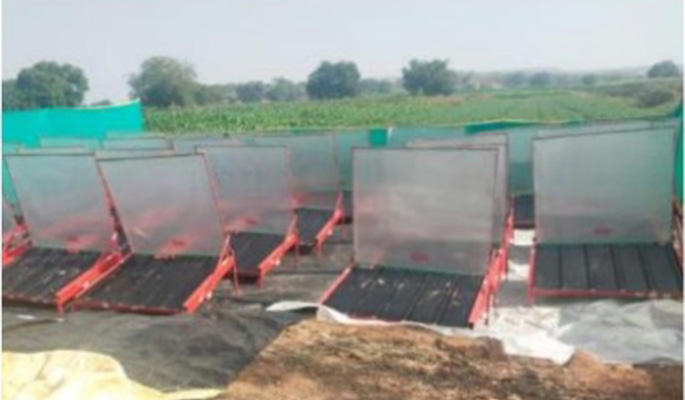 Proposed solution
Our proposed solution combines two methods of retaining and generating heat in order to enhance the efficiency of the drying process. Part of the issue is that if the produce does not dry on the first day, the natural day-night cycle of temperature and humidity sets back the drying process significantly. By targeting raising the average temperature during daytime inclement weather and also slowing cooling during the night, we would extend the effective drying time for the mesquite pods and avoid taking multiple days to dry. In order to accomplish this, we will be using a solar water heater and piping system to store thermal energy during the day and redistribute it at night. Additionally, to provide extra heat energy on overcast or inclement weather days, we will be employing a biomass furnace that burns excess or spoiled produce. Combined, these two sources of thermal energy will be able to effectively mitigate changing weather conditions and accelerate the overall drying process.
Next steps
The next steps for this process involve careful documentation of our process and making recommendations for both our clients based on their values. This is essential to guarantee no loss of knowledge during transfer. Additionally, we will gather feedback from our users for integration into updated designs
---
Contact
Eliza Squibb, Leadership in Design Instructor
Sorin Grama, Leadership in Design Instructor