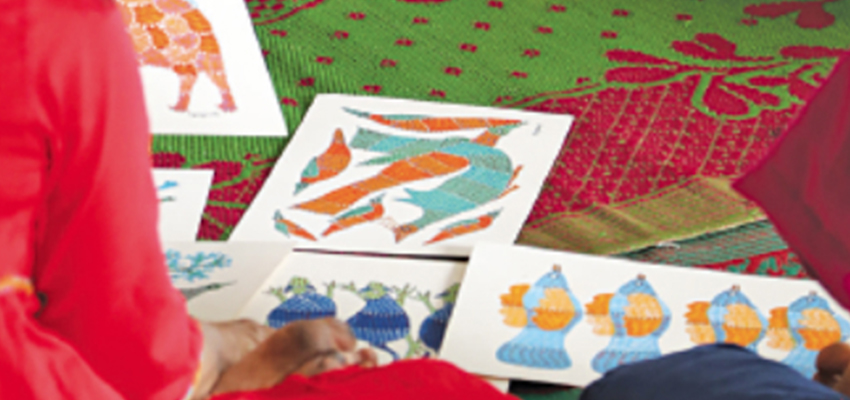 Roots Studio conducts a workshop in August 2016 with Chandrakali Pushyam (far right) and other members of the Gond tribe in Madhya Pradesh, India.
Stanford Social Innovation Review
In 2009, Chandrakali Pushyam was spending her days fishing, farming, grazing cattle, and taking care of her family. But when her husband, an indigenous artist from the Gond tribe, unexpectedly died that year, Pushyam suddenly had the sole responsibility of supporting her parents, in-laws, and two children.
"I didn't know how to handle the situation, so I started looking at my husband's [art] and painting in his memory," remembers 37-year-old Pushyam, who lives in rural Madhya Pradesh, a state in central India.
Over the next five years, Pushyam—who is also of Gond descent—continued to include her husband's signature patterns in her work, and now paints on cloth, pots, and wood, as well as on canvas. Gond art often features whimsical brightly colored animals depicted with bold outlines and detailed brushstrokes. But the art doesn't bring in much money, according to Rebecca Hui, an American who first went to India in 2011 to learn more about the country's shifting rural-to-urban demographics.
"Like other parts of rural India," Hui says, "there are pressures to move to the city for jobs that will pay more than farming." Cultivating land and raising livestock have traditionally been major sources of income for the tribe.
While living in Madhya Pradesh, Hui observed that many villagers in the Central Tribal Belt struggled to transition to an urban environment. She also noticed that children seemed to display a lot of artistic talent and creativity, traits that she felt were nurtured to a greater degree in the absence of mass-produced toys and games. She wanted to find a 
way to bring more value to the tribe's art so that villagers could prosper on their home turf.
So in 2015, she founded Roots Studio, a company that partners with artists by setting up digital scanning stations in their villages, then makes their designs available for use on a wide variety of objects, such as clothes, pillows, and stationery. Currently, staff are based in India, Jordan, and the United States.
"Roots Studio acknowledges that there are thousands—if not millions—of creative people in the world who come from vibrant communities in rural areas that lack access to Internet infrastructure," Hui says. "We want to connect them with this massive $32 billion art, décor, and retail licensing market."
So far, the company has worked with 1,600 artists across eight different Indian tribal communities, as well as in the Middle East (where it works mostly with Yemeni and Syrian refugee artists). It has also conducted pilot projects in Indonesia and Panama. Roots Studio sells prints, home goods, and paper products featuring the artists' work on its website, but licensing their designs in a business-to-business marketplace is its main focus. The company licenses a design for two to five years.
Roots Studio pays the artist well more—500 percent more on average—than what the artist's design would have sold for in the village. In general, the artist receives 75 percent of the proceeds, and the artist's village receives 25 percent, though the split can vary depending on how individualistic or communal each community is, Hui says. Village decision makers (which can be in the form of a village council or another structure) 
choose how they want to spend the funds—with restrictions that they must benefit the entire village and cannot be used for alcohol. Roots Studio publicly launched in December 2017, and though it has yet to decide the percentage cut it will take from licensing agreements, Hui says Roots Studio does take a cut that gets reinvested as cash into company operations.
"The more remote tribal areas in India, like Madhya Pradesh, have this extraordinary craft and artistic tradition," says James Wescoat, a MIT professor who studies water systems, planning, and design in India and South Asia. "If the artists see that their work is valued more, that decreases the pressures for urban migration—and breaking craft tradition."
As for Pushyam, she hopes that Roots Studio can help Gond artists like herself continue to do what they love by exposing their work to a greater audience. In the last few years, 25 of her paintings have been sold as prints through Roots Studio. One of her paintings depicts three birds decorated in swatches of patterned dots against vibrant hues of apple green, light pink, orange and lavender. With their beaks nudging each other playfully, the trio exudes energy and mutual affection.
"For us, this art is our God, and we worship it daily by practicing it," Pushyam says. "We just want an equal respect for our traditional art and for the artists."