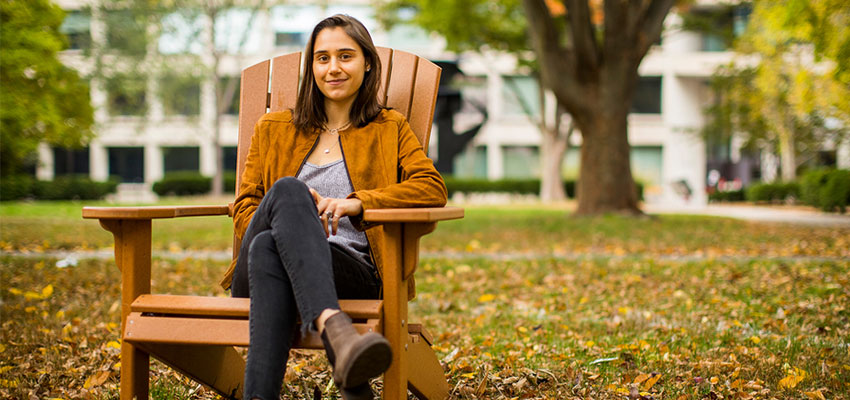 Applying my education to help combat climate change, one of the greatest global challenges in history, is the way in which I hope to make a difference," says Kiara Wahnschafft. Credits:Image: Adam Glanzman
MIT News
Whether improving sanitation or addressing climate change, Kiara Wahnschafft is drawn to evidence-based methods for tackling social challenges.
Kiara Wahnschafft started her first company at age 16. After her classmate passed away from a drunk driving accident, Wahnschafft couldn't stop thinking about ways technology could have saved a life. With two other students, she built a prototype for a car key that works only after the driver passes a breathalyzer test. Wahnschafft went on to create a company called SafeStart Technologies, ultimately patenting the product and winning several competitions.
The experience was Wahnschafft's introduction to a unique way in which she could improve the lives of those around her. "I was always looking for an artistic outlet as a kid," she says. "When I discovered programming, it was like I finally had this blank canvas on which to freely create potentially meaningful solutions."
Wahnschafft arrived at MIT with the desire to continue pursuing product engineering for social entrepreneurship. She experimented with mechanical engineering classes through MIT D-Lab, a program focused on equitable design and development, and soon found herself surrounded by startups working to alleviate poverty and improve living standards around the world. One company, called Sanergy, stood out to her for its innovative approach toward improving sanitation in urban settlements. Through a PKG Center fellowship, she traveled to Nairobi, Kenya, and interned at Sanergy during Independent Activities Period (IAP) in January, 2020.
On her first day, Wahnschafft went with co-workers to the settlements where the company's sanitation units were being built. Seeing the systems and meeting those operating them in person, as well as speaking with new co-workers and friends who had grown up in Nairobi, gave her a much deeper understanding of the challenge. While her engineering work focused on improving sanitation conditions, she learned more about the systemic reasons why settlements were expansive in the first place.
One of these such issues was job instability. Upon returning to MIT, Wahnschafft dove into an economics research opportunity focused on evaluating a program that teaches Kenyan workers skills needed for digital work. The findings revealed that the program helped to improve wages, employment, and life satisfaction. Wahnschafft then shared her findings with the program's managers, providing them quantitative reasons to expand their work. The experience introduced her to an evidence-based method for tackling societal challenges.
Today, Wahnschafft is a junior studying both mechanical engineering and economics. In her career, she aims to help solve what she deems the greatest global challenge of our time: the climate crisis. In learning about and working on the energy transition, Wahnschafft often finds herself leveraging her two disciplines together. For example, she notes, "if we're proposing the installation of heat pumps, it's helpful to understand both the technical justification for their energy efficiency and the economic policies required for their widescale adoption."
As a researcher in the MIT Environmental Solutions Initiative Rapid Response Group and the MIT Sloan Climate Pathways Project, Wahnschafft has written multiple briefs to inform Massachusetts and federal policymakers, often utilizing MIT climate research to do so. Both now and in the future, her goal is to ensure climate policy is backed by scientific evidence.
Wahnschafft has also collaborated with the student body and leaders in the administration to improve MIT. As the chief of staff of the Undergraduate Association (UA), the undergraduate student government, she has focused on pulling the student voice into Institute decisions in this unique year, particularly in the area of climate change. She worked with a large group of students, interviewing faculty and other stakeholders in the process, to develop recommendations for climate action at MIT, and is now working with the Institute's administration to incorporate some of these ideas into MIT's Plan for Action on Climate Change.
At a forum about MIT's Climate Action Plan, Wahnschafft spoke on a panel focused on MIT's role in the energy transition, and proposed ideas on ways to coordinate the wealth of climate research on campus. After working for a few different MIT climate-focused research centers, she has seen how "MIT has all this amazing research, but it's often in silos." After conversations with many faculty and students, she believes that MIT can "exponentially increase its impact" by connecting researchers with each other and with opportunities to influence climate policy.
Effective communication is also the theme of Wahnschafft's favorite class, 11.011 (The Art and Science of Negotiation), for which she has served as a teaching assistant. She believes that the course should be an essential part of any MIT student's curriculum. "I used to think negotiating meant sitting down at the bargaining table to haggle over prices," she says. "Through the class, you learn that negotiation is so much more: It is practicing empathy and finding common ground. Especially in our polarized country, and especially on issues like climate that are so cross-cutting, we need to open up conversations to reach some mutual understanding."
Wahnschafft plans on putting her negotiation skills to the test this summer, when she will be interning in Washington through the MIT Washington Summer Internship Program. She hopes to continue working on climate issues that sit at the intersection of evidence and policy. She feels "It's going to take time to solve the climate crisis. But my everyday focus will be thinking about if the decisions I'm making are always socially and ethically responsible," says Wahnschafft.
"I think that as MIT students, we need to be very thoughtful with where we choose to dedicate our minds. I know so many of my peers will go on to become incredible leaders in all types of important organizations," she says. "We so often have such incredible opportunities at our fingertips during and after our time at MIT, and that's amazing. So, we can and should be intentional with which of these we pursue and in the decisions we make as leaders, always considering the implications for our diverse local and global communities."
Wahnschafft applies the same principles when looking to the future. "I've had the most incredible education and am very often thinking about where I can best apply it to make this world a little better. Applying my education to help combat climate change, one of the greatest global challenges in history, is the way in which I hope to make a difference."
---
More Information
Contact
Libby Hsu, Associate Director of Academics, Lecturer