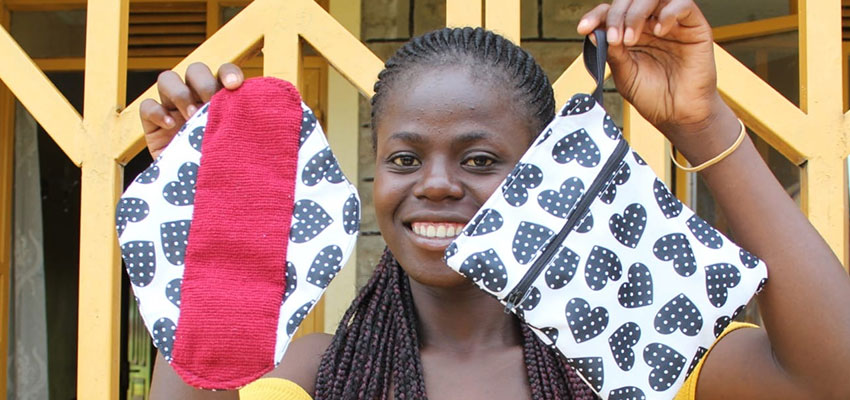 Woman with handmade menstrual pads, Kenya.
In many communities worldwide, women and girls are unable to access sexual and reproductive health (SRH) products and approaches, inhibiting their ability to complete their education and  reach financial independence. In Homa Bay County, Kenya , 33% of girls fail to  complete primary school as compared to 6% of boys. An inability to access menstrual products is a major cause of school absenteeism and dropout. Not all schools have toilet facilities and many girls have no way to manage menstruation other than rags. In addition, girls face stigma and humiliation due to myths and lack of knowledge. Although SRH education is provided in schools, the focus is on abstinence to prevent pregnancy and the transmission of STIs.  As a result, about a third of girls give birth for the first time between the ages of 15 to 19 and one half are married by 18. Furthermore, Homa Bay County is the region with the highest prevalence of HIV/AIDS in the country: ~33% of all women and ~25% of men are infected.
 
In partnership with the Society Empowerment Project (SEP), this program leverages D-Lab's user-generated design approach to build the capacity of teenage girls in Homa Bay County to engage in problem-solving, design, creation, and iteration to create new innovative menstrual products and SRH services that address local social and health challenges, including menstrual management, cultural stigma, HIV/AIDS exposure, and teenage pregnancy. Ultimately, the program anticipates 100 girls trained, 8-12 new approaches or innovations for addressing SRH challenges, and 2-4 ventures.  The one-year program allows for further development and refinement of a user-generated design program to promote SRH.