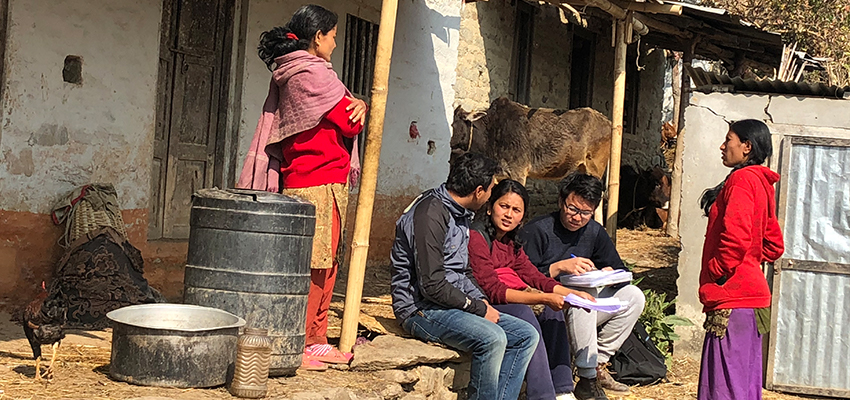 Adam Zhao and Sandhya Bohara conducting an energy needs assessment with women from Salambu, Nepal.
Using the principles of co-design and human-centered design to improve thermal comfort and human health of people living in the Himalaya.
To improve thermal comfort in Himalayan homes and minimize exposure to high levels of indoor air pollution, MIT D-Lab is developing an integrated program that works directly with Himalayan communities for creating sustainable solutions to improve indoor air quality, indoor thermal comfort, and human health in the region.
A global challenge
An estimated 2.8 billion people around the globe rely heavily on polluting fuels and technologies to satisfy their heating, cooking, and lighting needs. This problem is particularly acute in the mountain region of the Himalaya, home to 50 million people where forest wood is the primary cooking fuel and used for heating during winters to ensure decent thermal comfort. The use of forest-wood as a primary fuel source, combined with poor indoor ventilation results in average indoor air pollution levels that are 100 times greater than average exposure limits set by World Health Organization. 
Needs assessment in the Himalaya
In partnership with the Peoples Science Institute (PSI) India, researchers from MIT D-Lab observed this firsthand when conducting an energy needs assessment in rural, low-income communities in Uttarakhand, India. During the months from November to February, approximately 50 kg of forest-wood per week is consumed by households in these communities for cooking and heating, which when coupled with poor ventilation resulted in an average daily indoor household PM2.5 exposures of 2.5mg/m3. PM2.5 refers to atmospheric particulate matter (PM) that have a diameter of less than 2.5 micrometers, owing to their minute size, particles smaller than 2.5 micrometers are able to bypass the nose and throat and penetrate deep into the lungs and circulatory system, exposure to PM2.5 increase the likelihood of asthma, COPD and premature deaths due to heart and lung diseases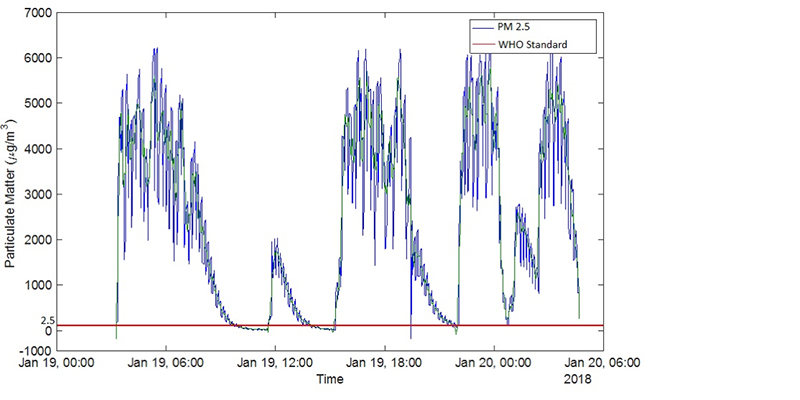 Multidisciplinary approach
This program looks to develop and implement technologies through a combination of energy modeling studies, lab and field-based research, and co-design workshops. The goal of this program is to improve building energy efficiency and reduce forest-wood consumption while improving thermal comfort, air quality, and human health for people in the Himalaya in a cost-effective manner. These solutions will then be replicated in homes across the Himalaya through a series of D-Lab design workshops in partnership with local NGOs in the region.
---
Contact
Dan Sweeney, MIT D-Lab Research Scientist