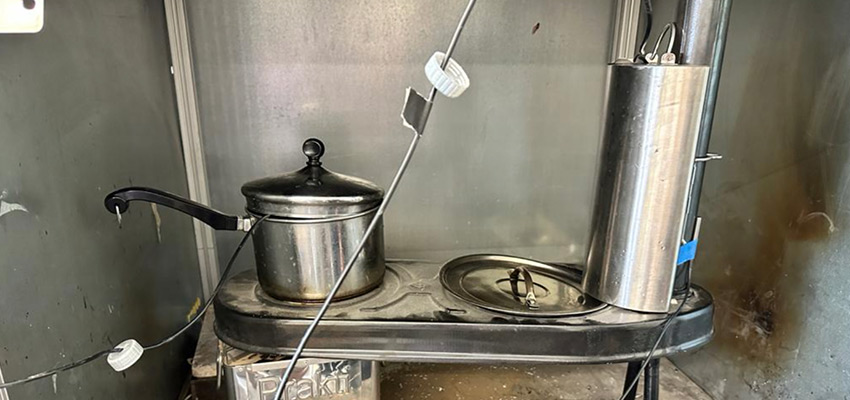 Burn test set up using existing products. Photo: Courtesy MIT D-Lab
Utilizing excess heat from cookstove chimneys to heat water that can be used to cook or keep the residents of the high Himalayas a bit warmer in the extreme environment of their home.
MIT D-Lab Class
Introduction to Energy in Global Development
Himalayan Home Heating
Water Heater using Chimney Heat
Community partners
Dr. Binaya (Kathmandu University)
Dr. Pranav (Kanpur University)
Ramp Thapa (Matribhumi Urja)
Emmanuel (NGO)
Savitri (Community Leader in Para, Uttarakhand, India)
Sumjo (Translator)
Location
Nepal and India
Student team
MIT students unless otherwise noted.
Thomas Brooks ('24)
Nico Gomez ('23)
Kate Oteng-Bediako ('23)
Ritik Patnaik ('23)
Grace Harrington ('25)
Eva Nates (Mechanical Engineering MS '24)
Problem framing
Remote communities in the high Himalayas experience extreme cold temperatures. Indoor temperatures often drop below 10°C (50°F). We are focusing on an elderly community in Kyanjin Gompa, Nepal, a three day trek from town. Most of these residents were relocated to this town after the devastating earthquakes in 2015. Thus, their homes were made quickly and with limited user input. As a result, the cookstoves in these homes are much larger than the elderly need. The elderly residents just barely gather enough wood to cook meals, with none left to heat the home. Typically, the elderly sit in their homes under as many blankets as possible to survive. Our goal is to improve the residents of Kyanjim Gompa's lives by providing them with more consistent access to hot water for  home heating and cooking. Our device uses residual heat from the chimney stoves, thereby reducing eliminating the need for the wood for a fire just to boil water.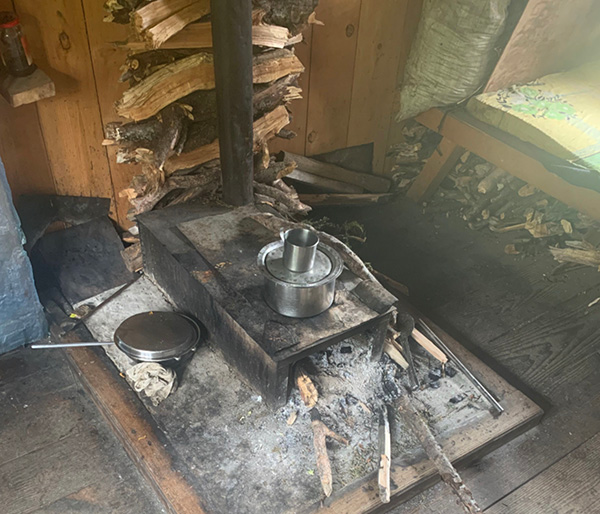 Cultural context
There is nothing like this currently available to the members of Kyanjin Gompa. The idea came to us when an instructor mentioned seeing something similar in a high elevation village. Historically, there have been similar devices that are currently inaccessible and expensive to this user group, but they do confirm our proof of concept of using chimney heat to warm water. Sheet metal is available in the town, so we are aiming to make it possible to make this product in these remote locations with affordable materials and available tools.
Solution and next steps
We are still in the process of developing the best way to use sheet metal bending to build a watertight device that stores 5 to 10 liters. Once we have this built, we will conduct burn tests and measure how long the water takes to reach 90°C, and how long it stays warm once the fire is put out. To keep the water hotter for longer we may add an insulation layer, where either air, or a more insulative material, will help keep the heat of the water in. Our goal temperature is 90°C since many foods, such as noodles, can be cooked at this temperature. Plus, a mug of hot water can go a long way to heat the body, whether it be in ones hands or after drinking. As for time to reach 90°, we are using the time it takes to cook a meal, or about 40 minutes, since the stove will naturally be on this long.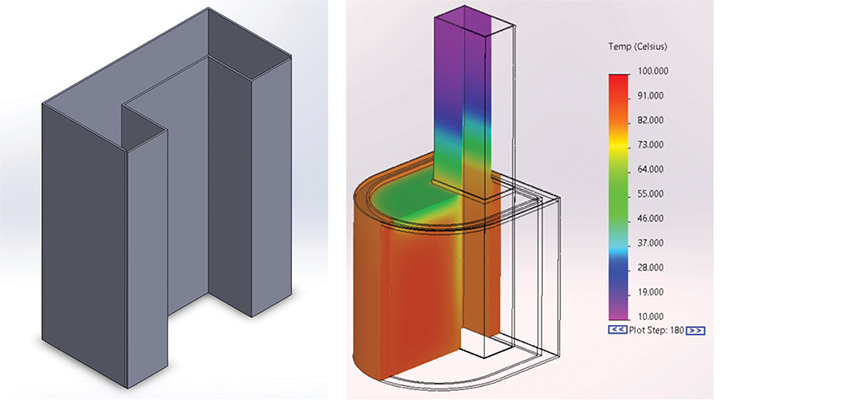 Hand-off to partner
Our product will not only include a sheet metal bending procedure to make the water heaters at these high elevation remote villages, but also an installation procedure. Hopefully, the users have a positive experience with the heater and continue making them for their community, rather than using just the ones we are able to construct on our visits with them. We look forward to working with our partners to design the best way to implement this product in Kyanjin Gompa and similar communities once we have a working prototype at MIT D Lab.
---
Contact
Dan Sweeney, MIT D-Lab Research Engineer; Instructor, Introduction to Energy in Global Development
Robyn Richmond, MIT Mechanical Engineering graduate student, Himalayan Home Heating team mentor