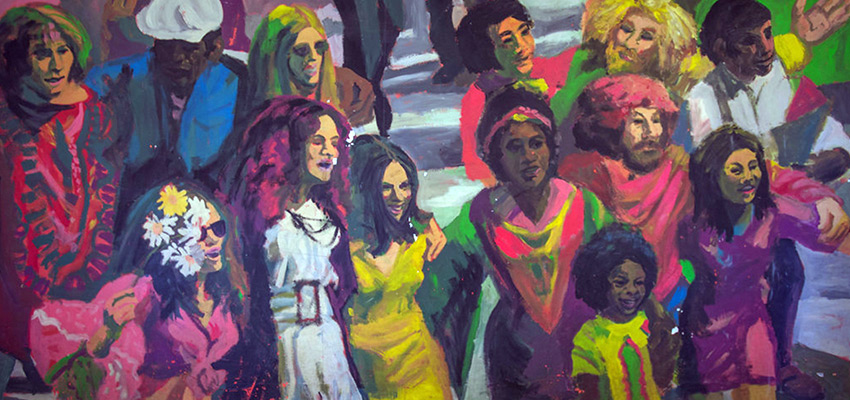 Mural in MIT's Infinite Corridor. © All rights reserved by MIT Image Library
The goals of this study were to map 1) If and where different STEM departments/courses on campus currently implement climate justice in their curriculum and 2) What opportunities exist to integrate topics of climate justice and sustainability into the subject matter of particular departments of MIT.
MIT D-Lab Class
D-Lab: Water, Climate Change, and Health
Student
Manasa Acharya
Community partner
Location
Massachusetts Institute of Technology (MIT), Cambridge, MA, US
Student team-member
MIT student unless otherwise noted.
Manasa Acharya, Master of Urban Planning at Harvard Graduate School of Design: Manasa is currently a Master's in Urban Planning Candidate at Harvard's Graduate School of Design, where she is pursuing interests at the intersection of human-centered design, systems thinking, and infrastructure planning to address complex urban/regional-scale challenges.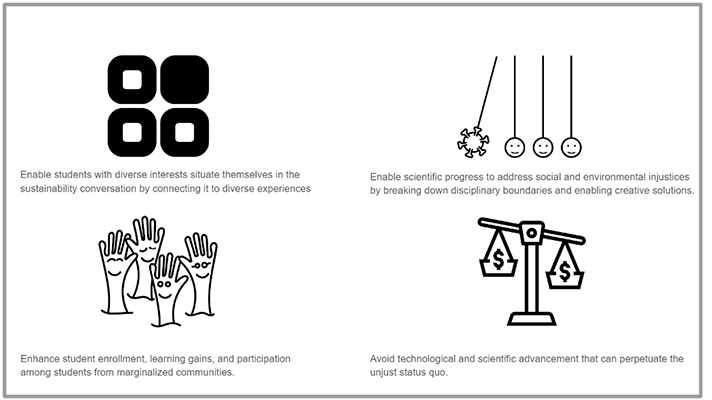 Problem framing
Traditionally, there has been a lack of equity-related education within STEM. Environmental and climate justice (ECJ) is proving to be a promising avenue to integrate just sustainability concerns into STEM education. This is essential to enable our society to reconceptualize environmental sustainability as a justice-oriented issue, empower students to conceptualize creative, interdisciplinary solutions to the looming climate issue, as well as improve student learning and enrollment (especially for marginalized groups). This project aims to quantify and analyze MIT's strengths and areas of improvement in this regard, especially given the university's recent push towards being at the forefront of tackling global climate change.
Methodology
This project was undertaken by going through the course descriptions of each course listed in MIT's course catalog. Based on this information, a course was marked as 'Yes', 'No', or 'Unclear' on two parameters – whether it had any content related to environmental sustainability, and whether it had any content related to environmental and climate justice.
Findings and analysis
MIT has very few environmental and climate justice courses directly offered by its STEM departments (0-4% in almost all departments).
Even outside of ECJ, MIT's performance in offering sustainability focused courses in STEM departments is extremely limited.
There is no straightforward or systematic way for students to find courses in ECJ at MIT.
Solution including technical details
In the immediate term, MIT should make ECJ and sustainability related courses more easily searchable for students who might be interested in this space. While MIT can benefit from creating a database of ECJ courses on campus across all departments in order to track progress across years, the easiest and fastest way to achieve this goal would be to encourage faculty to have appropriate course descriptions or through searchable/filterable tags in the MIT Course Catalog.
Have one umbrella course on ECJ that is mandated for all MIT students. Given the university-wide acceptance that MIT needs to "marshal a bold, tenacious response to the run-away crisis of climate change," it is essential that every MIT student receives exposure to just sustainability and ideas on how they can use their STEM education to address the challenge of this generation as a part of their MIT education.
An alternate way to do so would be to create a core that requires all MIT students, irrespective of major, to opt for an ECJ course in any department during their first two semesters. This is likely to be easier, as it allows for flexibility for students to opt for topics of their interest, facilitate diversity of ideas and learning, and also will not require a completely new, generic module to be created as in the case of the above example.  .
Moving forward, MIT can also focus on providing more courses containing ECJ content in STEM departments, such that the courses are concurrently relevant to the STEM subject as well as social justice and sustainability concerns.
The ideal long-term scenario would be if MIT can integrate ECJ content into existing courses in the form of case studies, student project topics, datasets, assignments, etc. Here is a sample that discusses such avenues for integration within MIT's Civil and Engineering Department's course content. This approach will take a systems lens to ensure that every student, irrespective of their concentration, graduates from MIT with a critical and interdisciplinary understanding of environmental and climate justice and their role in achieving the same.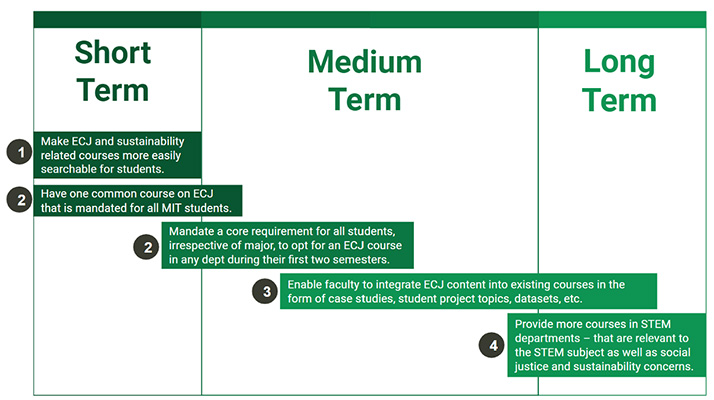 Hand-off to partner, next steps
Validate the findings of this research study
Disseminate findings of this research across the university
Contribute towards developing the knowledge resources for implementation of recommendations proposed above
---
Contact
Susan Murcott, D-Lab: Water, Climate Change, and Health Instructor
Julie Simpson, D-Lab: Water, Climate Change, and Health Instructor
Chris Rabe (Project Mentor), Environmental Solutions Initiative at MiT