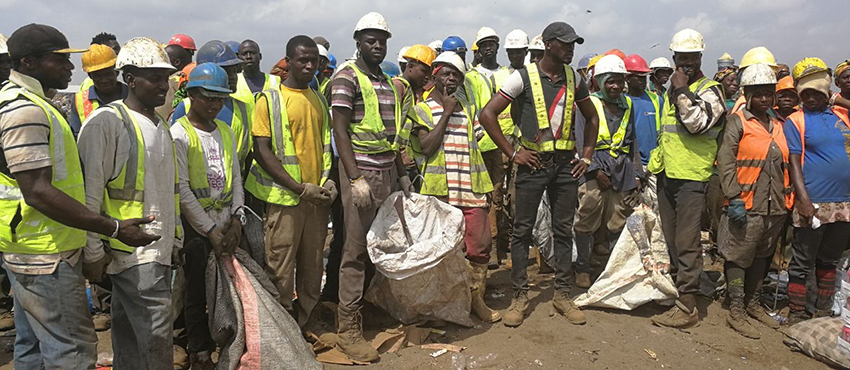 Photo: Ana Ussier.
Inclusive recycling system co-designed with multinational companies, the municipal and national government, and 300 waste pickers in Accra, Ghana
Waste-picking around the world
There are an estimated 20 million waste pickers collecting and sorting plastic, metal, paper, and cardboard all over the world. They play an important role in efforts to clean up cities and increase the amount of waste material that is recycled. However mechanisms have not yet been developed to adequately compensate informal recyclers for the important services they provide as key environmental workers. Equally critical, methods for  incorporating them into a more circular economy, which can simultaneously increase earnings and heighten positive impact on the environment, have yet to be designed.
Pick-it!
In partnership with Fan Milk, WIEGO, and Environment 360, MIT D-Lab is working to develop an inclusive recycling system that effectively incorporates the work of waste pickers in Accra, Ghana. The first phase of the program lays the groundwork for an inclusive business model that, in Phase II, can be scaled in Greater Accra and, in Phase III, can be expanded into regions throughout Ghana.
PHASE I OBJECTIVES:
1. PRODUCER RESPONSIBILITY 
(Fan Milk) Bring together a coalition of multi-nationals to  support the definition of environmentally and socially responsible waste management and recycling practices in Ghana, raising people's awareness and playing a positive role in establishing policies that ensure long-term sustainability of businesses in Ghana.
2. ORGANIZE THE WASTEPICKERS 
(WIEGO) Mobilize large groups of waste pickers to build solidarity, leadership, and voice, and co-create an inclusive policy framework to support the successful scaling of recycling businesses owned and managed by waste pickers.
3. COMMUNITY EDUCATION ON SEGREGATION 
(Environment360) Roll out a public awareness program to educate residents on the benefits of recycling and instruct them on how to sort at source.
4. FLAGSHIP SOCIAL ENTERPRISE TEMA NEWTOWN
(MIT D-Lab) Use D-Lab's co-creation design methodology to support waste pickers in the launch of a flagship social business in Tema, Newtown — the first of three de-centralized recycling enterprises in Greater Accra, demonstrating that collecting and transforming plastic into second life products poses benefits to the local economy.
The project is funded by Fan Milk, Limited, Danone Ecosystem Fund, FMO (the Dutch Development Bank). The Hewlett Foundation is also supporting the project, through WIEGO.