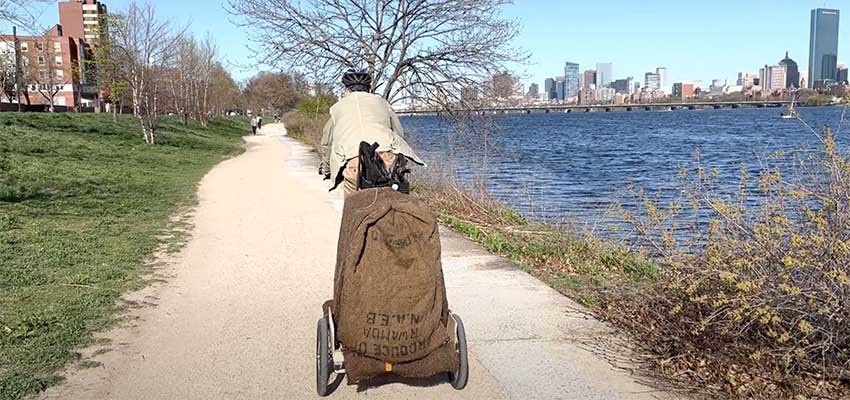 Cameron riding a bike with our cooling trailer attachment (canopy removed for testing) along the Charles River. Photo: Courtesy MIT D-Lab
Designing a bike trailer with an evaporative cooling system that is able to cool fresh produce during 1-15 km trips from farms to markets along hilly, gravelly roads.
MIT D-Lab Class
Student team
MIT students unless otherwise noted.
Cameron Dougal '25, Urban Science and Planning with Computer Science
Diane Heinle '23, Mechanical Engineering
Oliver Chinn '23, Mechanical Engineering
Runako Gentles '24, Civil and Environmental Engineering
Zhixing Chen '25, Mechanical Engineering, Art and Design
Community partners
Location
South Africa
Problem
Farmers on small farms in South Africa must travel 1-15 km to bring their produce to markets. However, many small farmers do not own their own vehicle, forcing them to rent or borrow vehicles or hire a delivery service. On top of these services being an added expense for farmers, farmers are at the mercy of the reliability of both the vehicles and the drivers.
An unmodified bike trailer would be ineffective because it would leave produce to wilt in the hot daytime temperatures. A cooling system must be integrated into the trailer for the product to be desirable to farmers, however it cannot rely on electricity due to both the expense of batteries and the extreme unreliability of the electrical grid in South Africa.
Cultural context
In South Africa, there are 27 major agricultural producers and over one million small shareholder farmers. The majority of these farmers are women in remote areas of the country. Any reliance on systems outside of the farmers' control introduces variability that disrupt the farmers' harvesting and selling seasons. Our solution aims to not only help farmers save time and money, but also increase their self-sufficiency. Our aim is that the cooling capacity of the bike will allow the product to be more desirable than driving instead of being perceived as a time or energy burden.
Proposed solution
Our solution is a bicycle trailer that is combined with both a shade canopy and an evaporative cooling system. The design will be robust enough to carry over 100 kg of produce, but light enough to be towed by our target demographic, female farmers. The design will be engineered to withstand the hilly and bumpy gravel roads that make up much of South Africa's rural road network. Our evaporative cooling system uses wet jutesack, a canvas material that is widely available, and takes advantage of the air flow generated by riding the bike. The cooling system will lower the temperature of the produce during a 15-60 minute ride by 1-5 degrees C. The shade canopy is designed to minimize wind resistance and maximize airflow and, by extension, cooling capacity. Ease of use is also a consideration, with the end goal to be to be able to load and prepare the trailer in under 5 minutes.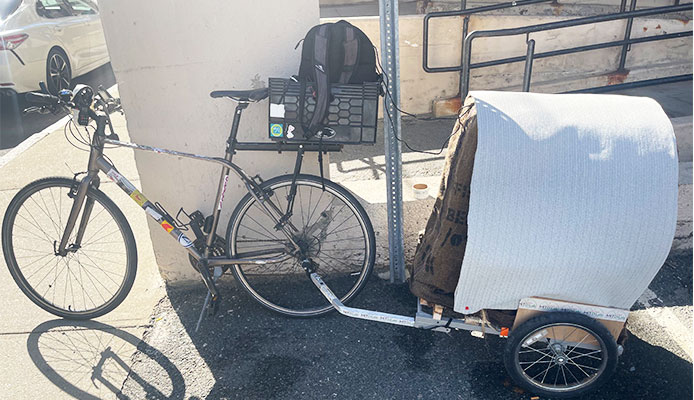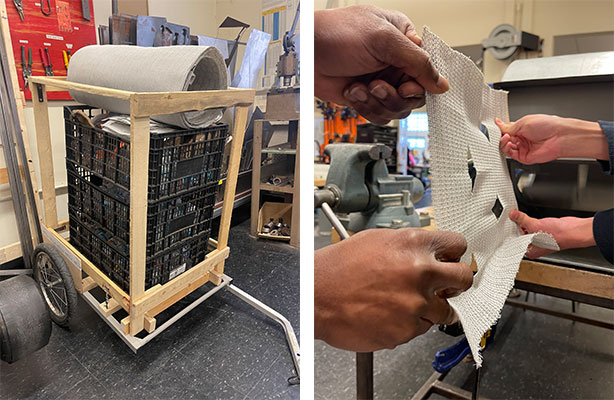 Next steps
Our end deliverable will be a blueprint that can be followed to easily and cheaply build the trailer at scale, with Matt's organization distributing trailers to "lending libraries" located in farming regions where farmers can then borrow the bike when they have produce to transport.
---
Contact
Eliza Squibb, D-Lab: Design Instructor
Sorin Grama, D-Lab: Design Instructor