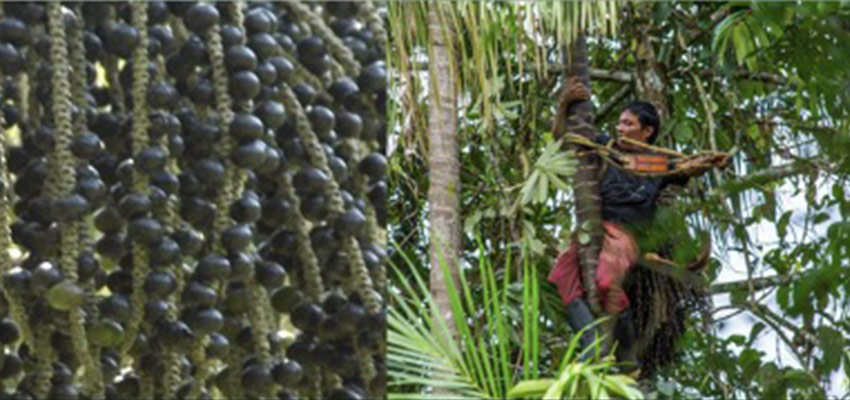 Açai berry harvester climbing on a tree to harvest açai berries. Photo: Corpocampo
Creating a ground operated climbing mechanism to improve safety and efficiency of harvesting Açai berries.
MIT D-Lab Class
Student team
MIT students unless otherwise noted.
●    Tsolmon '24, physics and mechanical engineering
●    Alayo Oloko '25, mechanical engineering
●    Stephanie '23, mechanical engineering
●    Christian '23, mechanical engineering
Community partners
We are currently collaborating with Corpocampo, is an NGO operating in Colombia that provides support to small farmers in the açai harvesting region. This includes support to açai harvesters who climb the palm, and farmers who process the berries after harvesting. Corpocampo currently covers 72% of the local açai market and 73% of Colombia's açai exports, making them extremely knowledgeable on the greater context of the berries. We are also speaking to açai harvesters directly in the region.
Location
As our project pertains to açai berries we are concerned with the specific amazon biome where the açai palms grow. This region covers a large part of South America but our partners are specifically açai harvesters in Colombia.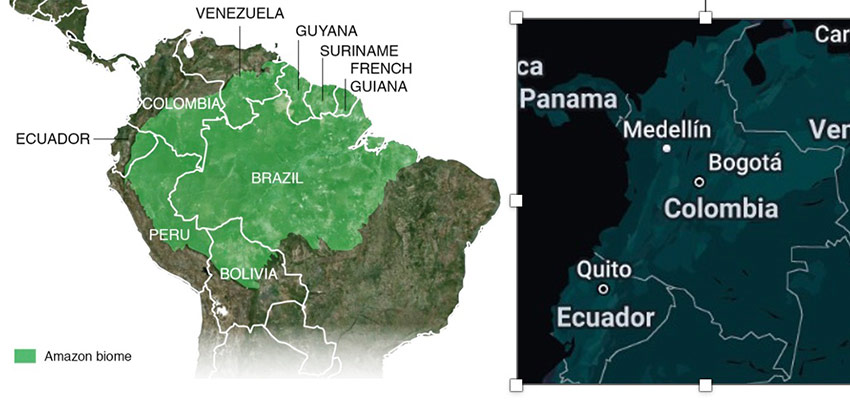 Problem framing
Harvesting açaí berries in the Amazon is very difficult and quite dangerous. Harvesters first have to climb up the açaí palm, which can be up to 80 feet tall and then they have to harvest branches. Açaí berries are very fragile, so they have to be carried back down. However, at the top, the açaí palm isn't as stable and tends to sway back and forth. If the palm sways too far, it will snap, which can lead to injury or death.
Cultural context
Our project is mainly considered around the açai berries, which are currently being consumed by 42% of the local population. Currently, açaí berries are
 
becoming much more popular abroad, so the demand has become three times higher than the supply, so there is an incentive to improve the harvesting process. The current açaí harvesters are mostly young men, who come from rural backgrounds in Colombia and some from smaller communities. Açaí does not make up a main source of income for the farmers and harvesters, as harvesting season occurs from September to December, and not all year round.
Project description
We are currently developing a ground operated açai harvester to eliminate the risk of falling and increase the harvesting rate for açai berry harvesters.
Current prototype
Our current prototype focuses on an easily attachable tree climber for ground actuated açai harvester mechanism. We have a set up of a frame with two wheels and springs that wraps around the tree to climb up with a crank handle to drive one of the wheels. The prototype takes less than 2 minutes to set up on the tree and climbs up the tree with 0.0875m/s speed.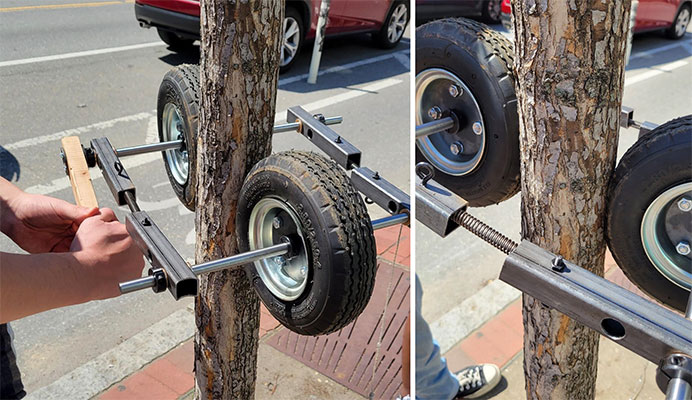 ---
Contact
Eliza Squibb, D-Lab: Design Instructor
Sorin Grama, D-Lab: Design Instructor