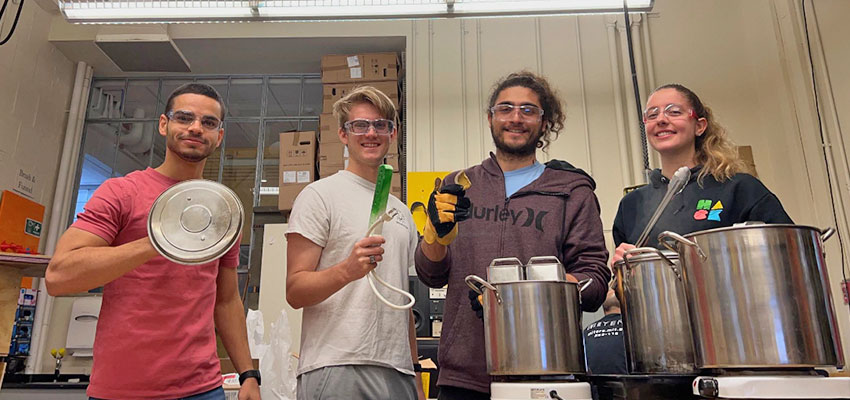 The process of boiling our team's thermal batteries and placing them inside a ¼ scale chick brooder for testing. Photo: Courtesy MIT D-Lab
The D-Lab Chick Brooder is a well-insulated brooding box that is steadily heated by taking advantage of the latent heat in beeswax, during the process of resolidification, in order to keep chicks warm without the need for supervision or electricity.
Student team
Katana Finlason, MIT 2023 Mechanical Engineering
Will Reinkensmeyer, MIT 2023 Mechanical Engineering
Ahmad Zakka, MSc 2023 Mechanical Engineering
Aly Kombargi, PhD 2025 Mechanical Engineering
Community partner
Location
Cameroon - Obala and Yaoundé
Problem framing
A group prior to this team in D-Lab designed the insulated brooder box and ran experiments with various phase changing materials (PCMs) that would act as the main heat source for the chicks. It was found that the use of beeswax was optimal for keeping the box in the desired range of 30-33 degrees celsius overnight. However, by the end of the group's last trip to Cameroon the idea of using the wax to heat the box was not fully realized as the process of melting the wax was too cumbersome and time consuming. The farmers would have to fill metal trays with wax and keep the tray suspended at the top of large pots of water that would be boiled over a three stone fire. Our team's mission was to greatly reduce this hassle of handling and create a better system for heating the PCM so that this version of the brooder can actually be implemented.
Market context
Cameroon is a strong agricultural country, this sector accounts for 17% of the national GDP of which 4% is attributed to the poultry industry. Unlike developed countries, the agricultural sector in Cameroon is heavily dominated by small scale farmers which account for 70%. Cameroon also imports significant amounts of poultry from the developed world, notably Europe and the United States. These statistics indicate that there is a large poultry market in Cameroon that is heavily dominated by small scale farmers. The heavy poultry imports indicate that the industry is unable to meet the national poultry needs. Overall, this information highlights the need for an improved local poultry sector through the empowerment of local small farmers to be able to produce more and meet national needs.
Competitive analysis
Our PCM box comes as an improvement of the traditional solution used by farmers in Cameroon, consisting of having a fire near the box for heating, supervised overnight by the farmer. It is a rather inexpensive method, costing farmers about 17$/month in wood. However, heat was less controlled and unstable with this method, and constant supervision is not ideal for the user. High temperature gradients caused non negligible mortality rates in chicks.
Our partners, the Antenna Foundation and African Solar Generation developed a "Solar Box," as part of their "Clever Chicken Project". It is also a thermally-insulated wood box, but uses solar energy. Instead of wax, they installed solar panels to store the energy in a battery that heats the entire cabinet. This solution was relatively efficient, with a 12% decrease in chick mortality rate.
Solution
Our team's solution was to use 'thermal batteries' which are simple metal housings for the wax that allows for an easier double boiling process. We found that metal paint cans and oil cans are able to hold the required kilograms of wax needed to heat the box and can be readily found in Cameroon. Their handles and compact sizes also aid in handling them when transferring from the big water pots to the brooder box. We ran tests using a ¼ size model of the brooder box and 6 oil cans each filled with 1.5kg of paraffin wax (it was found that paraffin had the same thermal properties as the beeswax). These thermal batteries were able to keep the box within our desired range of 30-37 degrees celsius for around 10 hours which aligns with our target goal.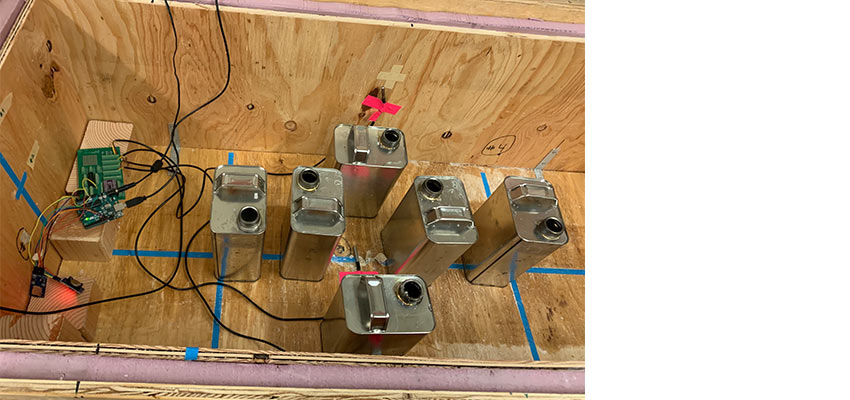 Next steps
During IAP 2023, we will be able to test out our thermal batteries in the field in Cameroon. The next challenge for us is locally finding the materials needed and working with the chicken farmers to address any major concerns that still remain.
---
This project was funded in part by MIT J-WAFS through the research project Safe off-grid brooder for Cameroonian poultry farmers.
---
MIT D-Lab Class
Applications of Energy in Global Development
Contact
Dan Sweeney, MIT D-Lab Research Engineer; Instructor, Applications of Energy in Global Development