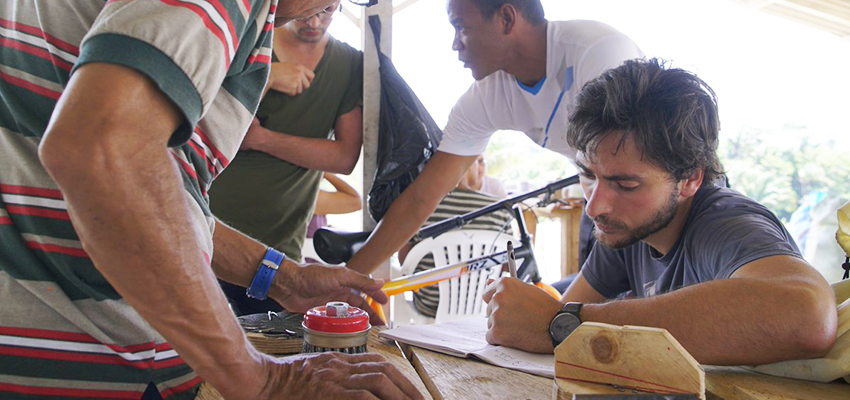 Moving graduate students in STEM fields — both at MIT and around the globe — toward a more collaborative and inclusive approach to problem-solving.
Teaching co-creation and systems thinking for humanitarian innovation
MIT seeks to expand its contributions to the humanitarian sector by piloting and testing a novel approach to teaching co-creation and systems thinking in graduate courses in humanitarian innovation, relief, and response across MIT, and in the Humanitarian Engineering program at Oregon State University, the Program on Forced Migration and Health at Columbia University, and the Alliance for Technology, Learning and Society (ATLAS) Institute at the University of Colorado at Boulder.
Developing a co-creation toolkit for humanitarian innovation
MIT D-Lab staff and researchers will develop, deploy, and evaluate a "Co-Creation Toolkit for Humanitarian Innovation" for use in classes that focus on humanitarian innovation and/or engineering design in a humanitarian context. This toolkit will guide students through a multi-week module on co-creation and will include activities such as: multi-stakeholder mapping, analysis, and planning exercises; reflection and introspection exercises to understand personal biases and working styles; mindset exercises to create an appropriate environment for co-creation; team building tools to build mutual respect and relationships between stakeholders; co-creation simulations with real-time feedback and analysis tools to evaluate and critique the process; sketch modeling and other three-dimensional representational techniques; and facilitation capacity-building activities.
Student projects and partners
In parallel, students will work on a semester-long project with a partner organization (such as Oxfam, UNICEF, or the Red Cross) to develop a co-creative activity between the organization and the affected population. The activity could be around a particular sector (for example, co-creation of improved cooking and heating technologies), service delivery (more efficient food distribution) or larger systemic challenges (improved safety in camps). After the class, students would have the opportunity to work with D-Lab staff and partners in the field to deliver the co-creative activity.
Long-term goals
The long-term goal of this initiative is to move leaders in STEM fields — both at MIT and around the globe — toward a more collaborative and inclusive approach to problem-solving. As a part of this initiative, the high-level goals include:
Developing, testing, deploying, and disseminating a Co-Creation Toolkit for Humanitarian Innovation as an innovative approach to graduate learning
Advancing graduate students' learning of how to effectively incorporate principles of systems thinking to multi-stakeholder engagement and inclusive, collaborative design in the development and deployment of humanitarian solutions
Creating opportunities for graduate students and humanitarian actors to apply their skills and engage in co-creation experiences where humanitarian actors and the people they serve actively create and develop solutions together
Evaluating if and how the Co-Creation Toolkit for Humanitarian Innovation advances graduate student learning toward these principles for more effective solutions
Student profiles
The project will focus on advancing the learning and skills of early to mid-career professionals in STEM fields seeking MIT graduate degrees, particularly those in science, technology, and engineering, including students who:
have already spent some time working in the humanitarian relief field, but are
are looking for a more innovative and inclusive way to approach their work
have spent some time working in international development, but are transitioning
focus to humanitarian relief work
are making a career transition from another field
are pursuing careers that have high levels of interaction with humanitarian actors
Collaborating programs
MIT D-Lab will lead this initiative in close partnership with the MIT Systems Design and Management (SDM) program and the MIT Urban Risk Lab.
---
Team
Amy Smith, Founding Director, MIT D-Lab and Senior Lecturer in the Department of Mechanical Engineering email
Miho Mazereeuw, Assistant Professor of Architecture at MIT and founder of the Urban Risk Lab email
Maria Yang, Associate Professor Mechanical Engineering and Faculty Academic Director, MIT D-Lab email