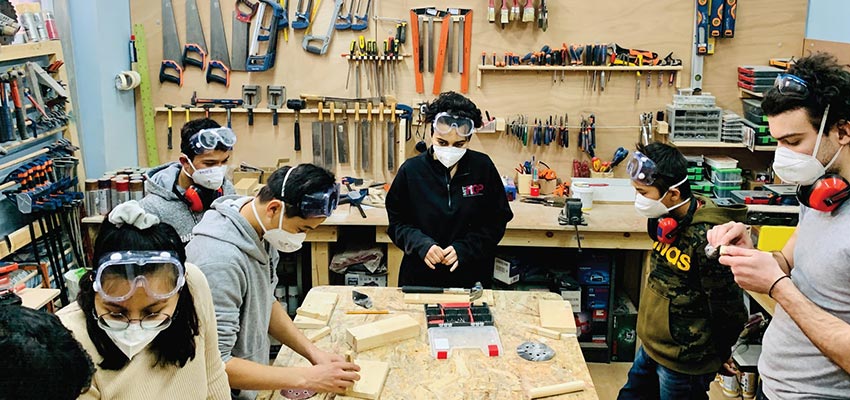 MIT D-Lab students teaching the refugee youth on how to use woodworking tools to design a phone stand.
The transformative power of design: equipping refugee youth and women with tools and skills to facilitate their integration into society

Challenges of unaccompanied refugee youth in Greece
In 2015, hundreds of thousands of Syrian refugees left Turkey by boat and on foot, walking through Greece to seek asylum in western European countries. As 2015 slipped into 2016, over a million refugees, mainly Syrian but also Afghanis, Iranians, Kurds and Iraquis crossed the Mediterranean in boats to begin their journey in Greece, a natural geographic entry point to the continent. In the five years after the massive flow of Syrians into Europe, the EU's stricter migratory regulations have made seeking refuge in Europe much more restrictive. When the March 2016 agreement between the European Union and Turkey effectively shut down the border between Greece and the rest of Europe to refugees, over 50,000 refugees remained stranded in Greece, including approximately 5,300 unaccompanied minors. Separated from their families, these young people face major challenges in finding safe living conditions, protection from exploitation and navigating the intricacies of immigration policy and an already strained bureaucracy.
Only 1,300 of these youth are in shelters, according to UNHCR. The rest live in camps, on the street, in exploitative situations, or in detention centers. These youth often struggle for basic needs and most lack the support networks necessary to overcome the trauma stemming from violence in their countries of origin and the inadequate living conditions in Greece. Education and psychosocial support are sorely needed by unaccompanied refugee minors.
Teaching design to address practical and therapeutic needs
MIT D-Lab began a collaboration with Faros, a Greek NGO providing shelter and day programs for unaccompanied refugee minors, in 2017. This collaboration began on the premise that teaching unaccompanied youth how to use the design process to solve problems could increase their confidence and esteem, help them realize their own potential and abilities, and empower them to solve challenges in their own lives and communities. In collaboration with Faros, D-Lab led an initial eight-day design workshop for a group of unaccompanied refugee youth. It was immediately apparent that for these youth, learning design training and applying new skills had a transformative impact: they expressed newfound confidence in themselves, gained belief in their own potential, and demonstrated impressive levels of dedication and creativity. This initial workshop sparked Faros' conviction that D-lab's design methodology rooted in giving the youth skills to design solutions to real problems provided them with a sense of agency and self confidence that was transformative.
The Horizon Center: makerspace and training center
In an effort to expand the program and reach more potential beneficiaries, D-Lab helped Faros create the Horizon Center in 2018 to serve as a school for unaccompanied refugee youth between 15 and 17 years of age  providing them with design-based training and connecting them to essential services. D-Lab adapted a curriculum in design that trains unaccompanied refugee youth to acquire practical skills, learn the design process and understand how to apply it to solve problems. D-Lab staff continue to be closely involved with the Horizon Center, continuing to create new curriculum, training staff in how to teach design and planning the development of new stages of the design program as the youth move through it.
Design and skills training
D-Lab worked with Horizon Center staff to devise a roadmap for participating youth, considering their differing backgrounds, education, and familiarity with technologies relevant to the Center's programming. After registering and drawing up a tailored action plan, each participant enters a three-part 'basic training' phase designed to fill gaps in basic skill sets and develop confidence in using various tools. Upon completion of this phase, participants can progress to the Intro to Design, Creative Capacity Building, and Technical Training phases. 
In 2019, at the request of Faros, D-Lab developed a design training program for refugee women with whom Faros was already working. D-Lab trained the Horizon center staff in the women's design program and it is now in its second year. It has similar elements to the program for the youth but is more focused on product development. The Horizon Center activities help both the refugee youth and the refugee women to restore their confidence in their own abilities, have a chance to realize their potential and exercise their creativity. Ultimately, the Horizon Center seeks to equip them both with tools and skills that will facilitate their integration into society, whether that be in Greece or beyond.
COVID-19 update
When COVID-19 struck Greece and the Horizon Center had to close in March, D-Lab staff and students worked with the Horizon Center to adapt the program to the changing landscape of government restrictions around Covid-19. They met the challenges of pivoting to remote teaching accessible to refugees on phones, and when the government permits, they blend small classes and on-line training. The youth and women now all have activity kits so they can work from home when necessary. Since the fall of 2020, D-lab and Horizon have expanded a popular program to reach boys in different shelters. They supply youth in a variety of shelters with activity kits and lead them in on-line activity classes on zoom. As COVID-19 remains unabated, D-Lab continues to find new ways to overcome the challenges around connecting with and supporting refugees often isolated in the pandemic.
Engaging MIT D-Lab students 
D-Lab students have actively engaged with this project, through the class D-Lab: Humanitarian Innovation. Below are some highlights of how D-Lab students have contributed to this program.
August 2017: D-Lab students helped to facilitate the first  Faros-D-Lab innovation workshop with 15 unaccompanied refugee youth, adapting the CCB curriculum for minors in urban contexts. Participants learned basic woodworking, prototyping, and design skills to build lockable wooden boxes.
October 2018: A D-Lab team traveled to run a Digital Design and Fabrication Workshop (DDFW) in 3D printing for Faros instructors and unaccompanied minors. video
January 2019: During MIT's Independent Activities Period (IAP), a team of D-Lab staff and students traveled to Athens to run workshops on topics including woodworking, sketch modeling, electronics skills, silk screening, graphic design, filming, and 3D printing.
August 2019, January 2020: Students from D-Lab's Humanitarian Innovation class traveled to design curriculum and teach at the Horizon Center.
January 2020: Another cohort of students traveled to the Horizon Center during MIT's IAP. They taught students skills in woodworking, soldering, silk screening, breadboarding, Adobe Illustrator, CAD/3D printing, and Arduino through three different projects.