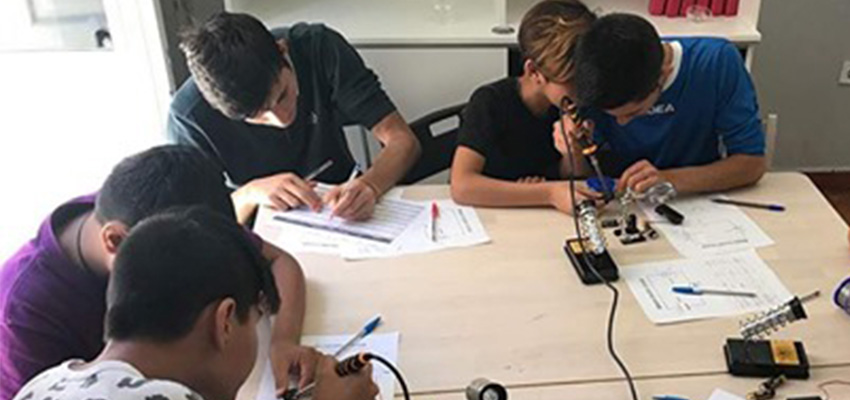 Photo: Faros Horizon Center
Ekathimerini (Greece)
Original article in Greek on ekathimerini.com
A teenager who has fled his homeland to escape war and finds himself homeless and wandering the streets of Athens alone needs many things and perhaps computer lessons are not the first priority. And yet, if one saw S. and M., two teenagers from Afghanistan, who have focused their attention on a student from the Massachusetts Institute of Technology (MIT) who is learning mechanical engineering with batteries, cables, pencils, and cardboard, perhaps one might change one's mind. Because, in the end, for a teenager who is an unaccompanied minor, what is most needed is to find an incentive to try, understand that he or she can find solutions even when this is not immediately apparent from the data.
With this goal in 2017, the Faros Horizon Center, a training program for refugee children in the Pedion Areos neighborhood, was founded, offering workshops in computer, carpentry, photography, design and 3D printing of 3D printing objects. The NGO Faros and MIT [D-Lab] (which implements their respective programs) are working together with funding from the Velux Foundations Foundation and the United Nations High Commissioner for Refugees. We often say that if you give to someone who is starving fish, he will be full once. But if you teach a person to fish, then the individual will never go hungry again. But what if the lake dries up? How do you create something that is missing, how can you go beyond the problem, asks Amy Smith, Founding Director of MIT D-Lab.
"This is a new way of learning that does not follow traditional methods. We teach how to learn and solve problems. You know, it takes years for someone to learn English, for example. But in a few lessons, you can learn how to make a chair. And this is very important for the confidence of these kids who need to learn how to learn while they are out for 1.2 or even three years of any school environment," Dan Biswas, co-founder and principal of Faros, tells K.
Since its inception, the program has been attended by over 500 children aged 15-22 from Syria, Afghanistan, Iran, Iraq, Eritrea, and other countries. "The information word of mouth, so those who come are usually aware and dedicated," Dan Biswas adds. There have been many achievements, from a drone to 3D printers. But the main achievement has been an opportunity for a better future ...
---
More information
MIT D-Lab Humanitarian Innovation
Creative Capacity Building with Unaccompanied Refugee Minors & Women — Athens, Greece
Contact