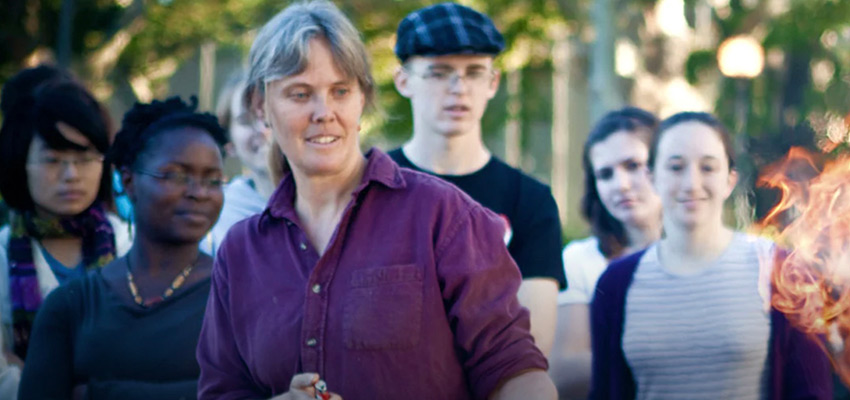 Amy Smith teaches MIT D-Lab students to make agricultural waste charcoal briquettes on the MIT campus. Photo courtesy of MIT D-Lab
Heifer International
Original interview as published by Heifer International
From an early age, Amy Smith felt she should use her skills to end poverty. With aptitude and passion for both engineering and international development, Smith committed her professional life to combining the two in a meaningful way.
In 2002, she founded D-Lab at the Massachusetts Institute of Technology, the university she attended for her undergraduate and graduate degrees. D-Lab works with people around the world to promote collaborative approaches and practical solutions to global poverty and trains students to do the same, through academics, research, and fieldwork. "We try to be a learning institution that works with humility and respect," Smith said.
Why did you start D-Lab?
My dad was a professor at MIT, and when I was 6, we moved to India for a year, where he helped set up the Birla Institute of Technology. And I think, as a young kid, I was struck by the difference of what kids there had access to and what I had access to, particularly when I came home. In one way or another, that impacted me a lot.
I always felt like I should be doing something to try to address the inequity in the world. That's probably what led me to join the Peace Corps after college. Then, for two years, I was a teacher at a small school in the middle of the Kalahari Desert. I enjoyed teaching, I continue to enjoy teaching, but I also love problem-solving. My background is mechanical engineering, specifically engineering design.
So, I applied for graduate school, I got in, I went back, and I really wanted to learn and know enough so I would be the resource in the field. Almost all of my graduate career, I was a teaching assistant. And I realized that the types of projects that are highly appropriate for small-scale income generation and labor-saving, etc., are great vehicles for teaching design to undergraduates. Because they stress things that often get overlooked, and yet those things are really important, right? Things should be affordable, they should not break down, they should be understandable by the user. If you think about all the technologies that drive you crazy, it's because they're lacking in those things. And yet, our design classes do not stress them the same way.
Then what happened was I started teaching classes roughly under the framework of design for developing countries. There was a student who was from Haiti, and he and other students from Haiti … wanted to do something for Haiti, but they wanted to involve more of the MIT community. So they thought, wouldn't it be great to do a class [that] looks at creating technologies that would be useful in Haiti. But as they said, how can you design something for Haiti if you've never been to Haiti? And if you know anything about Haiti, it's particularly true for Haiti. I mean, it's true for all places, but Haiti is a highly complex place.
They reached out to me, and this seemed like a great evolution for what I was doing. What we did was create a series of classes where in the fall, people learned about different technologies, about different sectors of development, different theories and practice of development, they learned Creole, they learned about the cultural context of Haiti. Then during January, we took the students to Haiti. We linked up with Peace Corps volunteers there, and the volunteers were our ambassadors into the community, and our students were technical advisors on the project.
People identified challenges while they were there, then during the spring, we had a design studio where they created solutions, and then in the summer, they were able to go back and implement them. And that to me was like, "Wow! If only I had been able to do that," right? And a lot of the students felt the same way.
The next year, we expanded beyond Haiti to include India and Brazil, as well. The first year, in a very pragmatic way, we called it The Haiti Class. And it didn't seem like it made much sense to call it the Haiti India Brazil Class, so we just started thinking of what might be a good name. MIT has a couple of other things called like E-Lab, which is for entrepreneurship, G-Lab, which is the Global Lab. And I'm also a big Sesame Street fan, so, you know, "being brought to you by the letter D" seemed to make sense, because "development, design, dissemination."
Can you tell me about some of the designs that have come out of D-Lab?
Our longest projects came out of the very first year in Haiti, which is our charcoal project. In Haiti there's a lot of trash and waste, and there were a lot of initiatives about turning that into [cooking] fuel, and one of the Peace Corps volunteers that we visited had a press that took wastepaper and compressed it into these [briquettes]. It was a clunky machine that didn't work very well, and so our students worked with him and they actually increased the output by about three times, which is pretty good. We brought the briquettes home, and they were terrible. They were very difficult to light, they produced a lot of smoke. Turns out that the wastepaper wasn't as readily available, so it wasn't really a great resource.
For other reasons, we had brought home bits and pieces of agricultural waste in order to carbonize it, but then we took that a bit further and were like, could we make charcoal from agricultural waste?
We looked a lot at what was available, and sugarcane [waste] is a very plentiful resource, it's not really used for anything else. It accumulates at these small-scale sugar mills, so it's easy to sort of "harvest."
I had a group of students during that spring semester look at how you could create a methodology for producing charcoal from agricultural waste using a very low-cost resource. And there was one student in particular who became somewhat obsessed with the project, so he kept working on it for multiple years afterwards. And, you know, we had issues with sort of huge plumes of smoke coming out of the experiments we were doing in the parking lot, but we've now worked that out with the campus police and the Cambridge police.
Over the years, we developed a methodology that, using very low-cost resources, would allow you to convert agricultural waste to a cooking fuel. For people who cook with charcoal, a lot of that charcoal breaks in transport, so they just have this unusable dust in the bottom of the bag. You can use the same tools and techniques for turning that into usable briquettes as well. For some people, 25 percent of their charcoal actually gets broken and is unusable so even without converting agricultural waste, it's a really useful technology.
We looked at, could we invest in entrepreneurs who would want to do this at a different scale? We actually hired a biofuels person to work with us, and he focused specifically on what was called the Harvest Fuel Initiative, working with entrepreneurs in East Africa to create small and medium-sized businesses out of this. And it's been exciting, too, because there was a woman who was actually using a machine that that first Peace Corps volunteer in Haiti was using and having a very small output, and then [we] worked with her to show her some of our alternative charcoal presses. She has gone through, I would say, three iterations of larger and larger scale machinery, and I think she's now able to make three tons of charcoal a day.
What are the most common global poverty challenges you encounter in design work?
That's always a hard question to answer. Like, which is more important, education or health? Water or food? No, they all are. The thing that is challenging is the complex interplay of basic human rights and needs that makes it difficult for people on the edge to thrive. And I believe that you have to acknowledge the complexity.
One of the reasons I love the work we do, in empowering people to be designers, is it means they identify the challenges that are most important to themselves, and they solve them. In many cases, when people have access to more income, they are able to address some of their other challenges. Is income generation the single biggest challenge? No, but it sometimes allows people to address others.
The challenge is that people are just so close to the edge of not having enough to survive that any little thing can push them in a really dangerous direction. So for me, it's that complexity that is the biggest challenge. It's why I think the design work we're doing has the potential to be really impactful, because it allows people resilience and resources to navigate the complexity more effectively. And I think that's, fundamentally, a really important thing. And when external agencies are mandating solutions and trying to navigate other people's complexity, they often fall short.
You've said, "I emphasize training [D-Lab students] in a kind of empathy with the people in the field, an empathy that is built upon respect." How do you train for empathy, and why is that a key component of the curriculum?
I think if you are designing technologies for someone you don't respect, I don't think you're creating a good technology. Fundamentally, as human beings, we could do well to be both humble and respectful. I think MIT selects for students who have been told they are the smartest students in the world, they are told that while they're at MIT. And to a certain degree, they are led to believe that education and intelligence are the same thing. And I try very hard to break that open.
Another aspect is that I feel that I don't want my students to think that development workers look like me: white people with good educational backgrounds who are compassionate and care about things. I'm happy that they think some people doing development are that way, but the majority of people making change in the world are citizens of a country doing things for other citizens of their country. So I try very hard to bring in exemplars of that, bringing in guest lecturers from Tanzania, from Guatemala, from India. And honestly, some of the best inventors I know are from those countries. And the thing is, my students are like, holy crap, that's amazing, I couldn't do that, and it's like, yes! And some of them don't even have a primary school education, although many do, but they certainly don't have a university education, and yet, brilliant, right? So that's part of it.
And then, I also just think that the idea of understanding context [is important]. I do remember the first trip [to Haiti], there was one particular student who I recall accompanying to the latrine for about the first four or five days until she felt comfortable going in by herself. It's dark, and I thought it was interesting because, depending on what time you go, there are different insects or creatures in the latrine. At some point, it's mostly spiders, at another time, it's cockroaches. Lizards come out at a different time, the flies are there during the day. There's a really interesting time study to do, but you could imagine, that would freak you out, right? And so, you might think differently about putting screens on the vent hole of a latrine if you had to have that many flies around you while you're using a latrine.
You have such a storied career, with a number of prestigious awards for your work. What is the key message you hope people take from your accomplishments?
I think it's really important for people to find out the things that they care deeply about and to map their strengths onto how they can do something to affect the change they want to see. And I have, countless times, advised students, for example, who are facing this conflict between, well, there's this research project that I could do, and it will provide my funding, but I'm not really as interested in it, and it will put me down a pathway where I will be doing work I'm not interested in for my entire career. And I counsel against that. I believe that I'm an exemplar of how it often works out. You will find opportunities. And if you put yourself in the right arena, opportunities will present themselves. But if you never enter that arena, you will never see those opportunities. So I would say follow your passions, do what you love. I encourage people to find that intersection.