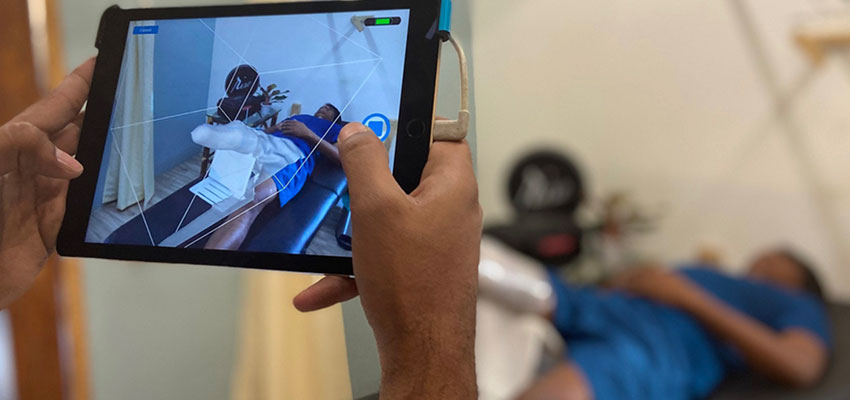 Rise Bionics, run by D-Lab Scale Ups Fellowship winner Arun Cherian, creates custom prosthetics and orthotics for patients in India at a fraction of the cost of comparable devices. Credits: Courtesy of Rise Bionics
MIT News
In 2014, Arun Cherian returned to his home country of India to help his sister with her wedding. By that time Cherian had earned his master's in mechanical engineering at Columbia University, spent four years as a researcher at the University of California at Berkeley, and was pursuing his PhD at Purdue University, where he was studying the biomechanics of human locomotion. He looked over his childhood home with the fresh perspective of someone who has spent the better part of a decade working on engineering problems.
One thing that caught his eye was the cane furniture made from rattan trees that are ubiquitous in southern India. The furniture had been in his house for many years, yet with its complex geometry, it remained flexible and stable, like a spring. Cherian began wondering if the material could serve as the basis for prosthetic legs.
The idea sparked a journey that led Cherian to quit his PhD, spend years refining his approach, and ultimately launch Rise Bionics. Today, Rise Bionics offers customized prosthetics and orthotics, not only for people missing limbs but also for people suffering from conditions like cerebral palsy, epilepsy, and scoliosis.
Clinical trials have shown the company's products are comparable in quality to other leading models, while they are sold for a fraction of the cost.
"Rise Bionics has grown organically from the initial idea of creating lightweight, flexible prosthetic legs made out of cane to now making high-quality prosthetics — or even bionics — affordable and accessible to all," Cherian says.
During that evolution Cherian says he's been adopted by the MIT community. Courses and initiatives run by MIT D-Lab have provided training, mentorship, funding, and more to help Rise Bionics get to where it is today.
Rise has built devices for more than 500 people to date, and Cherian says the company is beginning to accelerate its growth across the globe now that disruptions caused by the pandemic are receding.
The path has not always been an easy one for Cherian, but he says the company's ability to transform lives makes it all worth it.
"What it comes down to is nobody plans to be an amputee," Cherian says. "Using technology, we're able to help these people get back to their lives as fast as possible. A little girl we've been helping was born without both legs above the knees. The other day, her mother was sharing pictures of her hanging out with her school friends. Looking at the photos, you couldn't say she was walking with two prosthetic legs; she seems to be enjoying a full childhood. That's what we want for our patients: to help them get back to their lives."
Setting a path
Less than a year after Cherian first had the idea for using cane to make prosthetics, a friend told him about D-Lab's annual International Development and Design Summit (IDDS), which was taking place in India that year.
In the three-week program, Cherian worked through the D-Lab design philosophy, spending about two weeks conducting interviews and defining the problem he was trying to solve before building his product.
"You have mentors in the class, they're students and people who have attended another IDDS, and they swore by this methodology," Cherian recalls. "I'd been around the block and I remember thinking, 'Really?' But, my Lord, has [D-Lab Founding Director] Amy Smith and her team figured something out."
IDDS was the beginning of a long relationship between Cherian and MIT. He went on to pitch problems his company was facing to students in the D-Lab courses 2.729 (Design for Scale) and EC.722 (Prosthetics for the Developing World). Groups of students worked on the problems during the semester, and three ended up flying to India to intern for a summer and test their ideas.
In 2016, Cherian was selected for a D-Lab Scale Ups Fellowship, which provided financial support, mentorship, and networking to help Rise Bionics scale. Cherian had bootstrapped the company to that point and calls the fellowship "hugely instrumental in helping us get to where we are today."
"I'm extremely thankful to D-Lab and MIT," Cherian says. "I'm not an alum, so for them to be generous enough to extend their resources to me is a testament to the fantastic culture at MIT."
Later in 2016, a team from Rise Bionics traveled to Switzerland to participate in the Cybathalon, in which athletes wearing the world's best prosthetics compete in athletic events. Most companies make advanced devices especially for the competition — Cherian says the European prosthetic giant Ossur, for instance, came with a $100,000 prosthetic leg. Nevertheless, the runners wearing Rise's $300 device won two of the three races and clocked the fastest time at the event.
Today Rise Bionics does much more than make prosthetic legs. In fact, the company has developed an entire workflow for fitting patients with custom devices in a matter of hours instead of weeks. First, Rise trains paramedical professionals to use its handheld scanner to take measurements of patients at their home or in the neighborhood hospital. Then Rise uses an algorithm to design the custom mesh that sits between the patient's body and the device. Rise has a central manufacturing facility where it produces and ships its devices, which can be made using cane or more traditional prosthetic and orthotic materials. Cherian says Rise can produce well over 40 custom devices per week.
"It is unheard of to be that fast, and the fit is great," Cherian says. "Patients that have been using other devices for decades are used to multiple fitting sessions spread over days, but our fitting session takes 10 to 15 minutes, and they say, 'Is that it?'"
The majority of Rise's patients need prosthetic legs, but Cherian says about 40 percent are people with epilepsy, cerebral palsy, paralysis, and other congenital conditions that benefit from orthotics (which correct biomechanical issues).
Continued growth
Cherian says the company's products are typically 30 to 50 percent the cost of competitors', which makes for some unique scenes at the hospitals that Rise Bionics partners with. They've seen a rickshaw driver come for a fitting followed by an affluent patient in a Mercedes.
"We are really proud that we serve patients from corporate hospitals, five-star-like hospitals, and community hospitals," Cherian says. "And everyone is given the same portfolio of devices."
After hearing about government hospitals struggling to provide prosthetics and orthotics to special needs children from low-income communities during the pandemic, Rise started working with its wealthier patients and donors to facilitate device sponsorships. The resulting Help A Child Walk program has helped more than 90 children get assistive devices at no cost.
Rise, which is currently only operating in India, was forced to delay plans to scale during the pandemic, but Cherian says it has treated more than 120 patients in the last two months alone, and the company is working to establish partnerships in the Middle East, Africa, Brazil, and North America.
Looking forward, Cherian plans to use Rise's platform to move into injury prevention — think custom insoles and seats — as well as exoskeletal suits, the subject of his PhD research. He believes revenue from that work will help the company scale its assistive business.
"The goal is bionics for all, and we want to make it as affordable and accessible as possible," Cherian says. "The last thing I want is to financially burden any of these people. We want to be a great company, where we make money that we can use to do more good."