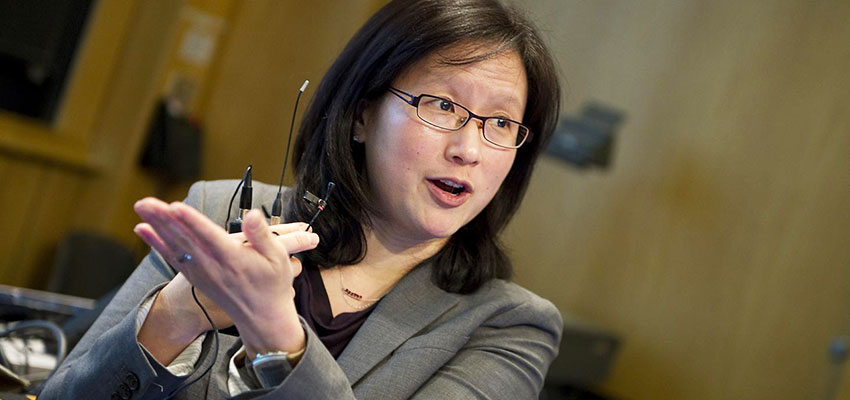 Maria Yang, MIt Professor of Mechanical Engineering, MIT D-Lab Faculty Director for Academics
MIT D-Lab
On February 2, MIT Mechanical Engineering Department Head Evelyn Wang announced that Maria Yang, MIT D-Lab Faculty Director for Academics, had been promoted to full professor. The following is taken from Professor Wang's announcement:
"Maria Yang is an internationally recognized leader in design theory and design process, with a focus on the role of design representation in the early stages of the process and its impacts on design outcomes, from consumer goods to complex large-scale engineering systems. Maria has made significant advances in characterizing the relationship between design process and outcome. Her research analyzes and models how the creation and representation of a design are formally linked to its success. Her results and impact help designers choose processes and tools to design and innovate more effectively and efficiently. She has developed a quantitative framework for early stage design that guides the generation of innovative products and systems that address major pressing grand challenges linked to the environment, energy, and global poverty. Her work is crucial to global competitiveness in the sense that her novel use of quantitative methods to analyze and model the design of successful products and systems allow such successes to be reproduced in other design activities.
 
"Maria has brought tremendous value to education at MIT and to design education across the world. Maria's outstanding record in research, advising, and teaching are complemented by exceptional service. Maria has won the Earll M. Murman Award for Excellence in Undergraduate Advising, the 2014 Capers and Marion McDonald Award for Excellence in Mentoring and Advising, as well as multiple teaching awards such as the 2014 Ruth and Joel Spira Excellence in Teaching Award, the 2017 Bose Award for Excellence in Teaching, and the highly regarded MacVicar Faculty Fellowship in 2017. Her service in the department and for the Institute is also exceptional. She has been the Faculty Ambassador to undergraduates in MechE since 2015 until becoming our Undergraduate Officer this fall 2018. She has been a member of our Faculty Search Committee in Design and of the extended committee for the New Engineering Educational Transformation (NEET). She was the Chancellor's Designated Representative for the Committee on Undergraduate Programs, and is a member of the Corporation Joint Advisory Committee on Institute-Wide Affairs. She became Faculty Academic Director of D-Lab in 2017. She was the co-organizer of the Rising Stars in Mechanical Engineering at MIT. Maria's contributions for external service has equally been extensive."
 
Please join D-Lab in congratulating Maria!
---
Related
Six questions for Maria Yang, D-Lab's first Faculty Academic Director
An eye for design: Maria Yang helps product designers hone the creative process
Targeting Product Design for the Developing World