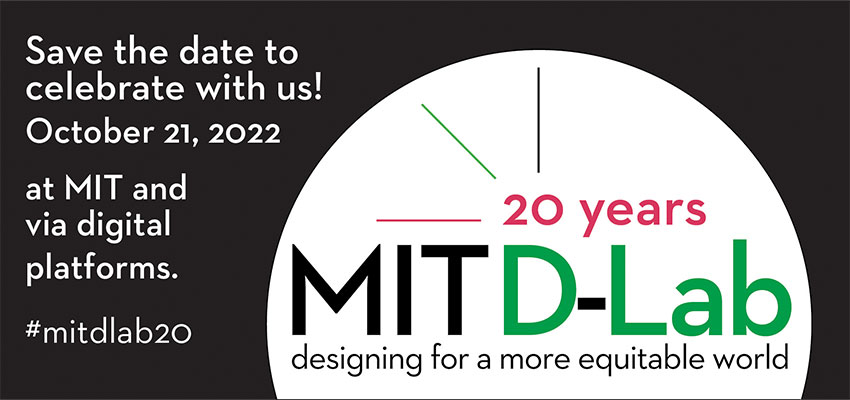 MIT D-Lab
MIT D-Lab is celebrating its 20th anniversary this year!
We are planning public events at MIT and online for current students, alumni, and the MIT community and for our community and research partners around the world on and around Friday, October 21, 2022 at MIT and on digital platforms.
In 2002, D-Lab founder Amy Smith offered a course at MIT called "The Haiti Class." She sought to apply engineering and design principles to the complex issues faced by people living in poverty. That first course embodied the values of technical expertise and a commitment to deep and respectful collaborations with people living in poverty, which D-Lab continues to hold at the center of its work today.
Over the course of 20 years, D-Lab's programs expanded to include more than 15 interdisciplinary classes; research in collaboration with global partners focused on practical applications; technology development for, with, and by people living in poverty; and a suite of international programs, convenings, trainings, and fellowships.
We want YOUR D-Lab story!
There are thousands of students, alumni, international community and research partners, and members of the MIT community who are part of the 20-year D-Lab story - and we want to hear your story!
D-Lab Students
Are you a current student at MIT (or Harvard or Wellesley through the cross-registration program) who has or is currently taking a D-Lab class? What would YOU like to celebrate about D-Lab and your D-Lab experience? Have a story to tell? A project or prototype to share? Let us know!
D-Lab Alumni
If you took a D-Lab class (or two, or three, or four), what now stands out to you about that experience? What ideas, lessons, values, skills, contacts, or friendships have you carried forward with you? Let us know!
International Community & Research Partners
Have you worked with D-Lab on a research or community project? Attended a workshop, training, or summit? If so, any you have a a memory, update, or story to share as we celebrate our 20th anniversary? You are part of the story! Let us know!
MIT Community
Are you part of the international development, social entrepreneurship, or sustainable and global development engineering communities at MIT? Tell us how you've interacted or collaborated with D-Lab, what D-Lab has meant for you! Let us know!
---
Contact